These aren't just any 100 people, though. They're a carefully selected and diverse group of tastemakers whose opinions we, and our readers, have learned to trust over the years. They work in nearly every field—from hospitality to technology, fashion to finance—and range in age from young professionals to those who've lived here for six-plus decades. The common denominator is that they are actively engaged in Greater Des Moines; they know the city well, and they love it wholeheartedly.
Results show clear agreement on some of the metro area's stars: The Des Moines Art Center and 801 Chophouse, for example, were the top pick in three categories each. The Bravo Gala, Gateway Market and Centro also shined brightly as favorites.
Most of the categories include a winner and a runner-up. However, we didn't list a runner-up when no clear choice emerged for that spot, such as when there was a three-way, or more, tie.
Although it's fun to peruse the results to see how the respondents' choices might be different from, or the same as, your own, the real fun comes in using the list. Maybe that means revisiting favorites (have you seen the Jesper Just exhibit at the Art Center yet?), going to places that have been on your to-do list for years (have you ever taken a spin on the Heritage Carousel or toured the Iowa State Capitol?) or exploring new spots (have you checked out Trellis?). Whether you want to enjoy a cocktail, ride your bike, tailor a suit or romance your sweetheart, the Top List is sure to give you some fresh ideas.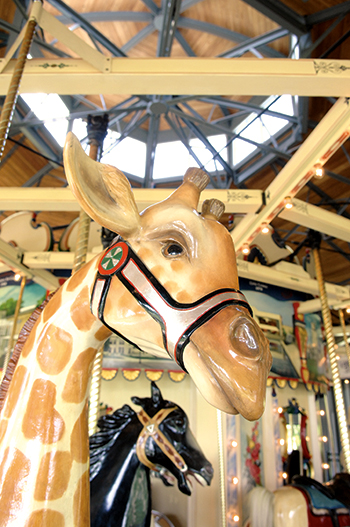 AROUND TOWN
Top historical building:
Iowa State Capitol
legis.state.ia.us/Resources/tourCapitol.aspx
Runner-up: World Food Prize Hall
of Laureates
worldfoodprize.org
Top contemporary building:
Des Moines Art Center
desmoinesartcenter.org
Runner-up: Des Moines Central Library
dmpl.org
Top nonprofit organization or club:
Des Moines Art Center
desmoinesartcenter.org
Runner-up: Des Moines Social Club
desmoinessocialclub.org
Top hidden gem:
Heritage Carousel in Union Park
heritagecarousel.org
Runner-up: Hub Spot
principal.com/riverwalk/court_ave.htm
Top residential neighborhood:
Waterbury
waterburyneighbors.org
Runner-up: Beaverdale
beaverdale.org
Top view of the city:
Des Moines Embassy Club
embassyclub.com
Runner-up: The Plaza
theplazadsm.com
Top piece of public art:
"Nomade" by Jaume Plensa
desmoinesartcenter.org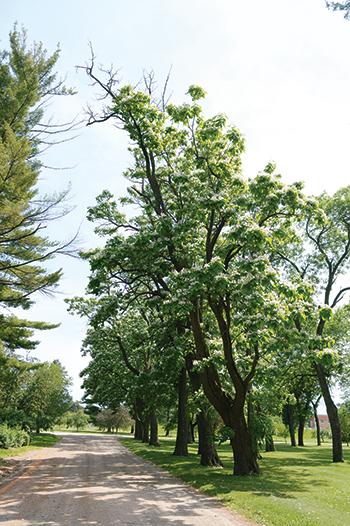 PLAYING
Top golf course:
Wakonda Club
wakondaclub.com
Runner-up: Waveland Golf Course
wavelandgolfcourse.org
Top private party room:
Embassy Club West
embassyclub.com
Runner-up: The Temple for
Performing Arts
templeforperformingarts.com
Top annual fundraising event:
Bravo Gala
bravogreaterdesmoines.org
Top spot to enjoy nature:
Water Works Park
dmww.com/parks-events/water-works-park/
Runner-up: Gray's Lake
dmgov.org/Departments/Parks/Pages/GraysLakeParkPark.aspx
Top hotel:
The Suites of 800 Locust
800locust.com
Top bicycle trails (a tie):
High Trestle Trail
inhf.org/Trails/high-trestle.cfm
Great Western Trail
polkcountyiowa.gov/conservation/parks-trails/12-great-western-trail/
Top local attraction:
Des Moines Art Center
desmoinesartcenter.org
Runner-up: Iowa State Fair
iowastatefair.org
Top family attraction:
Iowa State Fair
iowastatefair.org
Runner-up: Science Center of Iowa
sciowa.org
Top place to see and be seen:
Bravo Gala
bravogreaterdesmoines.org
Runner-up: Centro
centrodesmoines.com
Top places to hear live music (a tie):
Simon Estes Amphitheater
dmgov.org/Departments/Parks/Pages/SimonEstes.aspx
Des Moines Civic Center
desmoinesperformingarts.org
Top Iowa "staycation":
Lake Okoboji
vacationokoboji.com
Runners-up (a tie): Iowa City
iowacitycoralville.org
Clear Lake
clearlakeiowa.com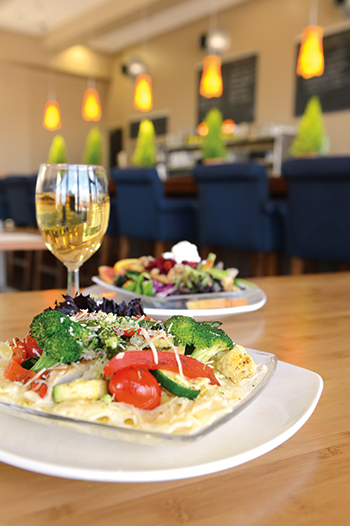 Top new restaurant:
Trellis
dmbotanicalgarden.com/visit-us/dine/
Runner-up: Table 128 Bistro + Bar
table128bistro.com
Top fine-dining restaurant:
Baru 66
baru66.com
Top restaurant for alfresco dining:
Dos Rios Cantina and Tequila Lounge
dosriosrestaurant.com
Top casual restaurant:
Centro
centrodesmoines.com
Runner-up: Django
djangodesmoines.com
Top bakery:
La Mie Bakery
lamiebakery.com
Runner-up: Crème Cupcake + Dessert
cremecupcake.com
Top coffeehouse:
Zanzibar's Coffee Adventure
zanzibarscoffee.com
Runner-up: Smokey Row Coffee Co.
smokeyrow.com
Top spot to impress VIPs:
801 Chophouse
801chophouse.com
Runner-up: Centro
centrodesmoines.com
Top restaurant for steaks:
801 Chophouse
801chophouse.com
Runners-up (a tie): Fleming's Prime Steakhouse & Wine Bar
flemingssteakhouse.com/locations/ia/west-des-moines
Jesse's Embers
theoriginaljessesembers.com
Top seafood restaurant:
Splash Seafood Bar & Grill
splash-seafood.com
Runner-up: Waterfront Seafood Market and Restaurant
waterfrontseafoodmarket.com
Top pizza restaurant:
Gusto Pizza Co.
gustopizzaco.com
Runner-up: Noah's Ark Restaurant & Lounge
noahsarkdesmoines.com
Top barbecue restaurant:
Jethro's BBQ
jethrosdesmoines.com
Runner-up: Woody's Smoke Shack
woodyssmokeshack.com
Top ethnic restaurant:
A Dong
facebook.com/pages/A-Dong-Restaurant
Runner-up: Thai Flavors
thaiflavorsiowa.com
Top romantic restaurant:
Café di Scala
cafediscala.com
Runner-up: Bistro Montage
bistromontage.com
Top wine list:
801 Chophouse
801chophouse.com
Top place for cocktails:
Alba
albadsm.com
Runners-up (a tie): Americana Restaurant & Lounge
americanadsm.com
Proof
proofrestaurant.com
SERVICES
Top hair salon:
Salon Spa W
salonspaw.com
Top spa:
East Village Day Spa
evdayspa.com
Runners-up (a tie): Sahar's Salon &
Day Spa
sahars.com
Salon Spa W
salonspaw.com
Top dry cleaning service:
French Way Cleaners
frenchwaycleaners.com
Top lawn care service:
Perficut Companies
perficut.com
Runner-up: Wright Outdoor Solutions
wrightoutdoorsolutions.com
Top tailoring service:
Alterations & Custom Made by Tran
274.6854 (no website available)
Runner-up: Lou's Tailoring
loutailoring.com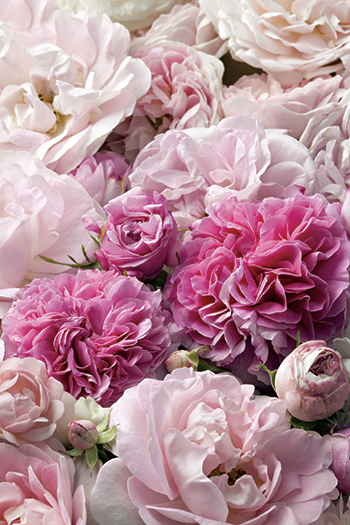 SHOPPING
Top bridal shop:
Schaffer's Bridal Salon
schaffers.com
Runner-up: Dornink
dornink.com
Top store for women's clothing:
Von Maur
vonmaur.com
Runners-up (a tie): K.Renee
krenee.com
Silver Fox
facebook.com/silverfoxdsm
Top shop for men's clothing:
Badowers
badowers.com
Runner-up: Mr. B
mrbclothing.com
Top shop to buy shoes:
Von Maur
vonmaur.com
Runner-up: DSW
dsw.com
Top chocolate shop:
Chocolaterie Stam
stamchocolate.com
Top specialty food market:
Gateway Market
gatewaymarket.com
Runner-up: Whole Foods Market
wholefoodsmarket.com/stores/westdesmoines
Top wine shop:
Gateway Market
gatewaymarket.com
Runner-up: Ingersoll Wine & Spirits
ingersollwine.com
Top home accessories store:
K. Renee Home
kreneehome.com
Top furniture store:
Projects Contemporary Furniture
projectsfurniture.com
Runner-up: Homemakers Furniture
shophomemakers.com
Top jewelry store:
Josephs Jewelers
Josephjewelers.com
Runner-up: 2AU Ltd.
2aulimited.com
Top auto dealer:
Willis Auto Campus
willisautocampus.com
Runner-up: Toyota of Des Moines
toyotadm.com
Top shop to buy vintage goods (a tie):
Hill Vintage & Knits
hillvintageandknits.com
(Disclosure: Hill Vintage is owned by dsm style contributor Jessica Miller.)
Found Things
foundthingsdsm.com
Top floral shop:
Boesen the Florist
boesen.com
Runner-up: Hy-Vee Inc.
hy-vee.com/shop/Floral-C9.aspx