Photographer: Kathryn Gamble
Art director and stylist: Lindsay Berger
Makeup: Jill Witte
Maybe it's nature or maybe it's nurture, but a sense of style is something some families pass down from generation to generation the way others pass down a keepsake locket. At least that's the case for those featured in this story. But no matter how their families have inspired and influenced them, they all view style as much more than a clothing choice: They dress in ways that confidently express how they live and who they are. "Style is the creative realm where we get to reflect our inner selves to the world," says Ann Marie de Lathouder Freeman, a fashion trend forecaster and Ellen Hubbell's daughter. "It's the most utilitarian and instantly gratifying form of art."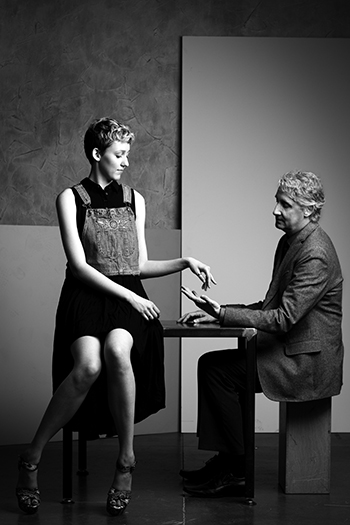 Jeff and Wren Fleming
It somehow seems fitting that Jeff Fleming, the director of the Des Moines Art Center, would have a daughter who expresses her personal style so creatively: For this photo shoot, 18-year-old Wren Fleming decided to wear a denim bib over a black dress. "If I have had any influence at all, which is highly doubtful, it is giving Wren the freedom to create her own style," says Jeff Fleming. And Wren's guiding principle? "Always look like nobody else," she says.
---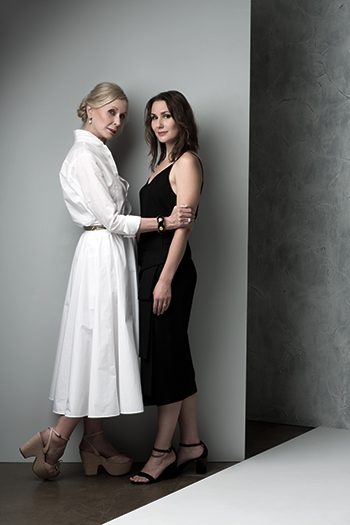 Ellen Hubbell and Ann Marie de Lathouder Freeman
A three-generation appreciation for fine quality and elegant structure is evident in the wardrobes of Ellen Hubbell and her daughter, Ann Marie de Lathouder Freeman, who works as a fashion researcher and forecaster in Minneapolis. "My mother was fascinated by fashion," Hubbell recalls. "Her emphasis was always on the construction. She would show me a jacket and say, 'Ellen, look at the corded seams.' "
Today, Hubbell says, when her daughter "talks about corded buttonholes on the blazer she designed, and when she describes a designer like Narcisco Rodriguez by saying, 'Mama, he's all about structure,' it reminds me of my mother."
For her part, Freeman says she "grew up appreciating quality and construction, as these traits communicate authenticity and integrity in a garment. … Intention, tailoring and structure flatter the wearer and transcend the fashion itself.
"I learned the difference between true style and passing trends from my mom," Freeman adds. "She taught me to invest in pieces that resonate deeply with my personal taste and to view fast fashion with a critical eye."
---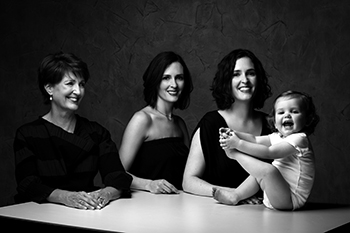 Kaye Lozier, Catherine Erickson and Christine Polson
The late Bill Rogerson not only inspired his daughter, Kaye Lozier, with his classic style, but also Lozier's twin daughters, Catherine Erickson and Christine Polson. "He would take us shopping every Christmas and let us pick out an outfit," recalls Polson, an assistant account director at The Integer Group. "Getting his approval, that he liked what I chose, was something I looked forward to."
Rogerson "was always dressed appropriately for the occasion, which I find is also a consideration for me; for Dad, this was his way of showing respect for the occasion and for himself," says Lozier, the director of donor relations at the Community Foundation of Greater Des Moines. In her clothing decisions, she adds, "I look for interesting shapes, design and proportions—that's from dad—and beautiful fabric and tailoring—that's from mom."
Lozier also draws inspiration from her daughters, who "encourage me to keep taking risks, (incorporate) some new trends and get rid of out-of-style shapes and fits," she says.
Although Polson's 16-month-old daughter, June, won't know her great-grandfather, she'll undoubtedly pick up style cues from her grandmother, aunt and mother. "I lean towards simpler fashion statements," Polson says. "And I think about my grandpa when I'm buying clothes—good quality, timeless styles."
---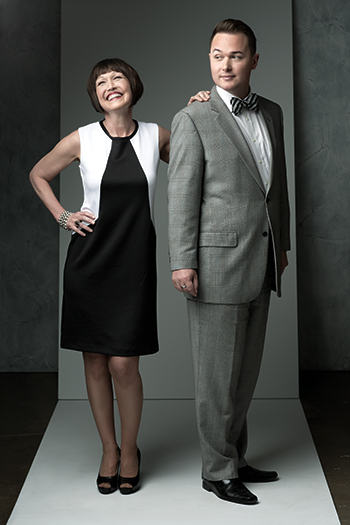 Sherryl Viars and Christopher Diebel
Although Sherryl Viars and Christopher Diebel consider Des Moines home, their style reflects their Southern roots, says Viars, owner of SVC, a marketing and public relations firm that specializes in financial services. "My son conveys Southern classic effortlessly as does my mother and as did her mother. I see their influence and confidence in Christopher," she says. "I am most comfortable in simple, clean lines as well, although I'm prone to classic and comfortable. The truth is, women don't have to compromise. You can have both."
Diebel, managing director of LPCA Public Strategies, says that while his mother's style is "marked by a certain timeless elegance," she also has fun with her wardrobe, "and I think that's rubbed off on me." For example, he says Viars can mix bold colors and prints but still look professional. "Similarly, I'm not afraid to mix prints with shirt and tie combos," he says. "She also has a great collection of eclectic jewelry. My fondness for cuff links and watches probably takes its cue from watching her accessorize so well over the years."
What Diebel admires most, though, and hopes to emulate is Viars' "ability to balance style with age appropriateness. She has always done that well."
---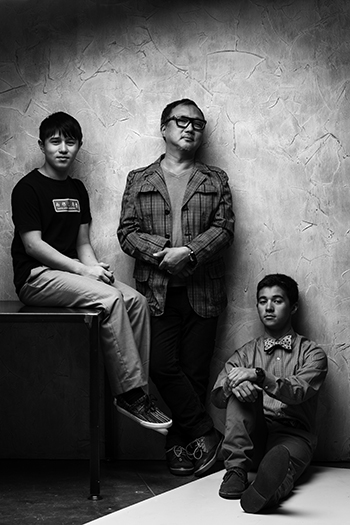 King, Simon and Sam Au
Des Moines photographer King Au grew up in Hong Kong, where his aunt owned a garment factory. During the summer, he helped "trim thread and haul bales of denim around," and over the years, he learned about fabrics and cuts as well as trends. Today, Au says he doesn't "attach to brands" but enjoys combining different textures, colors and styles, such as wearing a bow tie with well-worn jeans. But whatever the look, he focuses on clothing that's well-constructed, he says.
Has Au influenced his boys—Sam, 18, and Simon, 15—in their fashion choices? If anything, it's to encourage them to be who they are, he says: "I think children should be given the liberty to express themselves in the ways they dress."