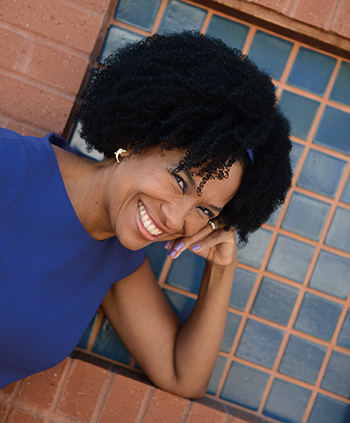 Written by Sophia S. Ahmad
Photo by Duane Tinkey
When Clemen Wilcox was laid off in 2012 from her job in consumer marketing at Meredith Corp., she remembered something a professor said when she was an industrial engineering student in her native country of Colombia.
"Our teacher said that 'our school is forming employers and not employees.' That was always in the back of my mind," she says.
So Wilcox decided to put her marketing experience, native language (Spanish) and engineering resourcefulness to work, and within seven months of losing her job, she founded Everything-Spanish LLC, a marketing firm that offers research, editing and translation services. She helps American brands understand Latino markets and Latin American brands break into Latino markets in the United States. Clients include Pepsi, Procter & Gamble Spanish and Kraft Comida y Familia.
Wilcox says clients often don't realize how much nuance and diversity there is within the Latino community. "We're talking about (more than) 20 countries in Latin America," she says. "If you're a marketer, you don't market to the East Coast the same as (you would) to the West Coast, (so) why would you market to Mexicans the same as (you would) to Peruvians?"
She advises companies to focus on people and "helping that culture. If you have a product that will help that culture, the profit will come."
Wilcox moved to the United States in 2001 because she was determined to learn English, she says. She landed in Minnesota, where her brother and sister lived, but the cold weather was a shock. She remembers speaking to a friend from college whose job transferred him to Des Moines. "He said to me, 'You need to come to Des Moines; it's warmer here!' "
She packed up and moved to Central Iowa in 2002. That same year, she met Mary Gillman, who taught English as second language at Des Moines Area Community College. Gillman recalls the first time she saw Wilcox: "I remember seeing this bright, shining, smiling face in the hallway, and I remember thinking, 'That woman has so much pep and spark and energy. I hope she's in one of my classes.' "
Sure enough, Wilcox took one of Gillman's classes, and soon after, the two became friends. Wilcox affectionately refers to Gillman as her "American mom," and Gillman even introduced Wilcox to the man who would become her husband, Ryan Wilcox, who had previously worked for Gillman. "Clemen is as smart as a whip, creative as all get-out, and she's personable," Gillman says.
Wilcox is planning for future growth. She launched Clemen Wilcox & Associates LLC in January to serve as the parent company of Everything-Spanish and additional professional services and marketing research projects.
Her hobbies, which include volunteering and traveling, point back to her inquisitive, engineering mind and her drive to learn, she says. "I always have been very curious," she says. "When I was growing up, I pulled things apart and put things back together because I wanted to see how they worked."
She enjoys traveling and learning about new cultures, and she flies back to Colombia when she can to re-energize and reconnect with her native country's traditions.
In all that she does, she puts in 100 percent, she says: "Life is short so I am enjoying every single minute of it. I am enjoying the time I have been granted here on earth."