Reviewed by Wini Moranville
Photos by Duane Tinkey
What a year it's been! Eatery A said, "Game on!" to raising the bar on casual food, young Table 128 hit its stride, and the newly reopened Hotel Pattee turned heads on the fine-dining scene with its new Chef's Table option. The Cheese Shop of Des Moines continued to alchemize pork into something sublime, while 801 Chophouse simply stayed on the top of its game. Here are five highlights chosen from a year of great eating.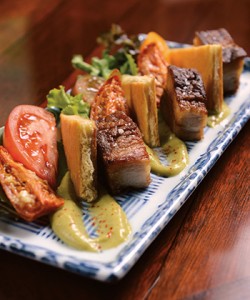 Braised Pork Belly Salad
Hotel Pattee, Perry
Start to finish, it takes about five days for Executive Chef Chris Caes to brine, braise, cool, press, sear and roast the heirloom-breed pork belly for this dish. He then plates the pork with focaccia croutons, marinated tomatoes, a mix of baby lettuces and some avocado mousse for this playful, modern take on the BLT.
Don't look for this dish on the daily menu. Rather, it exemplifies the wizardry I enjoyed last winter at the Chef's Table. With advance reservation, Caes serves a five-course menu specifically tailored for a party of up to 10 diners. A steal at $50 per person, the feast is served beside the stone fireplace in the cozy arts-and-crafts-style lobby. Plan it all out beforehand with the chef; he'll make anything from endive citrus salad with pan-roasted duck to butter-poached lobster risotto or mustard-glazed lamb rack for your party (though, of course, I recommend that you put this winning salad in the mix).
(Note from the editor: As this issue was going to the printer, Chris Caes left the Hotel Pattee to join the Wakonda Club. The hotel still will offer the Chef's Table.)
---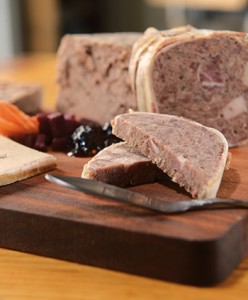 House Pâté
The Cheese Shop of Des Moines
Lead cheese monger, shop manager and charcuterie chef Brett McClavy flavors his pâté quite classically—with salt, pepper, thyme, mushrooms and Calvados. But one taste, and you know something else is going on: Pork meat, offal and a handful of seasonings don't always add up to something this deeply rich and lusty.
"We use Niman Ranch pork shoulder, pork liver, bacon and confit pork belly … raised in the right way by farmers who let pigs be pigs," McClavy explains. This makes all the difference, he says: "The livers are sweet and creamy, not iron-y and sharp."
McClavy's recipe involves patience and many fine-tuned steps, from finding the right temperature to grind the meat to knowing just how long to press the mixture. It results in what McClavy calls his "homage to pork" or "a work of heart," and what I call "France on a plate."
---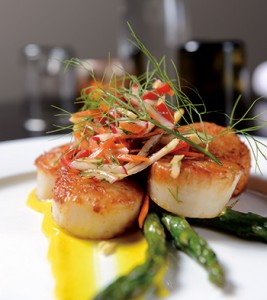 Sea Scallops With Corn Emulsion
Table 128
I love it when a chef features something we crave from afar without letting us forget where we live. That's what Lynn Pritchard does with the fat, buttery sea scallops in this beautiful dish. The fennel and radish slaw adds freshness, the risotto croquette brings heartiness—but it's the sweet corn emulsion that gives the dish its Midwestern sensibility.
Although sweet corn might seem out of season in winter, don't be surprised if you find it on his table outside of summer. Born and raised on a family farm, Pritchard still practices "putting up" food at the end of the growing season, preserving and freezing summer's bounty to cook with all winter. In this way, Table 128 remains tapped into the locavore ethos we love, all year long.
---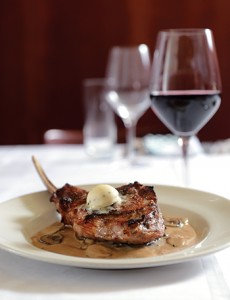 Twelve-Ounce Lollipop Veal Chop With Portobello Mushroom Ragout
801 Chophouse
I first tasted this delight when I dined at 801 with two other well-traveled food editors who've been in this biz a long time; none of us could get over how wonderful this cut of meat tasted. Silky marbling distinguished the soft, rosy meat, resulting in an amazing interplay of tenderness, delicate flavor and irresistible juiciness.
As we considered possible preparations (bone marrow bath? au poivre? Maytag blue? foie gras torchon?), the server all but begged us to try the portobello mushroom ragout. She was spot on: Made in fresh batches throughout the evening, the veal stock-based, cognac-laced sauce added irresistible opulence to the already-luscious plate.
Yes, it's a splurge ($48 à la carte), but it's the kind dish that puts 801 at the top of my list for special occasions and for other times when the stakes are high.
---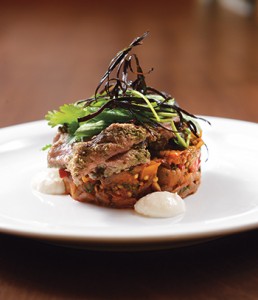 Lamb
Eatery A
What do you get when a James Beard-nominated restaurateur turns his attention to casual food priced under $15 a plate? Fresh and inventive dishes such as a chicken breast with mujadara rice, pork cheeks with polenta and tomato jam, and hanger steak with romesco sauce.
Go ahead—fall in love, but don't get too attached. A lamb dish that captivated
me earlier this year is off the menu; fortunately, while I was on the rebound, a new lamb dish—luscious slices of lamb atop grilled eggplant spiked with fiery harissa—stole my heart.
Still, don't get miffed if this presentation morphs through the months. "It will change again," says chef-owner Jason Simon, explaining that during the restaurant's first few months, chef Nick Gonwa designed the menu to be executed for a novice kitchen staff; the food will continue to evolve as the cooks become more seasoned.
"The greatest hits are on the way," Simon adds.
So stay tuned. And try the lamb—in whatever shape it takes.