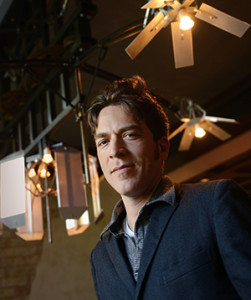 Written by Laura Billingsley
Photo by Duane Tinkey
Gabriel Lueders may have an artist's soul, but he has an engineer's mind. Growing up, the Des Moines native spent hours in his father's woodworking shop, and what he learned about the intricacies of carving wooden sculptures has informed his artwork ever since. Today, Lueders is close to being able to make a living solely from his art.
He knows this is a privileged position, and he maintains a backup plan. "I'll always kind of fall back to doing freelance carpentry and stuff like that," says Lueders, 36. "But I feel like my periods of creating art full time are longer and more sustainable."
Indeed, Lueders has worked successfully in several mediums. Olson-Larsen Galleries recently hosted an exhibit of his abstract charcoal drawings, many of which feature billowy shapes reminiscent of clouds. In addition, he's an accomplished woodworker, a skill he learned from his father, Jim Lueders, co-founder of Sticks Inc. He studied sculpture at the University of Iowa, dabbling in bronze casting and metalwork, as well as drawing and painting.
And then there's Lueders' performance art. Living in the East Village after college (and before the area was trendy), he hosted art parties at his loft. In 2003, he started bringing home scrap wood from his job at Sticks, turning it into small blocks and eventually piling them more than nine feet high. At a party, he tied a rope around the bottom of the structure and pulled it down. Then he hit the road with his blocks, building and collapsing towers in Iowa City, Chicago, Washington, D.C., and Manhattan.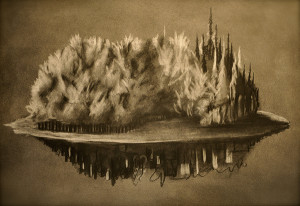 "To me it represents impermanence," Lueders says, "a physical representation of attachment to the building of material things." He's also created and knocked down installations at venues around Des Moines, including at the State of Iowa Historical Museum and in the East Village as part of last fall's Art Meets Fashion window dressings project.
King Au, a local artist and photographer, owns three of Lueders' pieces, including two charcoal drawings. He says the work "struck an emotional chord" with him. "I enjoy the organic nature that he constructs. There's kind of a mystery around (the drawings)," he says.
Today, Lueders is excited about a new medium—metal—and a new project. The "Mechanical Blossom Project" involves three art installations with moving pieces, all of which he has already produced as working wooden models. One, the mechanical blossom, features a hand crank controlling a flower that opens and closes at the same time as a shutter. The shutter lets the light in, mimicking the morning sun hitting the petals.
A second model is a small-scale design for a tent structure that can slide open and closed from all sides, somewhat like a flower blooming. A hole at the top allows the light to stream in. The third model is the painting wheel, a wooden frame with a hand crank and shutters that open and close. When they're closed, a wheel rotates and changes the painting behind the shutters, like a "mechanized slideshow," Lueders says.
The ultimate goal is to incorporate five of the painting wheels inside the tent, creating a hands-on gallery. Lueders wants people to interact with
his art, showing them how the movement occurs. All of the gears that make his models function are hand-carved in wood, but Lueders imagines re-creating the models in metal and hopes to raise the funds to make that possible.
"Maybe (metal) is my passion," he says, "the exploratory side of it. I like the invention. I like creating the models and figuring out how to get things to work."