Written by Brianne Sanchez
Photos by Duane Tinkey
Sandy Hatfield Clubb
Director of Athletics, Drake University
The Setbacks
Her 19th birthday ended with a knife to her throat, and an even sharper realization: If she was ever going to do something different with her life—something more—she had to act now. So in February 1983, Sandy Hatfield packed up her Honda and fled Germantown, Md., for El Paso, Texas.
She was leaving behind a broken home—she'd moved out at age 16, barely completing high school, but she had been supporting herself with a steady job. She knew she needed to escape drugs, bad habits and a boyfriend that "trouble" doesn't even begin to describe. That cross-country journey, blasting REO Speedwagon's greatest hits, may have put people-problems in the rearview mirror, but it would take more than distance to dispel the demon of self-doubt.
"You make every bad choice you can make as a youth without direction," Sandy Hatfield Clubb says. "I had been feeling for a year or more I needed to do something more meaningful, but I had no clue what that looked like. I was longing for someone to care and believe and invest in me."
In El Paso, her grandmother paid off her car and registered her for college. That new road was rocky, too. Her first marriage ended the same week as graduation. While classmates celebrated, Hatfield Clubb was "literally laying on the floor, crying, thinking I was worthless."
The Silver Lining
Now athletic director for Drake University and a well-regarded educator and speaker, the 50-year-old Hatfield Clubb isn't shy about sharing her hurdles. They set the course for the person she would become.
"We all have skeletons in our closets," says Hatfied Clubb, who joined Drake in 2006. "We have all done, thought, said things we don't want anyone to know about. But the sun comes up the next day, and it's up to the individual to take what's positive from our bad experiences and move forward."
A few summers after her graduation and divorce, spurred by a job she had at a swimming pool, Hatfield Clubb started training for triathlons. Competing was a positive breakthrough. And then, as she was working her way up in athletics administration at Arizona State University, Athletic Director Gene Smith encouraged another realization. Smith brought in a consultant to conduct a values assessment with the senior leadership.
Through that workshop, Hatfield Clubb realized she'd been lying to herself, that the values she put on paper were not ones she lived. The values she hoped to espouse—faith, family, integrity—were shaped by voids in her heart. Great on paper, but challenging in action.
"All of my learning has been an evolution, (with) people intervening in wonderful and sometimes painful ways," Hatfield Clubb says.
Today, Hatfield Clubb not only continues to study the process for herself, but with everyone in her life. She conducts values assessments with students in leadership courses she teaches at Drake. She wears the values of the National Association of Collegiate Women Athletics Administrators (for which she serves on the board) stamped on a stack of thin rubber bracelets: Resilient. Strong. Passionate. Inspired. If you ask about them, odds are she'll slip them off her wrist and onto yours. Drake's athletic administrators and coaches always have a book or article aimed at self-actualization in their reading rotation. And Hatfield Clubb and her husband, Jeff Clubb, role-play with their two children, practicing exactly how the kids will assert their values when they find themselves in compromising situations.
"I'm a little obsessive about that stuff," Hatfield Clubb says. "If you were to tell me (when I was 19) that I'd be the
mother of two stable children, I'd have said you were crazy."
Sandy's sister, Michele Quesenberry, isn't as surprised. Four years younger, Quesenberry struggled as a teen, too. Then, in her 20s, Quesenberry reconnected with Hatfield Clubb when she was working to turn her life around. The sisters share a strong bond and deep conversations over the phone or when hiking together in places like Jackson Hole, Wyo. "She's always been an inspiration to me," says Quesenberry, who is now a counselor, "especially when I was trying to get grounded in spirituality."
Recently, the sisters had the opportunity to meet up in Washington, D.C., where Hatfield Clubb was giving a presentation. "It was the first time I got to see and hear what Sandy brings to Drake," Quesenberry says. "Growing up, our values were different; for her to make the conscious effort to work on her values and bring them to an institution is amazing."
Key Insight
"Adversity is always an opportunity," Hatfield Clubb says. When encountering a setback, "I pause and I am grateful because I know that I'm evolving. To do that, you have to push through. I'm still getting closer and closer to whatever it is I'm being called to do and be."
---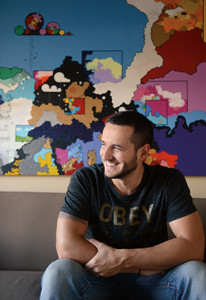 Senid Tabakovic
Artist
The Setback
Senid Tabakovic spent the first eight years of his life living in a war zone. There were weeks during his childhood in Bosnia when he never left the house, never lit a candle to light his way at night, feared bullets and bombs and the safety of his father, who was separated from the family fighting in the war.
Forced to flee their homeland as refugees, his family moved to Croatia and Germany, then eventually to Tucson, Ariz. They settled in Des Moines in June 1999, drawn to the area because it has a significant population of Bosnian refugees.
The Silver Lining
Tabakovic, now 27, always had an artistic inclination—as a child, he made dramatic paintings of war scenes as a way of coping—but it wasn't until college that the 2010 Grand View University graduate started to take his art seriously. He majored in graphic design but was drawn to courses in fine art as well.
"When I started out, I really loved realism," Tabakovic says. "I wasn't open-minded at all." He credits teachers like Aaron Tinder, a professor of art and design at Grand View, with helping him discover his voice as an artist. An assignment from Tinder exposed him to the work of the British artist Paul Noble, whose contemporary surrealist style features geometric, controlled shapes that appealed to Tabakovic's graphic design aesthetics.
That helped inspire a turning point for Tabakovic's work, but Tinder is quick to attribute his student's success to hard work. "My initial impression of Senid was that he was smart, focused and interested in improving his skills," Tinder says. "At Grand View, we try to blur the line between graphic design and fine art, and he is a good example of someone who is able to do that successfully."
The work caught the attention of others, too. Tabakovic was twice featured as an "Emerging Artist" at the Des Moines Arts Festival. In 2010, he took a brief break from showing to develop a full collection, which is represented by Moberg Gallery. Works like Tabakovic's "The Great Western" feature vivid colors and crisp icons that reference postimpressionism and pop movements more than Bosnian blackouts.
Tabakovic says his work is "hard for me to talk about because it's not literal. I like to provide the visual elements and mixture of colors and symbols for the viewer to connect with (the art) and see what attracts them to it. Everyone sees it differently."
As a fine artist, his wartime experiences aren't ones Tabakovic tells directly though his pieces, but his past and the culture shock of his immigrant upbringing inform his attitude, articulated in acrylic, ink, gold leaf and spray paint.
Tabakovic isn't sure if his artistic inclinations are inherited. His hardworking parents were able to shepherd their family through tragedy and into a life he recognizes as the American dream. But, for them, there was no time for painting.
"I think their life was so complicated that they never had the chance to explore their potential in anything but survival," Tabakovic says. "Me and my family always talk about 'what if.' What if the war never happened? What would I be doing? I've always had the itch to create something."
And, living in Des Moines, he is. "Having the freedom to create art that I love is the most important thing to me," Tabakovic says. "I live in a society that supports art and artists, and this drives me to make better work and be more involved in the whole art scene. Being able to create art gives me balance in life."
Key Insight
"(Many artists) focus on politics or society, but I don't want to address any of that," Tabakovic says. "I can make art all about war and what I experienced, but that's not something I want to go through again. I try to reflect on the positive."
---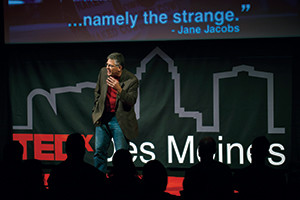 Mike Wagner
Owner, White Rabbit Group
The Setback
This is a story of what can change when you quite literally listen to your heart. During an annual examination in December 2003, Mike Wagner's physician discovered a murmur caused by a severe tear in the mitral valve. Wagner's heart was beginning to enlarge, the rhythm was off, and the condition could kill him. Less than a month later, he was on the operating table for 5 1/2 hours of open-heart surgery.
It was months before Wagner could return to his job overseeing sales and contracting work for Spindustry Systems Inc. His colleagues were supportive during the extended leave, but when he got back to his old office, Wagner couldn't shake the sense that it was time to start something new. He had been considering a career change for a while—something that would knit together his past experiences and skills.
The Silver Lining
The unexpected health setback served as "an accelerant" to slingshot his ideas into motion. Post-op typically revolves around rest and rehabilitation. But Wagner proved that if an incision on your chest doesn't keep you down, recovery might also inspire launching a business.
"It was a crazy thing to come off cardio rehab and start a business," the 60-year-old Wagner says, but "there's a sense of urgency after a life-threatening event."
During the three-month recovery period, he had time to explore his thoughts. Wagner's background includes pastoral experience, consulting work at the automaker Saturn Corp. and working with Spindustry clients as an Internet business strategist.
"I felt a profound, radical desire to create cohesion," he says. Wagner was looking at a big circle of interests that included leadership, communication and designing great customer experiences.
He saw his expertise landed in an area—branding—that he knew companies valued but didn't know how to effectively apply. Wagner used speaking gigs as a platform for building White Rabbit Group Inc.—the business he started just five months after surgery, in May 2004. Named after the rabbit in "Alice's Adventures in Wonderland," the company specializes in coaching companies to align their organization with their brand values.
All that time hooked up to a remote telemetry machine drove home a business lesson: Feedback is important. For his health care team, that meant attaching electrode patches to Wagner's chest and tracking vitals while he worked out. For a business, it means listening to and learning from each client.
Entrepreneurship was stressful, but it appealed to what Wagner, a former college athlete, calls his "linebacker instinct." Upon gaining a level of mastery in one area, he's compelled to keep knocking down new roadblocks and tackling challenges. Wagner embraced the uncertainty, but also had difficulty admitting he didn't have competency in all areas of starting a business.
In a surprise twist, after Wagner's son, Aaron, graduated from Iowa State University in 2007, he decided he wanted to put his marketing and entrepreneurship studies to practice with his father. Aaron says he was inspired by the fulfillment and freedom—and happiness—that his dad had found in being his own boss. "He's a speaker, so he's kind of fearless," Aaron says. "He seems unintimidated by winning over a room; he almost relishes it."
Key Insight
"Truthful feedback is always a gift," Wagner says. "In business, feedback helps us see cause and effect. The faster it comes, the more likely we are to accurately connect cause with effect and learn what to do more—or less—of."