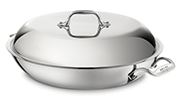 By Wini Moranville
No cooking vessel gets used in my kitchen this time of year more than my braiser. In fact, I love this pan so much that I wrote  an e-cookbook about it.
What's a braiser, you ask? These pans have shallower sides and wider bases than a Dutch oven. The lower height lets the steam remain in close contact with the meat, and therein lies the brilliance: It's that steamy, moist heat that makes meats get so tender, rich and bold.
Last fall, I spent the better part of my kitchen hours testing all of the major braisers on the market. The winner? It depends on whether you prefer cast iron or stainless steel.
In the cast iron camp, you can't go wrong with either Le Creuset or Staub. Both are French-made beauties in rich, dynamic colors. The only drawback is that these guys are heavy; the Le Creuset weighs in at 11 pounds, empty.
If you prefer to save your heavy lifting for the gym, consider the All-Clad braiser. While it tips the scales just shy of 5 pounds, it still has an authoritative weightiness to it. Made of an aluminum core sandwiched between stainless steel, it browns meat beautifully and conducts heat well. In fact, it does everything that the French braisers do, except add color to your kitchen: Le Creuset and Staub win the beauty contest, although All-Clad's polished metal is easy on the eyes, too.
Le Creuset and Staub braising pans range in price from $220 to $295 at Williams-Sonoma at Jordan Creek Town Center (101 Jordan Creek Parkway, West Des Moines). Find the All-Clad Braiser ($196) online at amazon.com.