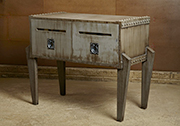 By Belle Du Chene

Kent Welsh designed and built furniture for a local company for 28 years before deciding to go out on his own. In late August, he started Griffin Modern, an industrial and modern furniture company. His interesting designs caught our eye, so we sat down with him for a little Q&A about his passion for creating furniture that doubles as art.
How did you get your start?
I've built things with wood pretty much my entire working life. I worked my way through college during the summers and (school) breaks as a framing and finish carpenter. I think I made $2.75 an hour. I remember my first raise was to $2.85 an hour. No joke. You don't choose this vocation for the money.
How do you choose your materials?
Most pieces get painted, so I just want it to be strong, stable and able to take a smooth-finish surface. I like using materials in ways that they weren't necessarily intended to be used. In the end, it looks pretty cool, and I think that kind of stuff is fun.
You have curious names for your designs. Where do these names come from?
The company gets its name from the mythical griffin, the ancient creature with the body of a lion and head and wings of an eagle. I wanted to name my son Griffin, but my wife wasn't feeling it. The others come from various places in my life. "McFly" is for a friend of mine who always fancied himself as cool as the Michael J. Fox character from "Back to the Future." "Cassius" is for Cassius Clay because I've always loved Muhammad Ali and "Fletcher" is named after Irwin Maurice Fletcher, my favorite Chevy Chase character.
Learn more about Griffin Modern here. The site includes a gallery of designs, product descriptions and a blog.