With many of us working and schooling from home for the past year, the need for workspace is greater than ever. We checked in with local designers to see how they're responding to the work-from-home trend.
---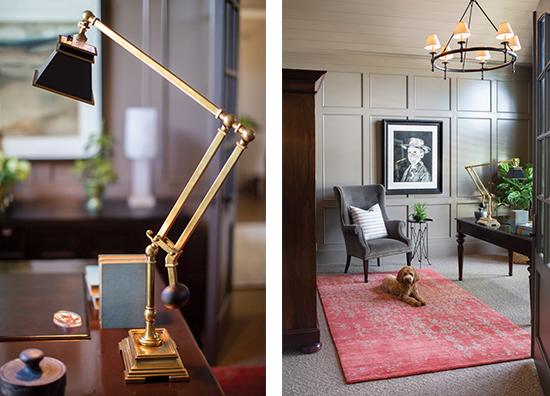 Photographer: Heidi Zeiger
Sophisticated details—traditional paneling, warm stains and paint hues, rich textiles, and an overscale ceiling fixture—complement the traditional style of this West Des Moines home. Located off the entry, the office serves as a striking first impression for the home, says Maddie Holup with R. Cartwright Design. Double doors close off the space for added privacy. Storage is a necessity in offices, and form should meet function. Here, the designers introduced a cabinet with lateral file storage and room for a printer.
---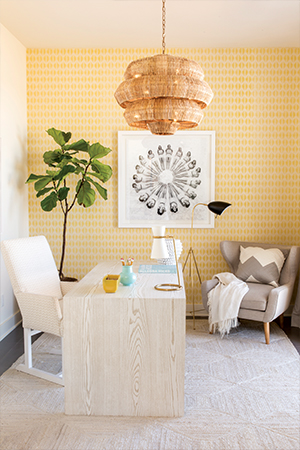 Photographer: Heidi Zeiger
Sunny yellow wallpaper sets a creative, engaging environment for this main-level Clive office. To complement the homeowners' modern casual aesthetic, the design team at R. Cartwright Design introduced clean-line furniture and a contemporary overhead fixture, which adds texture and drama.
In designing your own office, Maddie Holup suggests taking a style and color palette lead from the rest of the house—the yellow here reflects the brass and gold details used elsewhere in the design. Floating the desk in the middle of the room enhances the open look. "This requires a little more space, but is a great way to create an interesting room," Holup says. Layers of lighting make the space bright and functional for reading, computer work and virtual calls.
---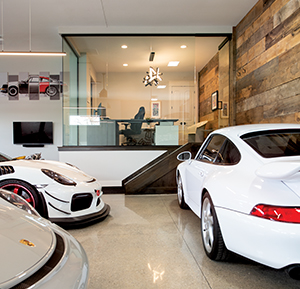 Photographer: Duane Tinkey
This showstopping office in Adel offers a bird's-eye view of the homeowner's car collection. Two walls of floor-to-ceiling glass allow an unobstructed overlook of the garage, "which always looks like a showroom," says designer Hal Davis.
Within the office, modern lighting, fixtures and reclaimed wood set a chic style that works with owners' differing design aesthetics (she's French country; he's a modernist). An oversize closet serves as a Lego and car model display so the owners' young son can play in the space.
Home offices are the norm in new construction, Davis says: "As technology changes, offices are becoming more efficient and streamlined. Depending on what field of work you are in, you can really create a personalized space that fits the needs and the function of your profession."
---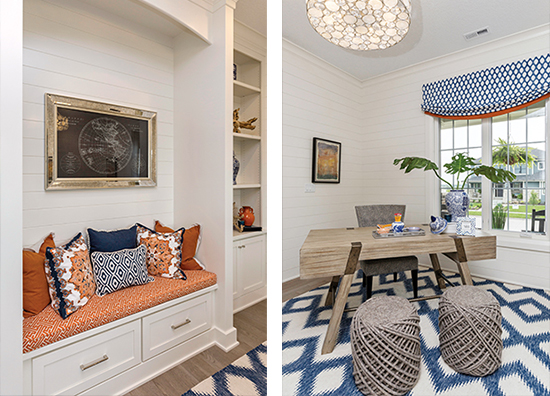 Photographer: Jake Boyd
With an open floor plan, this new home in Ankeny featured a flex space, which worked perfectly as an office. As the room is open to many views in the home—including outside—designer Meghan Blum wanted to make it attractive from numerous vantage points. Built-ins provide utility as well as display space for pops of color.
"When things function well, your day becomes more efficient and you are able to keep your lifestyle functional and beautiful at all times," Blum says. She recommends thinking through activities you want to do in your home office, then making sure you have adequate space for those needs.
---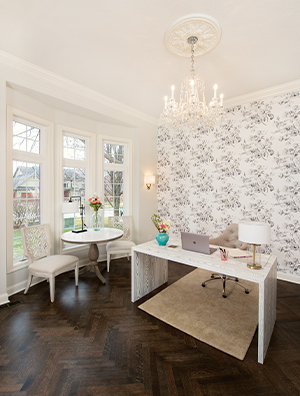 Photographer: Duane Tinkey
For her own office, Hanna Shiplett of Eden and Gray Design Build wanted to add character and charm to her 20-year-old West Des Moines home. Knowing she'd be working from her house this past year, she decided to pull the trigger on an office makeover with a space "designed to motivate me," she says.
Located off the entry, the space is light and bright even when she's working night-owl hours, thanks to the chandelier from West End Architectural Salvage (its reflection bounces off the bay window at night). Black-and-white wallpaper—which is hand-drawn—adds texture, as does the Aarons wood desk and herringbone oak floors. Shiplett suggests investing in a good chair, especially if you work at home full time. Storey Kenworthy and Workspace both offer ergonomic options.
---
Secrets to Finding Workspaces
Individual offices for each member of the house aren't always an option. Local designers weighed in on how to work within the existing confines of your home.
Multifunctional furniture: Consider a Murphy or daybed for a shared guest room and office; a gateleg table or popup desk that can retract as a space saver; and a C table for laptop work at any chair. If working from the dining room, clear space in a buffet or cabinet to house a wireless printer, paper, laptop and other supplies.
Creative conversions: Set up shop in an extra closet by removing the doors, adding shelves and a work surface; this is an effective solution for kid rooms. Tuck a desk under a stair nook as a hidden work spot that's also private.
Sneaky storage: Look for furniture with built-in function, such as drawers with chargers for phones, tablets and laptops, for example. Built-in desks are an effective solution for shared spaces.