Four walls of vintage windows provide a 365-degree view of the oak, ash, locust and hickory trees surrounding Anne and Mark Miller's Adel home. The trees create a shady canopy overhead that's particularly stunning in fall. "It's a great place for morning coffee, for reading or napping in the afternoons, and for watching the sunset with cocktails in the evening," Anne says.
Writer: Missy Keenan
Photographer: Justin Salem Meyer
Nestled in the woods behind their Adel home, this treehouse made of vintage windows and other reclaimed materials is the ultimate outdoor getaway for Anne and Mark Miller.
Working with Durwin Sauer, owner of Cutting Edge Construction in Des Moines, the couple created their adult treehouse using materials sourced from across Iowa. The structure is supported by old telephone poles, framed by railroad ties, and connected with old bolts. A tin roof tops the structure otherwise composed of the 50 antique windows that Anne gathered.
And thanks to baseboard heat, the retreat works year-round.
"When our friends come over they ask, 'Can we sit in the treehouse?'" Mark says. "It's a fun place to hang out with a small group. And the two of us sit out here a lot, too."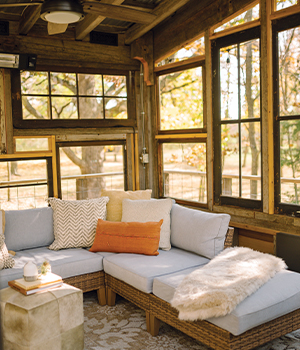 This cozy room is comfortable year-round. Electric heaters and fur throws keep the space warm in winter. In the summer, a screen door and screened side vents let in the cross-breeze while a ceiling fan overhead circulates air. It's a favorite spot with guests, including the Millers' grandchildren. Anne's brother has hosted a sleepover with his grandson.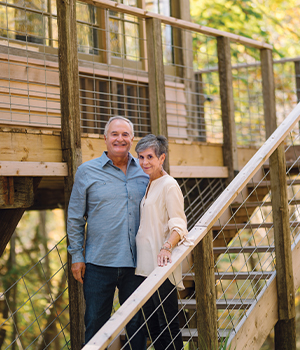 Mark and Anne Miller on the stairs leading to their backyard treehouse. "I love the treehouse," Anne says. "I think it turned out perfect."