Photographer: Joelle Blanchard
Writer: Hailey Allen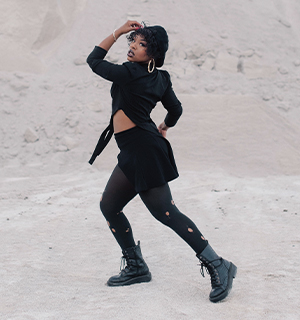 Age: 27
Profession or avocation: Entrepreneur and artist
Instagram handles: @_sevenmindz (personal account); @7mindzflicks (photography account)
How would you describe your style? My style is a reflection of how I'm feeling, so I create looks based off what I'm trying to emote.
Where do you shop? Since I was a kid, I've always been a thrift store lover. I have a huge appreciation for vintage and unique pieces, as well as being able to get the most bang for your buck.
The piece of clothing or accessory you couldn't live without: Big hoops! When I was growing up, my mom would never leave the house without a pair of hoops, and she always made sure my sisters and I had earrings to go with every outfit.
Favorite clothing item you've ever bought: I have so many great pieces in my life, but I recently bought a vintage pair of Wu Wear denim jeans from the '90s, created by the Wu-Tang Clan, from a really cool vintage shop in Binghamton, New York.