Renovation Jungle stocks more than 800 plants, with top sellers including philodendron, sansevieria, cactus, ferns, monstera, begonia and ficus.
Writer: Karla Walsh
Photographer: Duane Tinkey
Shelter-in-place orders spawned a variety of new hobbies and ways to pass the time, whether scrubbing floorboards with a toothbrush or adopting a furry friend. Some Des Moines residents developed a newfound or rediscovered interest in plants, due to the low level of commitment required, affordable cost, and the mental and physical benefits of being surrounded by nature—even while inside.
"The pandemic drove plant sales up this past year—one of my wholesaler's sales are up 60% from 2019," says Allie Delaney, owner of Renovation Jungle just off Ingersoll Avenue next door to El Patio.
"It's way more mainstream than it was when I was binge-watching plant YouTube channels two to three years ago and ordering rare cuttings on Etsy," she adds. "Now it's not just 20- to 30-year-old 'plant nerds'—it's our friends, our moms and our siblings rediscovering houseplants and actually having success with them."
Below, find out more about Delaney and meet Pots and Shots owner Temeshia Bomato. You'll also find a list of local plant shops and learn how plant lovers across Iowa are sharing their passion through social media groups.
---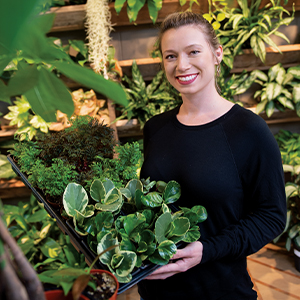 Allie Delaney
Renovation Jungle
607 37th St. (instagram.com/renovationjungle)
Allie Delaney's 2,000-square-foot-house in the Drake neighborhood is home to more than 325 plants.
They hang from the ceiling, climb the walls, crowd the entertainment center, adorn the windowsills. They're on a bedside table and the back of a toilet. They're in the shower.
"I want my house to be lush, and there's always another plant I want to add to my collection, Delaney says. "So I don't see this changing anytime soon."
Delaney's enthusiasm for plants started 10 years ago in college as a way to relieve anxiety. They still serve that purpose. "Plants are one of few things that allow me to turn my brain off. My customers tell me this too," says the 31-year-old Delaney, who opened Renovation Jungle in November 2020. "Plant care allows you to stop stressing and focus on something else for a little while. Especially during the pandemic, this was a godsend."
Indeed, research by NASA, the National Institutes of Health and academic organizations shows that being surrounded by plants reduces stress, improves concentration and productivity by up to 15%, boosts happiness levels, and can clean indoor air significantly within just 24 hours.
Each week, Delaney hears from busy mothers, physicians, seniors, teens and children who are enjoying the connection to nature and the validation of watching their plants thrive despite sometimes challenging circumstances.
"You are creating and managing your own little world when you have a plant collection," she says. "Growing things is in our blood as humans. … Plants can give you a reason to get out of bed on your darkest days."
When she first started growing plants, she admits she didn't find much success: "I slowly tortured them to their ultimate demise since I liked plants but didn't really care about them."
Then in 2015, when Delaney bought an older house with many windows, she realized she might finally have the light to support their growth. She began to research the ideal conditions and realized "this is more complicated than just setting plants wherever they look good and watering everything once a week," she says. "Finding out that I was doing things wrong at first is what got me interested. It wasn't until I placed things in their correct locations that things thrived, and I really fell in love with this hobby."
So much so that she decided to open a shop. Renovation Jungle is warm and cozy, with a hint of industrial flair. All of that combines to offer a welcoming atmosphere that feels more like a home than a store, which Delaney says sets the tone for people to relax and feel comfortable asking questions. Of the more than 800 plants in stock, philodendron, sansevieria, cactus, ferns, monstera, begonia and ficus are consistently among the top sellers, she says.
Delaney emphasizes that people who believe they don't have a green thumb shouldn't let that stop them from adding plants to their life. "There's a lot to learn but the basics are simple," she says. "You don't need to memorize Latin names or download plant apps to keep it all straight. Get comfortable killing a few things here and there. You will learn from your mistakes and start to gain an intuition about plants that makes the hobby all the more fun and easy."
---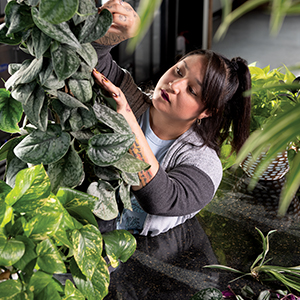 Temeshia Bomato
Pots and Shots
500 University Ave., Suite 1101, West Des Moines (facebook.com/potsandshotsiowa)
At Pots and Shots, you not only can buy succulents, cactuses, spider plants, sansevieria, philodendrons and air plants, but also twists on Moscow mules, flower-inspired cocktails, plus a selection of high-end whiskeys, bourbons and scotches.
"I really liked the idea of a plant shop with a drink aspect," says owner Temeshia Bomato, who opened the shop in November. "As a whiskey enthusiast, I wanted to incorporate a full-service cocktail bar—something I thought could appeal to men and women alike regardless of a plant interest."
Overall, she strives "to bring a slice of paradise and summer to West Des Moines year-round," she says, referring to the warm vibe of the shop. The "pots" portion includes a full-service potting bar, plants (naturally), plus pots, soils and pest-control supplies for purchase. The "shots" can be found at the bar, which is lined by wooden accents and hanging baskets. Guests can order a drink to enjoy there, or take it back to the lounge area to watch sports or play video games.
A registered nurse since 2016, Bomato's interest in plants grew as she was spending more time at home with her three daughters, Pixi (12), Evie (11) and Indy (4). That interest helped her come to terms with her true feelings about the mental and physical toll of her nursing career, she says. A "healer at heart," she sees Pots and Shots as a way to take care of her well-being by stepping back from such a stressful industry and tending to living things of another species.
"Caring for my plants and bringing nature and a relaxing atmosphere into my home has made a world of difference in my own mood," says the 34-year-old Bomato. "There is nothing that soothes me faster than getting my fingers in the dirt."
She now has more than 350 plants at home, including a large monstera albo that she says is so beautiful it inspired her to add to her collection. "I found myself completely consumed with learning about different houseplants and the current market," she says.
She began trading and selling houseplants and succulent arrangements as a hobby and then started to brainstorm potential business models. A Google search introduced her to a plant shop that served cocktails in South Carolina.
So far, despite pandemic-related delays and supply chain issues that made the launch of Pots and Shots more difficult than she envisioned, it's been rewarding to see the dream become a reality, Bomato says. "The idea of making a career and building a business with my family doing something that I love—what better job exists?"
---
5 More Local Spots to Stock Up on Houseplants
Besides Renovation Jungle and Pots and Shots, you can add to your indoor plant paradise at these local stores and garden centers. Some even offer personalized "plant styling" if you're unsure about what variety might thrive in a specific setting or how to keep it alive, so be sure to ask.
Art Terrarium
106 11th St.
artterrarium.com
Petals + Moss
333 E. Grand Ave., Suite 113
instagram.com/petals_and_moss_dsm
Adina Blooms
1515 S.W. Main St., Suite 105, Ankeny
adinablooms.com
Ted Lare
2701 Cumming Ave., Cumming
tedsgardens.com
Harvey's Greenhouse
611 Nile Kinnick Drive S., Adel
harveysinadel.com
---
Fauna Fans Get Social
A growing number of plant people across Iowa are connecting on social media. In August 2019, Meghan Adam of Swisher (19 miles north of Iowa City) created the Iowa House Plant Lovers group on Facebook after falling in love with the hobby as she staged her home prior to its sale. To date, the group has more than 9,500 members and counting, from the Mississippi to the Missouri.
"I can't tell you how happy it makes me to see someone post about the adorable little greenhouse with the great selection they didn't know existed, and to see others in the group tagging each other and making plans to visit," Adam says.
Between watering and tending to her 30 houseplants, working her day job as a marketing manager for a senior living community in Iowa City, and leading her gypsy-speakeasy band, Vandello, Adam told us about her growing passion for all things plants—and the people who love them.
Tell us about your personal plant collection.
I have around 30 houseplants, plus a bunch of cuttings I'm propagating. I'm a sucker for big tropical plants, and with a home that's full of high ceilings and windows, I'm able to keep them pretty happy. My favorites would have to be my bird of paradise plants; I have eight. My tallest is over 8 feet tall and I love feeling like I'm walking around in a jungle or arboretum. I walk underneath one of those big, beautiful leaves and it brushes my shoulder like a friend saying hello.
Besides the mood boost, what else would you say are the biggest benefits of growing houseplants?
Plants are good for everybody, but I think they can have a truly profound effect on some people. For those dealing with loss, boredom, lack of confidence, loneliness, anxiety and depression, taking care of a plant and watching it thrive is magical. Certain people can stare at one newly unfurled leaf and feel an immense sense of calm, happiness and pride. They're living things and they're alive with energy, just like we are. There's something magical about it. I think plants and people feed each other's souls—they definitely feed mine.
What has been the most rewarding part about founding this social media community—and watching it grow?
I wanted a spot where Iowa plant lovers could let their fellow enthusiasts know about great deals, rare finds and local businesses that might otherwise fly under the radar. I love it when someone posts about a wish list plant, asking if anyone has seen one anywhere, and then someone in the group comments that they have one they're willing to trade. One of my favorite moments arose in mid-2021 when someone found out that Hy-Vee corporate had accidentally added an extra zero to a stock order of snake plants, resulting in an enormous overstock across the state. Someone posted about it in the group, and tons of people ran out to snag some from their local store. That is exactly what the group is about.
Who should consider joining your Iowa House Plant Lovers group?
Anyone who shops for houseplants in Iowa. It's a great place to find plant friends nearby, learn about local finds, and also to get tips and tricks from people who have a wealth of knowledge and experience. I'm an enthusiast, but by no means an expert, and I love seeing people get helpful advice and encouragement from shop owners, horticulturists and folks who really know what they're talking about.