As part of a Sixth Avenue public art project, 12 bus shelters are being installed along a 1.2-mile corridor from the Des Moines River bridge south to I-235. Each shelter features five glass panels with a digitally embedded design created by Barbados-based artist Sheena Rose. Image courtesy of Substance Architecture and Greater Des Moines Public Art Foundation.
Writer: Brianne Sanchez
Des Moines' trolleys have long ceased clanging and clattering, but their legacy lives on in many of the commercial corridors and surrounding neighborhoods of today. How we get around a city deeply influences our experience, and contributes to the evolution of a place.
The dozen-plus Des Moines City Railway lines ushered in a new era for our city, spurring development beyond downtown into "streetcar suburbs" anchored by colleges and churches. Business districts, including Highland Park/Oak Park and Drake, sprang up alongside new homes built to accommodate the growing population.
Both neighborhoods kept key historical elements over the past century and a half, weathering periods of disinvestment and economic downturn that make them ripe for revitalization. Now these areas are among four designated Special Investment Districts by the city's partnership with the nonprofit Invest DSM. Grant programs for targeted residential and business improvements are meant to spur structural improvements and enhance pride of place.
"It's asking, 'How do we make this [neighborhood] a place that serves the surrounding community and is a reflection of them?'" says Amber Lynch, executive director of Invest DSM. "And then, how does that begin to attract the broader community into experiencing it?"
Streetscaping along both corridors helps that effort. Where once electric streetcar cables ran overhead, electric bicycles (accessible via BCycle rentals or from local shops like Ichi Bike) offer a boost for anyone who wants to pedal up the new widened sidewalks along Sixth Avenue. Bike lanes from University Avenue around Drake will soon extend all the way to Waveland.
As a fair-weather e-bike enthusiast, this writer prefers a two-wheeled approach to urban exploration. Riding puts me within smiling range of my neighbors and affords a longer look at the public art popping up along pathways. A quick spin through these neighborhoods highlights how they seek to retain their character, but welcome new spaces and faces of leadership in our ever-evolving city.

A mural by Amy Putney Koenig, at 3707 Sixth Ave., captures the evolution of the Highland/Oak Park neighborhood. Learn more about the artist here and here. Photographer: Duane Tinkey.
---
Dogtown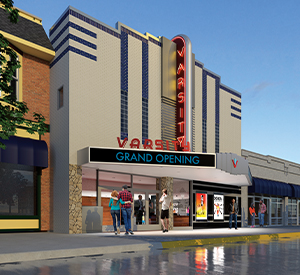 Drake University improvements continue to energize investments in the neighborhood, and the university in October announced a $225 million campaign that indicates it's just getting started. The newly constructed Tom and Ruth Harkin Center, a model of universal design for accessibility and inclusion, is among recent builds. Drake's new community clinic, in partnership with Broadlawns Medical Center, will soon emerge as a neighbor on the western side of campus, while new hotels and mixed-use developments are springing up on the eastern edge.
Merge Urban Development Group has big plans for constructing five-story apartment buildings that nod to Drake's midcentury architecture as part of a $63 million plan for four acres fronting University Avenue and 25th Street. The mixed-use project will wrap around the revitalized Varsity Cinema, an initiative driven by the Des Moines Film Society to continue the legacy of the historic art house cinema. Screens are set to brighten again this spring, according to Ben Godar, the group's executive director. He says the chance to rescue the historic building drew the group to Dogtown, but being part of a neighborhood on the rise adds a layer of benefit.
"We're part of a newly reinvigorated part of the community, but one that has a rich history," Godar says, adding that cinema's goal is to create a reciprocal relationship where people coming to see a movie stick around and support the business district.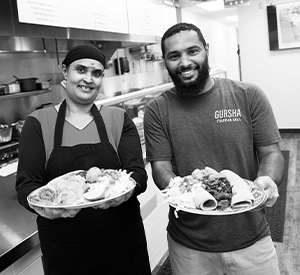 Diverse Dining
Dogtown boasts a number of dining destinations, with food from nearly every continent represented among the restaurants here. From Dough Co. Pizza (with a 26-inch pie that barely fits through the door) to neighborhood mainstay Mars Cafe to the new Ethiopian spot Gursha Ethiopian Grill, business owners here are a diverse, tightknit group.
Salah Salah, who opened Gursha in January 2021 with his business partner and head chef Safia Umar, recalls receiving cards and gifts from neighboring eateries. Although the restaurant is new, Salah has deep roots in the neighborhood; his father opened the Halal grocery on 25th Street two decades ago. Umar was a home-based caterer whose clients were always encouraging her to open a restaurant, and Salah's family had supplied her with spices. When Fernando's Mexican Grill moved to a new space down the street, they jumped at the opportunity to collaborate.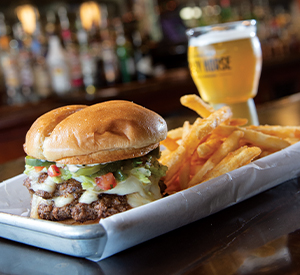 "I feel like [the Drake neighborhood] is the heart of town, especially because of its diversity," Salah says. "When we first moved to the U.S., we moved here." (Umar is Ethiopian and Salah is Somali/Yemeni by way of Egypt.) The two take pride in their bright and welcoming atmosphere, which has become popular with Drake students and area families.
The Full Court Press restaurant group also embraces the location. Their Lucky Horse Beer & Burgers now occupies an 1887 brick building. The Neighborhood Development Corp. invested some $700,000 in refurbishing the building, which also houses the nonprofit's office. And it's not the only historic structure getting a new lease on life.
xBk Expansion
The owner of neighboring music venue xBk recently purchased the adjacent former firehouse building (circa 1890), with plans for a cocktail and wine bar in the space. Tobi Parks says their concept will extend the gritty-yet-refined "Brooklyn expat" vibe of xBk, with a patio linking the two by spring or summer.
"There's a real opportunity to create a vital entertainment district outside of the downtown area that can be unique and interesting," Parks says, citing the proximity to Lefty's Live Music and the Varsity Cinema as additional destinations. For her, revitalization is about creating layers of arts and culture that enhance the area without pushing anyone out.
Even the former First Christian Church, whose original congregation helped found Drake University, has been rechristened. It continues to be a house of worship, now as HOPE + Elim, formed as a merger between the historically Black Elim Christian Fellowship and Lutheran Church of Hope.
---
Connected by Community-Builders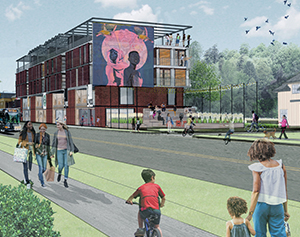 Pedaling north on 25th Street toward Forest Avenue takes you past the new Gregory & Suzie Glazer Burt Boys & Girls Club, with its vibrant mural a celebration of the multicultural nature of the neighborhood. As you cruise down Forest toward Sixth Avenue, you go past a number of other agencies central to area families.
Urban Dreams is currently at the corner of Forest and Sixth, though it plans to move to bigger facility on Second Avenue later this year. At Sixth and College, Good Vibes Movement hosts yoga, youth programming, community gardening and more.
Affordable housing nonprofits like HOME Inc. and the Neighborhood Finance Corp. are also headquartered within the 6th Avenue Corridor Main Street District, with new developments on the rise, such as the proposed $10 million Center @ Sixth, which would include 32 apartments, a business incubator and commercial space that includes a whiskey tasting room for Ziyad, a Black-owned small-batch label by Marquas Ashworth.
---
The Parks District
Neighborhood pride also is on the rise in Highland Park and Oak Park—often referred to as the Parks District—thanks to the momentum created by a new generation of community champions. Their enthusiasm is catching the attention of developers, who are banking on improvements being contagious.
"When we were selecting these places [as Special Investment Districts], it was a combination of factors," Lynch says. A mix of data analysis and relationship building determined which areas were ripe for reinvestment. Hyperlocal leadership is key, whether it comes through neighborhood associations, local business owners or other motivated residents.
"In Highland Park/Oak Park, leaders had begun to emerge and fight for things like the street redesign to calm traffic on Euclid [and] fundraising for what is now the Riverview Park and Amphitheater," Lynch says. "There is this kind of energy that was foundational for us to say, 'There's a seed there that's already been planted that we can build on.' "
In some cases, the building is literal. The organization joined Neighborhood Development Corp. in supporting the $1.4 million renovation of Chuck's Restaurant, which will keep the Italian American cornerstone (established in 1956) up to code and refurbish upstairs apartments.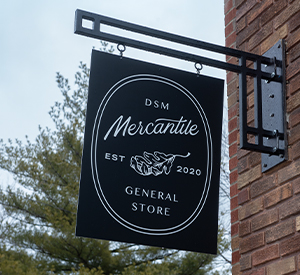 Reimagined Spaces
Other area storefront facades got face-lifts, too. Des Moines Mercantile, a charming purveyor of handcrafted and heirloom-quality home goods, is among them. And new owners are carrying on the tradition of Hiland Bakery destination-worthy doughnuts, with the addition of dine-in and sidewalk seating. The Slow Down Coffee Co., opened by Drew and Kara Kelso, replaced Bill Wheeler's longtime neighborhood hardware store with a communal space steeped in community building.
"We retain a lot of history in the space," says Kelso, whose path to business ownership began when he got involved in the local neighborhood association. "If you're looking at our logo, we have continuity with the roses that were on this floor from the hardware store. We left the floor, we built Bill's checkout counter into our new register. There's so much pride in this neighborhood of that history, but we knew that a hardware store wasn't meeting a need, but a coffee shop could."
Pop-up events bring extra bustle to the neighborhood. In summer, artisans and small-scale farmers set up shop outside the Mercantile. Last winter, a decorated vintage truck provided a Hallmark movie vibe for holiday card photo shoots.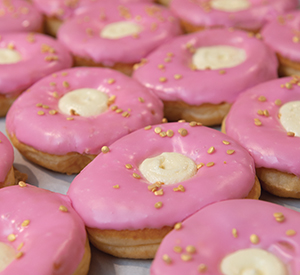 "I'm just excited about [Highland Park] turning into a neighborhood like ones I've been visiting in the last five years in my travels," says Rudy Rodriguez, who opened Tesoro Casegoods and Oddities in a Euclid storefront in 2019 after moving back to the area from California. He ships Danish Modern furniture globally and likens the transformation to the trajectory of Midtown-Westport in Kansas City.
"I can't wait for the kids walking by now that it's safe on Euclid," he says. "I just can't wait until it's back to the way it was when old-timers tell me there was a trolley there."
The new business owners on the block are quick to credit Wheeler, the owner of Bill's Window and Screen Repair, as a leader whose longtime advocacy paved the way for projects like theirs. Momentum continues to snowball, with Conner Delaney's anticipated restaurant and brewery going into the former French Way Cleaners, and Joe Cordaro of Benchmark Real Estate Group revamping the historic brick retail and apartment buildings on the southern corner of Euclid and Sixth.
Reimagined spaces are bringing the district back to life. On a chilly fall evening, guests at the opening of the Re/Max Precision Urban Office on Sixth Avenue mill around a bright, modern space with picture windows all along the east wall. Realtor Sara Hopkins and a team took the vacant building across from Linn's Super Market through a nine-month transformation, with the vision to create a collaborative, boutique real estate brokerage.
Hopkins, who grew up in the area, sees incredible potential here, where affordability meets walkability. "I wanted something that was immersed in a community," she says. "At the end of the day, the lifeblood of a city is the neighborhoods."
---

A rendering of the small park and streetcar sculpture that will be installed near the entrance to Waveland Golf Course on University. Architectural rendering by Shive-Hattery Architecture + Engineering.
End of the Line
This spring, the Des Moines Historical Society, the Waveland Park Neighborhood Association, and Des Moines Streetcar Friends will realize a dream to commemorate and preserve the former streetcar turnaround on University Avenue near the entrance to Waveland Golf Course. Plans for the small park include a streetcar sculptural element and benches and signage educating on the history of the streetcar system.
---

Left: A glass panel, designed by artist Sheena Rose, that will be a part of the bus shelter project along Sixth Avenue. Glass panel image courtesy Substance Architecture and Greater Des Moines Public Art Foundation. Right: A sidewalk mural by artist-in-residency Eleanor Kahn in the Drake neighborhood.
Art on the Route
New, artful bus stops being installed along both the University Avenue and Sixth Avenue corridors inspire another reason to opt for multimodal transport. Designs by internationally recognized contemporary artist Sheena Rose of Barbados will adorn the glass panels of a dozen bus shelters along Sixth Avenue. (At press time, construction was beginning on the installation.) And in the Drake neighborhood, playful sidewalk murals by artist-in-residency Eleanor Kahn tie residential blocks to the Dogtown business district with a theme that asks, "What's for Dinner?"
---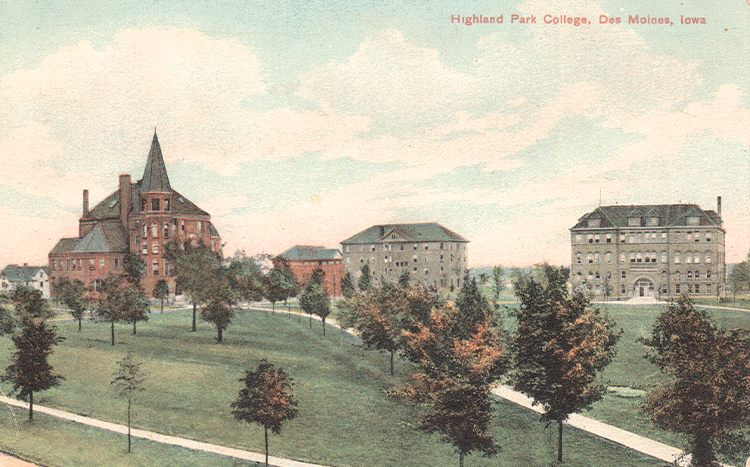 A vintage postcard depicts the former Highland Park College, which opened in 1890 and spurred initial development in the area. Postcard image from the blog collegeonthenorthside.wordpress.com.
History and Heritage
Both Highland Park/Oak Park and Drake play a rich role in the city's history.
North of the Capitol, a local business syndicate opened Highland Park College in 1890 (on what is now the site of Park Fair Mall), spurring development in the area. Boasting its own bank and post office, the Parks District became a self-sufficient one-stop shop, accessible via interurban trolley lines, which crossed the river and climbed up Second and Sixth avenues.
Attractions like the Des Moines Zoological Gardens (later the site of Riverview Amusement Park) helped popularize the area, which holds as a claim to fame hosting one of the world's first nighttime baseball games played under lights (on the site of modern-day North High School's stadium). Construction of substantial and well-designed buildings along Euclid, on par with the downtown architecture of its day, provided a strong foundation for current revitalization efforts.
Drake University was founded in 1881, and many of the neighborhood's large Victorian-era homes once boarded students and faculty. Among the early amenities was the Varsity Theater, converted from a Coca-Cola bottling plant to a single screen in 1938.
The district earned the nickname Dogtown in the 1940s, coined by the Times-Delphic student newspaper. Spectators and competitors alike have flocked to the district since the inaugural Drake Relays in 1910. While a new stadium is springing up on the east side of the Knapp Center on Forest Avenue to accommodate a mix of Des Moines Public Schools and Drake athletic events, the original 1925 Drake Stadium will remain.
Sources: "From Keokuk On: The History of the Cottage Grove Area," published in 1982 by the Drake Neighborhood Association.
"The Streetcar Suburbs: A History of Highland Park, Oak Park, and the Parks District of Des Moines, Iowa 1888-1998," by James E. Jacobsen, 2020 re-issue by Parks Area Foundation.