Des Moines Public Schools Superintendent Thomas Ahart, pictured here at North High School, has launched bold initiatives to change everything from student grading and testing to leadership and professional development for teachers and administrators. A key program constantly monitors student progress, turning classrooms into interactive learning labs.
Writer: Tim Paluch
Photographer: Duane Tinkey
The hallways of North High School are quiet and empty, save for the occasional student scurrying between rooms. Midmorning on the first day of the school year, this is good news.
"It does not feel like the first day in here," Thomas Ahart, the superintendent of Des Moines Public Schools, shouts to Ben Graeber, the new North High principal, as the two men walk toward each other and shake hands near the gymnasium.
"It feels awesome, doesn't it?" Graeber says. He smiles and shows off his new blue checkered blazer, bought on a rare trip to Von Maur as a gift to himself for the first day of school.
On day one, quiet is good. Calm is good. This means the weeks of planning and scheduling for the Aug. 23 arrival of roughly 1,250 North High students worked. This is what Ahart, dressed in a blue Des Moines Public Schools polo tucked neatly into navy slacks, is finding across the district this morning on his visits to each of the city's four public schools with new principals.
But that excitement and encouragement is tempered, somewhat, by calls and texts he received early this morning with news that a student he knew well, 19-year-old Noah Campbell, was shot and killed outside a gas station on the city's east side the night before.
Campbell was supposed to begin his senior year at Scavo High School today. The teenager had a history of struggles, but teachers and administrators had hoped he was turning a corner.
"A lot of time and effort went into that young man," Ahart says, slowly shaking his head with a pained look on his face. "He was going to graduate this year."
Progress and positivity interrupted by new tragedy and challenges: These are the daily ups and downs that come with leading Iowa's largest, most diverse school district, home to about 33,000 students from 111 countries who speak more than 80 languages—60 percent of whom are nonwhite and nearly three-quarters of whom receive free and reduced-price lunches.
When Ahart, who turned 50 this past summer, took over as superintendent 5 1/2 years ago, he declared his intention to transform Des Moines' struggling school system into a model for urban education in America.
A lofty goal, certainly, but Des Moines School Board Chair Teree Caldwell-Johnson says Ahart has ushered in a "paradigm shift" in local education. "We've created a very different view of public education than we typically have seen," she says.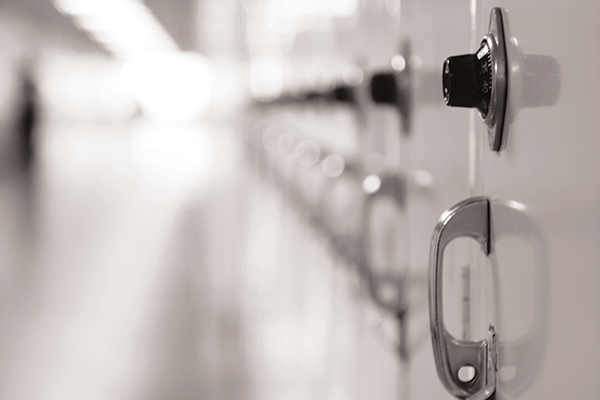 Dramatic Changes
His administration has made dramatic changes in everything from student assessments and grading to leadership and professional development for teachers and administrators. His team realigned the district's infrastructure and implemented innovations in the way teachers teach—launching an aggressive systemic philosophy called Schools for Rigor.
It demands that teachers engage with students on a level that tracks daily achievement rather than relying on annual or semiannual standardized testing results. The goal is to transform classrooms into interactive student-focused learning labs that constantly monitor student progress, rather than the old practice of teachers just taking home stacks of papers and grading essays on the weekends.
"It's still early, but if all of these things come together in a way that has been envisioned, then I think that we will definitely move toward being the model of education that we envision ourselves to be," Caldwell-Johnson says.
But it can be lonely and isolating at the top. There's little positive reinforcement, Ahart says. The average term of service for the superintendent of a large urban school district in America is barely two years. The Des Moines job reports to a board whose members serve four-year terms, with staggered elections of up to four members every two years, potentially bringing in a new slate of bosses with different educational philosophies. If a majority of the members want him out, he's out.
And Ahart isn't one to shy away from going against the status quo. He calls Iowa's education testing system an "embarrassment." He's a guy who made a name for himself in the district as an unorthodox—his word—principal of Harding Middle School for three years, during which time he laid off staff to pay for new "school improvement leader" positions he created, and started a student uniform policy in one of the city's poorest and most troubled schools. By his third year in the job, he had replaced more than half the staff.
That unorthodox style remains as superintendent.
"We've been pushing pretty hard for the last five years, and we're seeing encouraging progress," he would later say, "but I also know that that's the best way for me to wear out my welcome."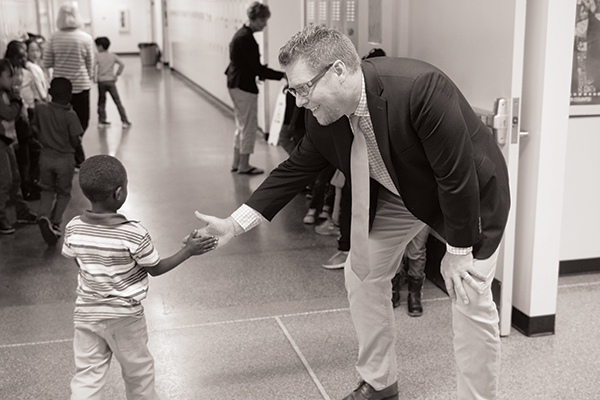 Achievement Gaps
North High School is a microcosm of the challenges Ahart and the Des Moines school district face. Of the city's 64 public schools, 38 have student poverty rates of 70 percent or higher. Here at North, it's essentially 100 percent. The school keeps a small pantry of nonperishables and used clothing in a room behind the journalism lab. Twice a week, students and their families can pick up what they need.
North is also one of the most diverse of the city's schools, and despite improvements over the past decade in student performance, it faces the same academic achievement gaps affecting many poor, immigrant and minority students throughout Des Moines and Iowa, especially African-Americans.
Ahart speaks openly, and often, about the problem he sees with the state of Iowa's testing and assessment program, an "abomination" that he says doesn't even align with the Iowa Core standards being taught in classrooms. In short: Instructors teach one thing, students get tested in another. This disproportionately affects low-income student learning more severely, Ahart says, since the hills to climb are inherently steeper when dealing with generational poverty.
"There's great consensus that these are the right standards, but we don't even measure them," Ahart said two months earlier in a small conference room next to his second-floor office on Fleur Drive facing Gray's Lake. "So it gets frustrating to hear that a school is failing because their percent proficiency on this test is not even aligned with what you're teaching the student."
So last school year, after years of waiting for the state to make changes to its assessment program, Ahart and the board spent the district's own money to bring the MAP test (Measure of Academic Progress) into the city's schools. Students still take standardized tests required by the state, but now they also take the MAP tests, which Ahart says gives schools a more timely and accurate snapshot of student progress and achievement.
"I am kicking myself that I didn't do it sooner," he says.
Ahart continues to walk the North High hallways for about an hour, stopping to check in on a few teachers he knows or who have reached out to him with questions and concerns over the summer. He pops into a freshman class and asks a teacher how the new student desks—interchangeable, nongeometric shapes that can be easily moved around to create different group atmospheres—are working out. He briefly gets lost trying to find the activities office behind the gym.
He stops in a stairwell to pick up a few empty milk cartons and runs into Joe Green, whom he recently hired to be the school's new vice principal. Green, a tall African-American man in his late 30s, started as a teacher and moved into school administration, most recently as a school improvement leader, that position Ahart created when he was principal of Harding Middle School that has since spread districtwide. New North Principal Ben Graeber is also a former SIL, a job Ahart views as a farm system for future principals.
Then Ahart settles into a spot up by the front office just before the bell rings to watch as students fill the hallways between class periods. A former teacher himself, he admits the hustle and excitement of the first day of school brings back memories of his time in the classroom.
"You miss the direct contact with the students, who are the only reason we're here in the first place. You miss that tangible energy," he says.
Early Plans
A career in education was not always the plan. Ahart studied broadcast journalism at the University of Denver, working at the college radio station and newspaper and performing in theater productions. But during his senior year he began to reflect on his childhood in Iowa, and what he considered his subpar educational experience, and wondered if he might be able to better influence the world as a teacher.
Ahart was 12 years old when his father quit his medical practice in eastern Iowa, sold off all his assets and moved the family of eight to his grandfather's small, one-bathroom farmhouse five miles outside of tiny Dow City on the other side of the state.
It was a decision with a good intention—to keep the 240-acre farm in the family—but one that nearly bankrupted them. Overnight, they went from an affluent middle-class family that upgraded its car every two years to qualifying for reduced-price school lunches. The family started farming during one of the driest springs on record, and continued as America entered the farm crisis of the 1980s.
Money at home was tight, often nonexistent. He remembers a night when he was 14 or 15 years old, walking up the path back to the farmhouse after working outside, when his father told him he had just sold his life insurance policy, one of his last remaining assets. "Do you think we're gonna make it?" he asked his son. Ahart could sense real worry and fear in his voice.
"I'm not sure I responded to him. I'm not sure he was expecting a response," he says now. "I remember thinking, 'Are we gonna make it? We've got to.' "
Ahart isn't saying he can relate to the extreme poverty many Des Moines students face at home—often generational, sometimes the result of refugee and immigrant families being thrust into a new life in Central Iowa. But he is saying he can somewhat understand what it's like to know there isn't enough money to join other kids in after-school activities, go out on a date or pay for college (Ahart got into Northwestern University, but couldn't afford to attend).
"I think about that a lot," he says. "It taught me a lot in a meaningful way, and a lot of kids [in Des Moines] don't have half the opportunities I had growing up."
Ahart left a typical midsized Iowa school district for a class of just 16 kids, inside the same K-12 school building his grandfather attended. Every year the school would get one or two new, exciting teachers, only to see them leave as soon as a different school district could offer better pay. Resources were scarce. He remembers his senior year math teacher telling him and the only other student in his class, "You're on your own, boys."
"Educationally it was lacking, to say the least," Ahart says. "I felt ill prepared for college for sure."
Teaching Experience 
After changing career plans and earning a teaching certificate, Ahart took his first job teaching language arts at a high school in Glenwood Springs, Colorado. He acted in the local theater, worked at a public radio station and directed the school plays. He loved the job but had to work full time in the summer to make ends meet. So after seven years he moved back to Iowa for a similar job in Denison, near his family's farm, where he taught for four years.
Beginning in 2001, Ahart worked a series of jobs that allowed him to see the public school system from many angles—school improvement consultant with an Area Educational Agency in Johnston, director of instruction for the Marshalltown school district, director of human resources for the Ankeny school district and then principal of Harding Middle School in Des Moines for three years.
Harding is one of the district's poorest schools, and at the time he took the job the district was exploring whether or not to shut it down, Ahart says. Morale was low.
"Some folks had this idea that it doesn't matter what we do because we're a dumping ground [for troubled kids], and the district doesn't care anyway," he says.
By the third year, with more than half the staff replaced, a controversial school uniform policy in place, and new leadership positions created and handpicked by Ahart, the culture began to shift, and the school hit its math and reading goals.
"I had promised our students that if they met those, they could shave my head," he says. "And they did it."
Gaining Notice
The school district administration took notice. The next year he was promoted to associate superintendent, a new position that put him in charge of teaching and learning for the district.
He hit the ground running, implementing initiatives such as an alternative teaching contract in which new teachers could earn a higher salary in exchange for working two extra days and spending 90 extra minutes a month in the classroom focusing on things near and dear to Ahart's educational heart: working with English language learners, overcoming the impact of poverty on student learning, and leveling the playing field for poor and disadvantaged students.
After four years, those teachers can begin a special master's degree program created specifically for them at Drake University, for free.
"This was a job that I thought was perfect for me," he says. "I thought, 'This is where I want to be.' "
Ten months later, Superintendent Nancy Sebring resigned in the wake of a highly publicized scandal over sexually explicit messages sent from her district email account, and Ahart found himself the acting superintendent.
"I'm not sure I handled the burnout very well" that first year, he says. "That was a whale of a year."
The school board opened a national search for a full-time replacement, but Ahart got the job after a 4-3 board vote—a rare split vote, board chair Caldwell-Johnson recalls.
The vote still bothers Ahart, or at least confounds him. "I don't know what drove the three no votes," he says. "It certainly wasn't a vote of confidence."
New Programs 
But it didn't slow him down. He reorganized the front office, bringing educators and administrators he knew and worked with into high-profile strategic positions. As the immigrant and refugee student population ticked upward, the district created a Center for New Americans downtown to assist families making the transition, and established a summer program to teach families about navigating the city and its school system.
Under his leadership, the district launched more aggressive strategic plans each subsequent year, culminating in the Schools for Rigor program that launched in the first six schools, including North High, last year.
Andrew Rasmussen, the president of the Des Moines Education Association, the local teachers union, says
Des Moines teachers agree with Ahart's goal of looking beyond standardized testing and focusing more on individual student learning. But new initiatives come fast and furious, and teachers worry they are losing valuable prep and planning time in order to implement large-scale programs like Schools for Rigor.
"Add to that the lack of adequate state support for schools and then the incredible diversity of student needs that our educators have to serve," Rasmussen says. "We are also concerned about growth in class sizes as the lack of state support may lead to layoffs."
Resources will always be an issue, Ahart says, especially with a conservative state government. But Ahart vows to push forward with his bold plans and says the results are already starting to show. High school graduation rates in the district are climbing, up a few percentage points over the past five years, from 75.7 percent in 2011 to 81.2 percent in 2016 for four-year students.
"There are so many moving parts to our school system.
So much that needs to happen and so many variables," he says. "A shadow follows me constantly. What we have on the line is 33,000 young lives. The stakes are high.
"What keeps me up at night is the thought that there is something else we could be doing that we've not figured out yet."
A Stop at Moulton
Ahart's final stop on the morning of the first day of school is Moulton Elementary, a handsome red brick building in the River Bend neighborhood that decades ago served as North High. Moulton is another city school with student poverty approaching 100 percent and sits across the street from a church that hung a banner reading "Immigrants & Refugees Welcome."
The new principal, Eddie McCulley, was hired just days ago, after the former principal was asked to resign following an investigation into allegations of misused school funds.
Ahart steps into the main office and the two men hug and make small talk about the first day, which McCulley says is going far more smoothly than he expected.
"I'm so thrilled for Moulton; I'm so glad you said yes," Ahart tells him. "I have absolutely zero doubts what will happen here under your leadership."
McCulley is an energetic and philosophical guy who grew up in public housing near Compton, California. He got into education to "speak truth and life into kids that need it—the least, the lost and the broken." McCulley is another former school improvement leader in the district and last year served as vice principal of North High.
He's a guy who shares the superintendent's philosophies on education and speaks like someone who would follow Ahart into battle. "His vision for what we are doing and where we are going—and where we need to go—as a district is phenomenal," he says later that week. "It definitely helps to know that the captain of our mega ship has the same core values and beliefs that I do when taking a risk."
The two take a walking tour of the school, stopping occasionally to talk about changes McCulley wants to make to the school and long-term changes Ahart wants to make to the district as a whole. They end up back in the office, and hug again before Ahart leaves. On the way out, a teacher, then a counselor, stop to thank him for making the McCulley hire. "That feels good," he says.
It's lunchtime. Ahart steps outside and pulls his cellphone from his pocket and notices missed calls and texts from the office. He needs to rush back to put out a few fires. The school year has officially begun.