Clockwise from top: Fried rice with Chinese sausage, sticky rice, papaya salad, pork rinds and lotus blossom cookies are some of the Southeast Asian specialties Kevin and Souriyno Chen grew up with and today love sharing with diners.
Photographer: Emily Kestel
---
Kevin and Souriyno Chen

Celebrating Laotian Flavors
Writer: Linh Ta
At Lucky Lotus on Ingersoll Avenue, owners Kevin and Souriyno Chen hustle behind the scenes, debating which dishes should go on their changing seasonal menu. 
They recently made a big move and removed pad thai from their menu, arguably their most popular and recognizable dish. 
But the Chen brothers, who come from a family of immigrants and chefs, reveled in the menu exclusion, as it prompts their customers to try something new and unfamiliar—maybe even a dish that's more reminiscent of the foods the Chens ate growing up. 
"It was kind of scary to us because [pad thai] was really our number-one seller," Souriyno says. "We were weighing the pros and cons and [asking ourselves] what do we really want to do in Des Moines? What is our real goal? And that's to share the food that we really love."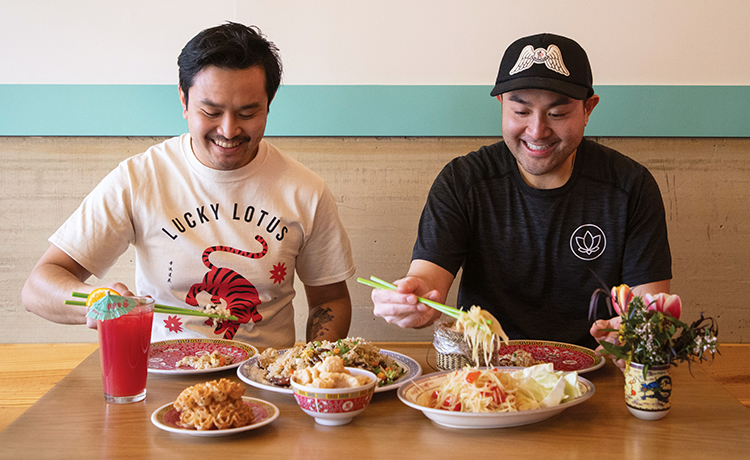 Souriyno (left) and Kevin Chen
One of the foods they love stems back to their childhood: papaya salad, the quintessential Lao food, Souriyno says. Growing up in their south-side Des Moines home, the Chens would watch their mother make the salad. Using a mortar and pestle, she would mash shaved papaya, peppers, salt and sugar together to create what they called "a super umami bomb." 
It was fishy and fermented with hints of lime, garlic and chili. And the brothers knew they were in for a feast whenever she made it, especially if it came with chicken wings or a marinated steak with sticky rice. "It's super nostalgic," Souriyno says. 
It was also a favorite on the menu of their parents'  former Thai restaurant, Cafe Fuzion. Their parents, Sengsouri  and Dala Chen, immigrated to the U.S. from Laos in 1975, when then-Gov. Robert D. Ray was accepting refugees from Southeast Asia during the Vietnam War, Kevin says. 
While raising their four children in Des Moines, Sengsouri and Dala opened Cafe Fuzion in 2006 after they decided they wanted to be their own bosses. For the next 15 years, Kevin and Souriyno and their siblings watched the restaurant grow into an east-side staple. 
Then one day, Kevin and Souriyno wanted to be their own bosses too—but with a fresh spin. 
Kevin had studied interior design and had an eye for how a restaurant should look. Their brother Donny was a graphic designer who could make the menu and logos. And Souriyno had traveled the U.S. but wanted to return to Des Moines and work with his hands. 
With the help and blessing of their parents, the family closed Cafe Fuzion in 2019 to make way for the kids' own restaurant—Lucky Lotus, a nod toward the flower's symbol of rebirth. 
"Something that's been open for 15 years doesn't change very much, but still has really great food," Souriyno says. "We [thought] we can take this concept, we can flip it on its head, and we can create something really cool." 
Since opening three years ago, Lucky Lotus has become a hot spot on the city's west side. 
But the brothers never wanted to lose the Southeast Asian flavors that made their childhood meals so memorable. They've encouraged people to try their favorite nostalgic foods, like fried rice with Chinese sausage and nam khao rice balls, a fresh coconut lettuce wrap. 
As of press time, they were excited to put papaya salad on the menu this spring. "We want to introduce everything we grew up eating," Kevin says. "We want people to get familiar with our culture and [the food] that is comforting to us."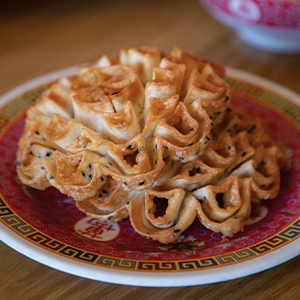 The Chens make their lotus blossom cookies by hand. Lightly fried and slightly sweet, the cookie features a nutty accent of black sesame.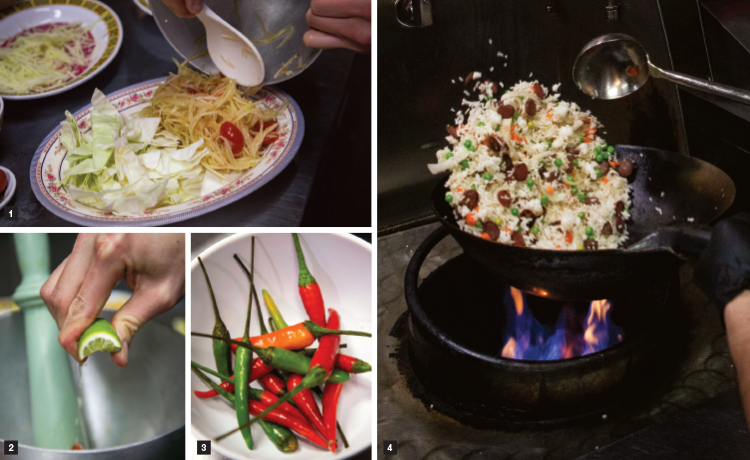 1. Papaya salad, served with cabbage on the side, is a traditional Laotian dish Dala Chen often made as the Chen brothers were growing up. "It's super nostalgic," says Kevin. 2. Kevin squeezes a lime used in the papaya salad. 3. Peppers add a kick to the papaya salad. 4. The Chens call their fried rice with Chinese sausage, peas, onions and carrots "After School Fried Rice." "We used to look forward to this dish as we came home from a long day of school," Souriyno told dsm when the restaurant opened.
---
Gada Hamoda

Finding Solace and Familiarity
Writer: Teresa Zilk
Every Friday night, Gada Hamoda cooks a feast for her family. The asida, tagalia, shaiyah and other specialties not only are full of flavor but also help Hamoda feel connected to her homeland 7,500 miles away. 
After landing in Des Moines in 2004 as a refugee from Sudan, Hamoda says the routine of cooking asida provided solace and a sense of familiarity. 
"Asida helps me to remember," she said through a translator. "It is special to me because when I was growing up, it's the food that my family cooked. Nobody ate out. Sometimes someone would bring bread, but we always cooked at home." 
A staple in Sudanese cooking, asida can be served alone or with soups and other foods. Made from grains such as wheat or sorghum, the thick dough with a texture like porridge is typically eaten with the hands. 
"When I cook asida, it makes me feel close to my country," says Hamoda, who was 15 when she learned to make the dish. "We usually learn to make it at 8 years old, but because I was the youngest and had older sisters, I learned later."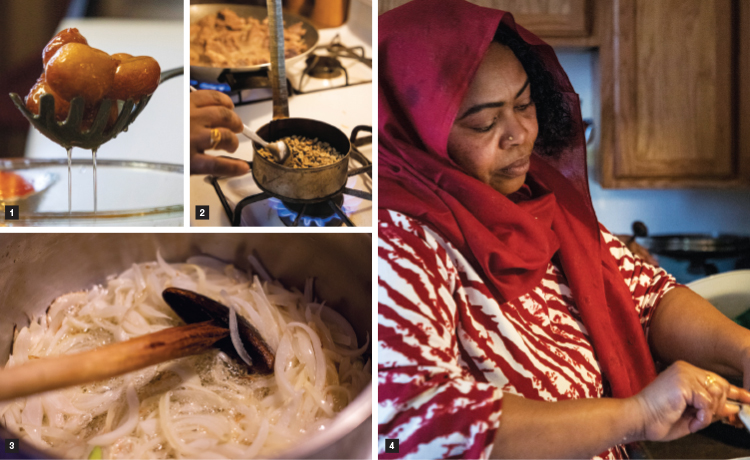 1. Zalabia are fried doughnuts common in the Middle East. 2. Gada Hamoda stirs shaiya, pan-fried lamb prepared with various herbs. 3. After onions are cooked, they're blended into the asida, a Sudanese staple made from grains such as wheat or sorghum. Asida "helps me to remember" her roots, Hamoda says. 4. Hamoda, who arrived in Des Moines in 2004 as a refugee from Sudan, prepares a traditional meal for her family every Friday night.
Hamoda, a resident of Oakridge Neighborhood who works in food service at Roosevelt High School, comes from a family of 11 and says that she misses gathering with her sisters and brothers around the dinner table. All of her siblings live in Sudan. 
"It's one big dish. We all gathered around to eat it," she recalls. "Asida goes fast, you eat and eat. It is a good memory." 
That's one reason she didn't hesitate when her 20-year-old daughter, Azaree Shakshak, who had been trying to find Sudanese recipes on YouTube, asked her to teach her to cook. 
"She wanted to cook for her husband," Hamoda recalls, who also has three other children ranging in age from 6 to 21. She told me, 'I want to cook like you,' and I told her to come and see me." 
So just as her mother and older sisters had taught her, Hamoda showed her daughter how to make asida and an accompanying soup. "We cut and browned the onions and then we cut up the meat," Hamoda says. "After that, we put in the potatoes. We add the garlic, salt, pepper, and cumin—it makes it taste so good." 
It's not hard to find the ingredients for asida and the other specialties that Hamoda prepares. "I can find everything that I need," she says, adding that she shops at Walmart, Aldi, Hy-Vee and Halal Groceries. 
Like the meal itself, shopping helps her feel connected to her heritage and to others. "When I am out, I feel a sense of community," she says. "I see people that I know—the food brings us together."
Gada Hamoda stirs okra powder into a meat sauce with a wooden mufraka (also called a lofrega), a common utensil used in Sudanese cooking. She also uses it when making asida.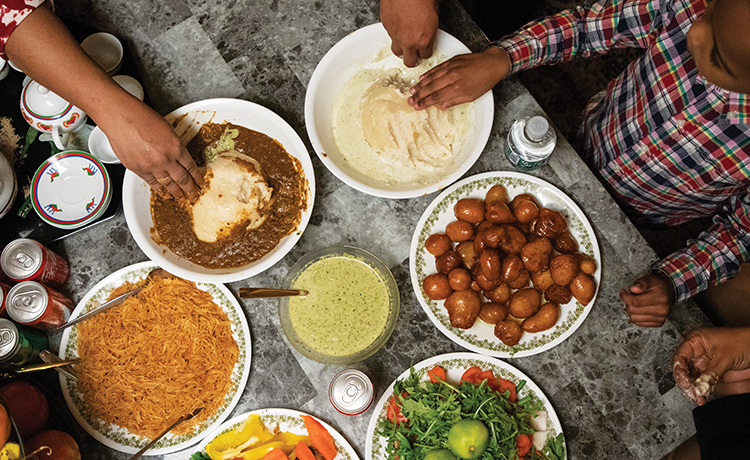 Sudanese meals typically are eaten with the hands. On a recent Friday, Hamoda and her family enjoyed (clockwise from top) asida with a white sauce called rob; zalabia fried doughnuts; raw vegetables; sharia noodles, which are similar to vermicelli; and asida with a tomato-based meat sauce called tagalia.
---
Alex Piedras

Feeling Transported Back Home
Writer: Teresa Zilk
As a teenager in the early 1990s, Alex Piedras and his family moved to Des Moines from Puebla, Mexico.
But his memories of food and cultural identity are strongly tied to Puebla and the time he spent in his grandmother's kitchen eating a soup called sopa de perico. "I thought it was the best thing ever," says Piedras, director of multicultural and community outreach at Grand View University. "My grandmother would offer me all kinds of dishes, but I would always ask her if I could just have the sopa de perico and she would say yes."
The soup still transports him to that time and place: "You might be in Iowa, but suddenly you travel to your hometown and suddenly you are in that kitchen with your loved ones."
Piedras describes his grandmother's kitchen as "a very simple kitchen with amazing smells of beans and rice and fresh tortillas that were purchased from the local tortilleria or from vendors who would come down from the smaller villages on Saturdays."
He explains that the soup is made by cutting up fresh tortillas and putting them in beans and bean juice until they become soggy. It's topped with Mexican sour cream and cheese.
As a father of two, Alex has introduced his children to the foods and traditions from Mexico, including sopa de perico.
"Of course, my kids are American," Piedras says. "They've grown up in this culture. They didn't want to eat [sopa de perico] at first, but once my son tried it, he thought it was really good."
He adds that he and his Iowa-born wife make sure their children spend time learning to cook from his mother. "It's about more than just [learning recipes], though," Piedras says. "It's about all the things that go with it, like history, culture and identity. … My hope is that down the road my kids will pass [those traditions] down" to their children.