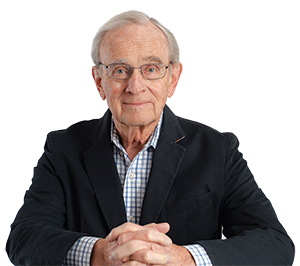 When my first wife died, I was profoundly grieved by her passing, even though we were divorced over 45 years ago. I was sad, of course, for my sons who had lost their mother, but beyond that, I was sad for myself.
I know there are those who'd question why I would grieve the death of someone from whom I was divorced. The answer, I believe, is found somewhere within the nature of love.
We've all heard the expression "Love never dies." But is that true? Maybe we should add, "But love changes." I don't mean changes from one person to another, but changes in the particular power that gives people the comfort and support and intense connection they need to stay married. Perhaps it's that change that loosens the bonds.
I don't know. I do know that divorce is no less complicated than marriage. It is, at the same time, an ending and a beginning, and having been through it, I can't believe that anybody makes that transition without suffering some sense of loss, regardless of the next phase of their lives.
So, back to the question of why I grieved the passing of someone from whom I was divorced: The better question is, how could I not be saddened by the death of someone I loved and with whom I had children, someone who left her last year of college to go with me into the world, someone who'd endured the harrowing experience of being a jet fighter pilot's wife and seeing other young wives become young widows, someone who'd worried and prayed with me when our son was stricken with epilepsy?
Of course I was sad.
This whole process has brought clarity to my feelings about the divorce and has given me some perspective.
I realize that it's OK for me to look back at the good years and the shared experiences and to be grateful for them without regretting the divorce itself. I do regret what it put my sons through, though, and that's a pain I just have to deal with.
But I am also the most fortunate of men in that my wife of 35 years, Sally, not only understood but supported me as well her stepsons. It is she who arranged the planting of a tree on the Statehouse grounds to honor the memory of their mother.
I knew I would be sad when we gathered for the planting, but standing there with my sons and with Sally, I think I understood at last the truth that, indeed, love never dies.
James A. Autry (jamesaautry.com) of Des Moines is a well-known author, poet, musician and business consultant who has written 14 books on such topics as gratitude, servant leadership and his Southern boyhood. His new book, "Everyday Virtues: Classic Tales to Read With Kids," is co-authored by his son Rick Autry.