Sole Nest owner Claude Wilkins stocks the shop with hundreds of designer kicks, all shrink-wrapped to keep them in immaculate condition.
Writer: Michael Morain
Photos: Duane Tinkey
Claude Wilkins' passion for shoes is pretty clear — as transparent, in fact, as the plastic that covers the sneakers on display at Sole Nest, his shop near Merle Hay Mall. He shrink-wraps the inventory to keep it pristine.
For each designer Nike or bulbous Yeezy runner, he grabs a crinkly cellophane bag, slips it around the shoe, tapes it closed — "just like wrapping a present," he said — and seals the deal with a hot-air gun that shrinks the plastic in a few seconds.
It's like a magic trick, partly because Wilkins is such a showman. On a recent visit, while he showed off a pair of Nike Travis Scott SBs ($2,000) and Nike Tiffany Air Force 1s ($1,150), his own two feet sported a pair of Nike Lottery Dunks with a special scratch-off finish on each swoosh. He'd scratched off the logos on the left shoe to reveal the red underneath. The right shoe's logos were still black and intact.
Wilkins wears between 150 and 200 pairs of shoes on rotation from his personal collection and displays about 350 pairs for sale at the store. Some 200 more fill the back room. Whenever he shops, at the big sneaker cons across the country or online at sites like StockX, Stadium Goods or GOAT, he often buys "one to rock and one to stock." Other times, he snaps up as many as he can.
Many of Sole Nest's customers buy shoes as much as collectible sculptures as things to actually put on their feet. Sneakerheads have been around since the Converse All Star showed up in 1917, but the whole culture really pumped up in the 1980s with Michael Jordan, the Air Jordans and the rise of hip-hop style. New Jordan drops became so popular they sparked riots in 2014.
Wilkins turns 50 this September and has been a shoe guy since he was a kid in Marshalltown, and a high schooler at Hoover here in Des Moines. "When I'd watch sports," he said, "I'd always look at the shoes the athletes were wearing."
He got his first pair of Nikes in fifth grade — the Nike Cortez in red, white and blue — and pulled an all-nighter his freshman year at Iowa Central Community College to be among the first in line at the Fort Dodge mall for a pair of Hare Jordans that featured Bugs Bunny. He was giddy when he got his first credit card. "I went crazy on that damn card," he said, "and it was pretty much all shoes."
But he's savvier now. He's a strategic account manager for UnityPoint Health and the head coach for Dowling's freshman football team. He opened Sole Nest last summer after selling shoes at a series of local shops over the years, including Jaytees Apparel and Made for Mankind in Valley Junction and Stash on the south side.
But even now that Sole Nest moves 60 to 100 pairs a month, he still calls it a hobby. "I wouldn't even call it a side hustle," he said. "I do it for the love of sneakers, for the love of seeing a kid's smile when his parents buy him the shoes he's been looking for."
Wilkins keeps his own kids and grandkids in the latest kicks, and he clearly loves his family even more than he loves shoes. But still. When the last child moved out, Wilkins turned the empty bedroom into a shoe closet. And when he and his wife moved to a new home two years ago, they found a house with two rooms in the basement for his prized collection.
"Most sneakerheads call their rooms 'the vault,' but I call my shoe rooms 'the nest,' " he said. "It's sweet now. It's exactly what I want."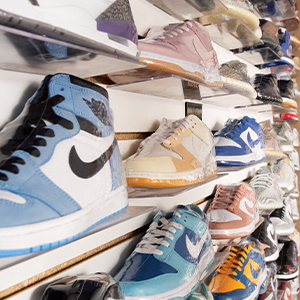 Sneaker Speak
Sneakerheads like Claude Wilkins speak their own lingo, especially to describe a shoe's life cycle.
Dead Stock = brand new
Pass As Dead = has been tried on
Very Near Dead = worn once or twice?
Worn = worn more than five times
Beat = "They're completely beaten up," Wilkins said. "We don't buy beat shoes."