In the zen zone, pharmaceutical-grade Himalayan salt is spread across the floor and even atomized into the air to promote relaxation and reduce inflammation.
Writer: Hailey Allen
Photographer: Duane Tinkey
In a dark room, several couches sit in a circle with all the recognizable plush accouterments of a sleepover with friends, complete with plush pillows and soft blankets. In the center of the cozy circle is a machine called a BioCharger NG, glowing with skinny tubes of red light. It's what I imagine a "bonfire" might look like in a future colony on the moon. But unlike the plain old fire pits I'm used to, which haven't changed in thousands of years, the new BioCharger is supposed to calm my mind and restore my cells to optimal health as I gaze into its glow.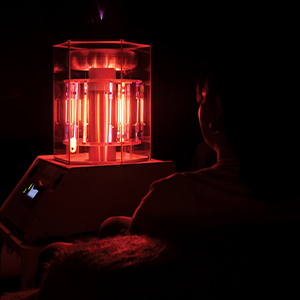 Fire up the BioCharger NG for a session of healing and alignment under the glow of electrified gases. Each "recipe" transmits customized frequencies said to combat both physical and mental ailments.
A local escape
Brandy Gilmartin opened Inner Space at 1251 Keosauqua Way in 2019 and describes it as "a gym for your insides." Customers can experience a range of services like yoga, reiki massage, lymphatic draining and the BioCharger, all designed to promote relaxation, healing and relief from the everyday stress of life.
In the salt lounge, guests can meditate or simply daydream in a cool, dark and quiet space surrounded by illuminated salt rocks and a layer of crushed salt on the floor. Think dreamy alien beach vibes. According to the spa's description, the pharmaceutical-grade salt has antibacterial and anti-inflammatory properties that ease a variety of skin and respiratory issues, including allergies.
Other services include Biomat therapy, which is sort of a new-and-improved power nap that uses negative ions to stimulate circulation and reduce inflammation. The spa also offers vibroacoustic therapy in the sound lounge, where low-frequency vibrations "penetrate deep into your body to promote relaxation and reduce stress and tension," according to a pamphlet.
Heather Pickart, a co-owner of Inner Space and a licensed independent social worker, has an office space at the site. There she hosts therapy sessions and conducts ketamine-assisted psychotherapy to treat depression, with a doctor's approval.
Another unusual treatment involves an FDA-approved assisted lymphatic therapy machine, which resembles two long light bulbs that rove over your skin and promote lymphatic drainage. Since the lymph system helps the body remove waste and toxins, some health experts say lymphatic drainage can be beneficial for several conditions. Gilmartin said the machine helped shrink her thyroid; in fact, it's her go-to recommendation whenever someone asks what service to try first.
Health is healing
Some call it woo-woo, others call it holistic, but Gilmartin just calls it health. She's traveled far and wide to various retreats and workshops and wanted to bring the alternative wellness treatments she discovered back to Des Moines. But like a wellness Robin Hood, she's taken those $300 treatments from the West Coast's most luxurious spas and made them available for $11.
"It's just about having access to wellness practices that make you feel good," she said. "I don't want people feeling like they need to save up just to do something nice or relaxing for themselves."
Inner Space offers a membership package that grants guests a monthly BioCharger session, plus time in the salt lounge and sound lounge. The membership also includes discounts on other services and access to the newest offering, called polychromatic light therapy.
"Our bodies are always trying to heal. I want to give them the space where they can do that and also educate people on how they heal themselves," Gilmartin said. "Some people don't know emotions can cause physical pain. If you're not working through that, you can't feel good. You can't heal."
Gilmartin acknowledges that some of the alternative wellness rhetoric out there can become toxic, especially when people are trying to sell things, and she wants to steer clear of that. No chakra flags or culturally appropriated deities adorn the walls of Inner Space. She also explained that she's all for taking an Advil or Benadryl when more serious intervention is necessary. But she encourages people to use both traditional and alternative healing practices, if they help. "Get curious," she said. "Why not just try it? It can all exist together."
She never wants to be seen as a guru or be put on a "savior" pedestal. Instead, she wants people to learn how to tap into their own "inner authority" to discern what they need and what makes them feel good. She wants people to have the self-awareness and power to take time for themselves.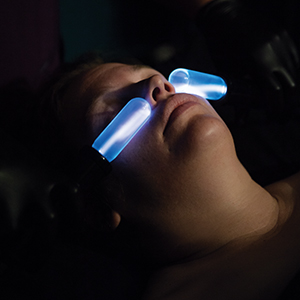 The FDA-approved assisted lymphatic therapy machine helps stimulate the body's natural lymphatic drainage system. Inner Space is one of just a few places in Iowa to offer this service.
So, did it work?
I can be a bit anxious, so I'm always scouting out ways to relax. Meditation and grounding techniques have certainly helped me out before. But I have to admit, sitting around the giant Tesla coil that makes up the BioCharger machine as it emits sounds similar to a large, angry cicada did not exactly calm me, no matter how much I tried to focus on my breathing. But Gilmartin swears by it, so I persisted until the end of the session.
The meditative salt lounge seemed like it would be much more my speed, and I was intrigued by the idea of being bio-charged. The machine can be programmed to run different "recipes" of frequencies that target various ailments, so Gilmartin suggested a recipe to improve my mental clarity and help me concentrate. (Perfect, since I was heading right back to work.)
I can't say I felt any immediate difference, but I was still in one piece and hadn't melted into goop on the floor, so that felt like a win. Plus, over the following week, I checked off several work assignments and personal to-do's that had been languishing in my calendar, and I planned out the entire week ahead. Maybe it was placebo, or maybe I'd been given an alternative to Adderall over the radio waves. Either way, something helped me focus. And, hey, it really didn't hurt to try.
---
Finding your bliss is all about customization and personal comfort. There are plenty of holistic health services around the metro, so you can try a few and find what makes you feel your best.
East Village Spa
Their new bright and friendly space offers many traditional spa services like massages, mani-pedis and facials. New to the menu are CBD-infused services, which include CBD oils and lotions for an extra dose of relaxation or as an alternative antidote to pain.
Iowa IV
Treat the hangover from hell, ensure speedy sports recovery, or combat dehydration with a direct infusion of vitamins and electrolytes. Owner Kari Newman was a nurse before starting the first Iowa IV clinic, which has expanded to three locations in Central Iowa. Each clinic employs skilled registered nurses and paramedics to administer the injections.
Perspire Sauna Studio
You may have used a sauna after a session at the gym, but here it's the main event. The West Des Moines and Ankeny studios are different from traditional saunas because they use light to generate the heat. Sweat out your stress while you absorb restorative infrared wavelengths, or book a session of red light therapy to boost your mood.