Toddler fashionista Ruby Bello redefines the catwalk.
Photos: Duane Tinkey
Here at dsm, we'd never take candy from a baby. But stealing style tips from young children? Well, that's a different story.
Whether they know it or not, every kid is a fashionista — at least for a while. There's that sweet spot, after their parents stop dressing them but before grade school conformity sets in, when children develop their own unshakable ideas about what looks good and what doesn't. Mismatched socks? Sure. Spider-Man pajamas and Crocs? Absolutely. A blanket-cape with a Burger King crown? Yass, please!
Now, Mom or Dad may toss up their hands in exasperation. But if you can't reason with that creativity, why not rip it off? Why not recognize kids as the iconoclastic designers and influencers they truly are?
We rounded up three pint-sized fashion gurus for inspiration and share with you here and now, dear grown-up reader, a few tips to spiff up your stuckin- a-rut style.
Oh — and we picked up one more tip for parents. When your kids insist on wearing something especially, um, avant-garde, you can pin a badge on them that proudly proclaims, "I dressed myself today!" It works on spouses, too.
Remy Montufar, 6
The look
Remy varies his usual athleisure routine with a breezy look that is ageless: a floral cotton button-up, plain blue shorts, neutral slip-ons and a straw fedora that would flatter even a man 10 times older. (At press time, Remy was rocking a very loose front tooth.) This outfit works for dinner on the patio, an outdoor concert or even a round of mini-golf.
The inspiration
Remy and his parents, Adam and Peri Montufar, picked up the straw fedora during a trip to San Diego. His shirt takes cues from his dad.
The grown-up twist
You may have noticed the "coastal grandmother" trend that swept through the internet last year. So now may we offer up for consideration "coastal kindergartner"? Remy's bright floral shirt would fit right in a beach-house closet, but even if you aren't summering in Newport or Nantucket, try tossing a blazer or suit jacket over a shirt like Remy's for a refreshing pop of color in an otherwise ordinary office uniform.
---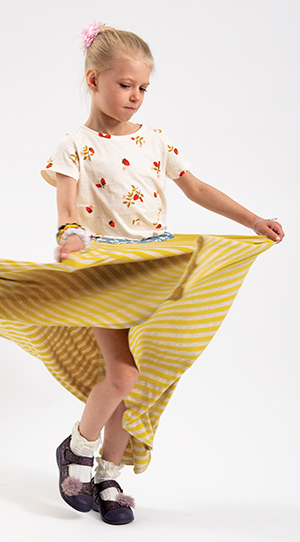 Louisa Olson, 7
The look
For Louisa, a ballet dancer, it's all about the flow. Her long yellow skirt moves gracefully right along with her and pairs well with the pink rosette in her hair that she saved from a dance costume. She wears it with an insouciant strawberry-print top and just a few thoughtful accessories to round out the look, including several velvet scrunchies on her wrist and, on her dancing feet, shimmery purple Mary Janes topped with mini-puffs of airy lavender tulle.
The inspiration
The daughter of Gunnar and Sara Olson is lucky to have an in-house couturier in Sara, who can design and fabricate new clothing to her young client's precise specifications. Sara made sure the yellow skirt twirled just so and learned only after its successful completion that it had been inspired by Snow White.
The grown-up twist
Maxi skirts, in the words of Taylor Swift, never go out of style. The wardrobe staple is nothing if not versatile, so we recommend keeping a few in rotation to pair with summery tops or turtlenecks and structured jackets as summer shifts into fall. As for accessories, Coco Chanel believed less is more. A simple flower like Louisa's can elevate any hairstyle.
---
Ruby Bello, 3
The look Ruby likes layers. Her cerulean tulle skirt works equally well over a rainbow dress, as seen here, or a sensible pair of shorts or pants. She is a big fan of purple jellies — or "grape jelly shoes," as she calls them — and has a collection of elegant cat-ear headbands in an array of colors to suit her moods.
The inspiration
They say you're supposed to dress for the job you want, so Ruby is right on target: She wants to be a cat when she grows up. In the meantime, the daughter of Jordan Bello and Stephanie Nemmers-Bello prefers to keep people guessing. Her mother noted that "her teachers call her a free spirit."
The grown-up twist
If it's good enough for Ruby, it's good enough for us. But if you need more convincing, none other than Catherine, the Princess of Wales (formerly Kate Middleton), donned an ethereal blue tulle frock to a garden party for King Charles III's coronation in May. No word from the palace about whether she also wore jelly shoes.