Writer: Hailey Allen
Raised amid the rolling cornfields and wide-open landscape of Fairfield, Connor McMahon experienced the idyllic Midwestern childhood that involved playing on his family's land, hunting birds and fly-fishing. These days, he's traded cornstalks for grapevines in the sun-drenched land of Paso Robles, California, where he and his wife, Rebecca, run Fulldraw Vineyard.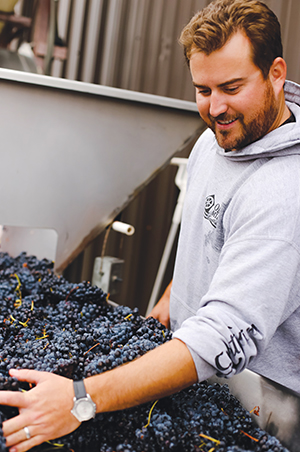 Homegrown beginnings
When McMahon was growing up, the world of wine wasn't even on his radar. Most kids think about becoming astronauts or professional sports athletes. McMahon thought he'd become a lawyer — until he tried a glass of wine at a family dinner.
"It opened my eyes to the reasons that people were drinking wine," he said. "It was an altering experience. It drove me to want to learn more."
That first taste of the tannins, acidity and sweetness that make each wine unique seemed much more interesting to him than the cheap, watery beer that's part of the typical rite of passage. And it fueled a curiosity that was hard to ignore.
McMahon enrolled at Iowa State University in 2006 and started out as a political science major, still thinking law school was on the horizon. He was also a punter on the Cyclone football team. During a summer vacation to Colorado, he discovered a wine shop called the Catherine Store and was taken with its unusual inventory. He asked the owner, Rhonda Black, a lot of questions and even scored a job offer for the following summer.
"Once I came back to school, I couldn't stop reading about wine and learning about wine — any book I could pick up," he said.
By then McMahon knew he had to follow his passion. (He said his parents joke that he "turned a vice into a career.") He set off for an internship in 2011 in Paso Robles at Booker Vineyards, under the hands-on tutelage of the owner and winemaker Eric Jensen.
Paso Robles "is a very ag-centric town of around 30,000 people. It's not huge, so it just felt like home," McMahon said. "That was the main thing: It's a community, and in the wine industry specifically there's a camaraderie with other growers."
After the internship, he was offered a position at Booker as assistant winemaker. So for the next six years he worked outside in the vineyard, irrigating, harvesting and transporting grapes, and inside in the cellar, learning the winemaking and aging processes.
He laughed at the memory. "Being from Iowa and knowing how to drive a tractor was really helpful."
Sip-cessful ventures
McMahon and his wife now live and work on their own estate, Fulldraw Vineyard, right next to Booker. They officially launched the operation in 2016, although Connor had been rehabilitating the land since 2012.
Rebecca McMahon is a Paso Robles native whose own career grew from an assistant winemaker position at Villa Creek Cellars, where the growers used regenerative agriculture, biodynamic farming and organic practices. Both she and Connor wanted to implement a sustainable approach in their own business, which employs a flock of sheep as natural mowers and fertilizers.
"It's a lot of work, but a lot of fun too," McMahon said of living and working on the vineyard. Of the 100-acre estate, they farm about 45 acres of grapes, including some of his favorite Rhône varietals, Grenache, Syrah, Mourvèdre and Clairette Blanche.
Harvest season is the busiest. McMahon doesn't take a single day off from September through November, working all night to pick grapes with his crew from 9 p.m. until 7 a.m., and then with the winery staff in the morning, processing grapes from 9 a.m. to 5 p.m.
The McMahons' two children, Maeve, 5, and Winston, 2, aren't quite old enough to help, but, like any farm kids, they love playing outside among the vineyards and visiting their dad in the winery.
Fulldraw currently produces seven reds, two whites and a rosé with the grapes from their estate. Shoppers here in Iowa can find FD2, a 60% Grenache and 40% Syrah blend, at Wall to Wall Wine and Spirits in West Des Moines. The winery's other popular labels, like Chopping Block and Honey Bunny, are available online at fulldrawvineyard.com.