Writer: Karla Walsh
Photographer: Duane Tinkey
During a seven-course dinner last year at DMACC's Iowa Culinary Institute, it was evident that host chef Jake Kim (pictured) had a special spark. Kim, executive chef instructor at ICI, has a gift for layering cultures, flavors and textures. No detail is extraneous, and every element works in harmony. Kim beamed as the students who helped him execute the dinner described their courses or plating strategies, and he greeted guests with special dietary requests with warmth and care. dsm invited him to share a table so we could learn more about his recipe for success.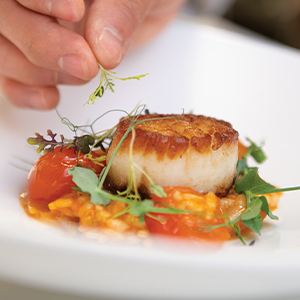 How did your culinary career begin?
In 2006, I moved from my hometown of Seoul, South Korea, to Sydney, Australia, because I wanted to travel and learn English. I got a job as a dishwasher and also worked at the local fish market shucking 1,000 oysters every day. During that time, I started to learn the English names of ingredients. After eight months as a dishwasher, I was promoted to line cook and I learned to make basic pastas and salads. 
Where did you land next?
My work visa expired in 2007, so I went back to Seoul and finished my degree in modern music. Already missing Australia and the kitchen, I enrolled in culinary school in Sydney. Between classes, I worked at the Sydney Opera House and Aria, a high-end restaurant that had two "chef hats," their equivalent to Michelin stars. After culinary school, I had to go back to Korea because they have mandatory military service. From 2010 to 2012, I served as a battalion cook, then lined up a job as a sous-chef at a molecular cuisine restaurant in Seoul. (Molecular gastronomy refers to the scientific study of the physical and chemical transformations that occur during cooking.) There, I learned the most in my culinary career—skills, team building, how to manage food and labor costs. In 2014, I became head chef at a barbecue restaurant and found out how much pressure it was to have this role. 
What was your home life like at the time?
In 2014, my son was born. My wife is a native Iowan and has family around the Des Moines area, so we made the decision to move to the States. In 2017, we landed in Des Moines, and within a few weeks I got a job as a sous-chef at Firebirds in West Des Moines. A year later, I was promoted to head chef. Firebirds was a great introduction to learning American culture, kitchens and slang.
You then became culinary director for Wasabi. When and why did you decide to transition to Des Moines Area Community College?
In the summer of 2021, I learned of an adjunct position open at ICI. I have had such powerful mentors in my career and I wanted to share my knowledge with a younger generation. 
What inspires your recipes and flavor combos?
Since I'm Korean, a lot of my ingredients and techniques are influenced by my culture. This is kind of ironic—[now that] I'm in America, I'm going back to my roots. In Sydney, I was cooking French food. In Korea, it was molecular cuisine. What inspires me is to try to find similarities among these cuisines—they actually have a lot of common ground—and modernize the techniques. 
I love that philosophy of bringing your past into your present. What dish reminds you of home?
In Korea, we have something called "chi-maek," which translates to "chicken" and "beer." This was my favorite meal after a late shift in the kitchen. Whenever I eat American fried chicken, I think of home and memories attached to chi-maek.
Kim is having dinners year-round through ICI. To learn about upcoming dinners, contact ici@dmacc.edu to be added to their email list.