Linda Tong, the 24-year-old owner and CEO of Linda Tong Planners, sells illustrated planners, notebooks, calendars and more.
Writer: Hailey Allen
Photographer: Duane Tinkey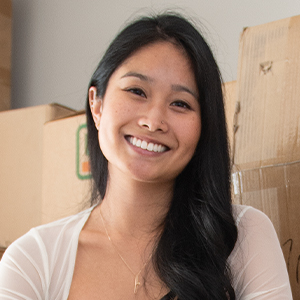 Not many people can call themselves CEO of a successful, globally recognized business at age 24. But Linda Tong sure can. As the owner and CEO of Linda Tong Planners, she sells illustrated planners, notebooks, calendars and custom hand-drawn planners to her more than 243,000 followers on TikTok and beyond.
The Side Hustle
It all started in 2017, when Tong, then a student at Iowa State University studying vocal music education and event management, got into bullet journaling, a method of personal organization and planning where the creator uses markers, pens and other drawing utensils to design each journal page by hand. It allows for hyper-personalization of to-do lists and calendars and also serves as a relaxing ritual for many users who enjoy the intricate detailing involved. 
"I started bullet journaling because it looked satisfying and fun," Tong says. "But I did it differently. I would make the entire bullet journal for the whole year at first. Most people [who bullet journal] set aside time and do it month by month as they go." 
During the summer of 2017, a fellow camp counselor saw Tong beautifying the journal and asked Tong to make her one, too. After that, word spread around the camp, and soon she was taking orders. "I think I made six or seven that summer," Tong says.
Each year, through word of mouth and her own postings in college Facebook groups, Tong gained more and more customers asking for custom-made planners. Still a college student herself, she would work on planners between classes and activities on her already jampacked schedule. 
"I was someone that loved being busy. I just got involved in everything," she says. On top of a 20-credit class roster, she juggled extracurriculars like the Iowa State Singers, the Student Union Board and the Fashion Show.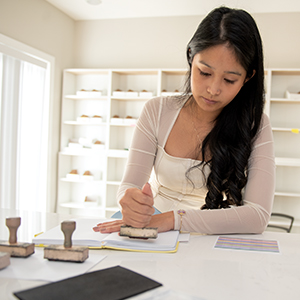 Linda Tong implements a system of hand-stamping several pages within each month of the planner. This way, she says, the planners have a more personalized touch.
Expanding the Business
Eventually, the orders became more than she could handle. After having to turn customers away for the first time during her senior year, she drew up a business plan to expand production and launch a full-time operation. The growing demand made it impossible to keep hand-drawing each planner, so she opted to produce a printed version of her designs. Her business pitch won a $6,500 Iowa State CYStarters accelerator grant in 2020, followed by several other grants and pitch competition wins that added up to around $10,000 in startup funding. 
Tong officially launched Linda Tong Planners LLC in 2020. And then the pandemic broke out. At a time when nearly everything was canceled, the need for a planner would seem like it should be nonexistent. But through a combination of "luck and good timing," Tong says, her business flourished. Tong posted videos of her designs on TikTok that quickly went viral. "It only took like five to 10 videos [to get popular] and have people getting really excited for my business," she says. 
Despite customers having nothing to do and nowhere to go, Tong's planners sold out in her first round of sales. It's a paradox, she says, but one that made her feel confident in her business and in her products. 
While Tong still designs the pages herself, she wanted to find a way to keep the planners feeling personalized, beyond the standard prints. She's since implemented an option to have up to four pages in each month hand-stamped and stickered with a chosen page design, so each customer can still have a customized experience. 
Where to Get Linda Tong's Products
Find her planners and other products at lindatongplanners.com as well as in Ames at the Iowa State University Book Store and the ISU Student Innovation Center.