In Key Biscayne, the Ocean Club offers high-end overnights. Find the villas through vacation rental sites. Photography courtesy Greater Miami Convention & Visitors Bureau.
Writer: Beth Eslinger
Despite the damage Hurricane Ian caused last September, there are still plenty of up-and-running Florida travel options for a quick winter getaway. Take your pick at these three top spots for enjoying warmer temps, fresh flavors from the land and sea, and activities and events.
---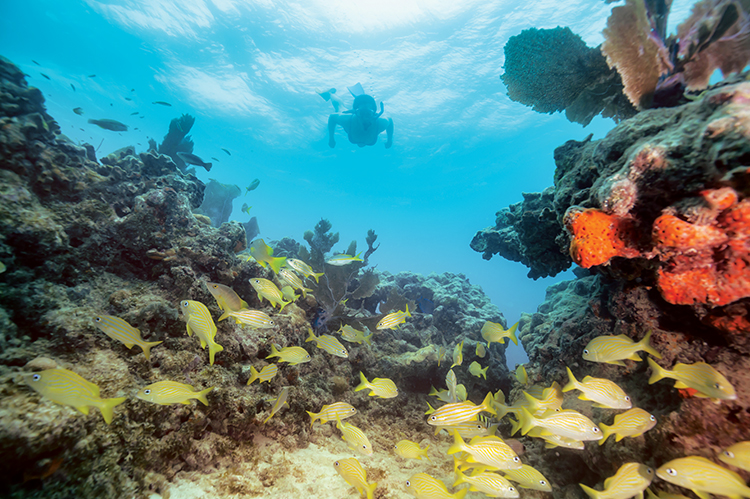 Discover area marine life by snorkeling near Key West. Photography courtesy Greater Miami Convention & Visitors Bureau.
Miami: Drinks, Deco and Detours
With a plethora of hip hotels, South Beach might have you tempted to stay poolside with a mojito in hand and sunscreen bookmarking your vacation read. But with two national parks, a string of keys stretching southwest, and Little Havana to explore, the bustling city might just keep you on your toes.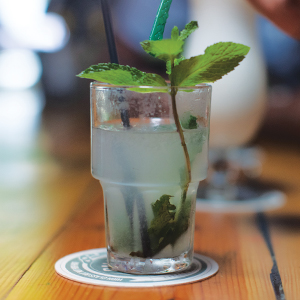 Our pick for the stay is Miami Beach, a barrier island between Biscayne Bay and the Atlantic Ocean. A mix of resorts and hotels—including boutique options in the Art Deco Historic District—feature amenities such as spas, upscale suites, award-winning eateries and chic pools. 
After filling up on vitamin D and citrusy drinks, get out and explore Little Havana. Browse galleries, cafes and restaurants on a guided or self-guided tour. If you're looking for a quick visit, Calle Cocho is a concentrated area with live music, cafe con leche, mojitos and cigars. 
For a longer detour, book a rental car and head south to the keys. It's 165 miles to Key West on the southern tip, but shorter day-trip options include Everglades National Park, John Pennekamp Coral Reef State Park (great snorkeling), and Key Largo for all sorts of water sports and fresh seafood. Key West is a solid three hours from Miami, so plan on an overnight here to explore the Hemingway sites and seafood eateries in the laid-back town. 
Mark your calendar: Do a deep dive into all things Deco at the 46th Art Deco Weekend, Jan. 13-15. Learn more about the glam era on a walking tour of the historic district, which has the world's largest concentration of the architectural style. Plus, explore an art market, car show and live entertainment. On Presidents Day weekend, Feb.18-20, shop selections from 350 makers during the Coconut Grove Arts Festival. 
Get there: American (check specific dates online). Allegiant flies direct to Fort Lauderdale; it's about an hour to the north and has flights Mondays and Fridays.
Average temps: 74/63 (January); 75/64 (February).
---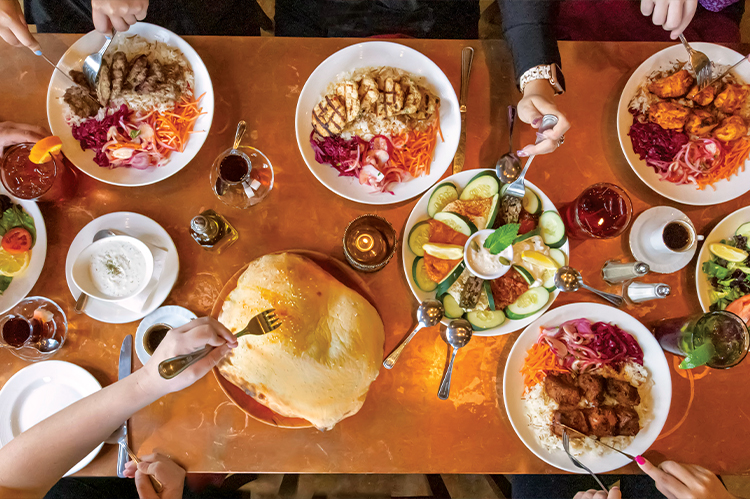 Bosphorous Turkish Cuisine in Orlando is just one of the city's global dining options. Photography courtesy visitorlando.com.
Orlando: More than Mickey Mouse and Harry Potter
Disney, Universal Studios and Lego fans know where to find thrills in this city known for its theme parks, but there are plenty of other reasons to visit the central Florida city of about 2 million. 
Food enthusiasts can find a bit of everything here. Downtown boasts restaurants from around the globe, including Turkish, Greek, Lao, Korean and Vietnamese. Foodies looking for 2022 James Beard nominees can sample award-winning sushi, pastries, desserts, seafood and comfort cuisine. 
On the art front, CityArts downtown houses galleries showcasing works by local and international artists, while the Orlando Museum of Art has collections of African, pre-Columbian and contemporary works. 
While the city proper can keep you busy for days, an hour detour to the coast offers a chance to interact with astronauts and space innovations at Kennedy Space Center. A quick drive away is Cocoa Beach, home to the flagship Ron John Surf Shop, where you can find all sorts of essentials for enjoying a day at the Atlantic.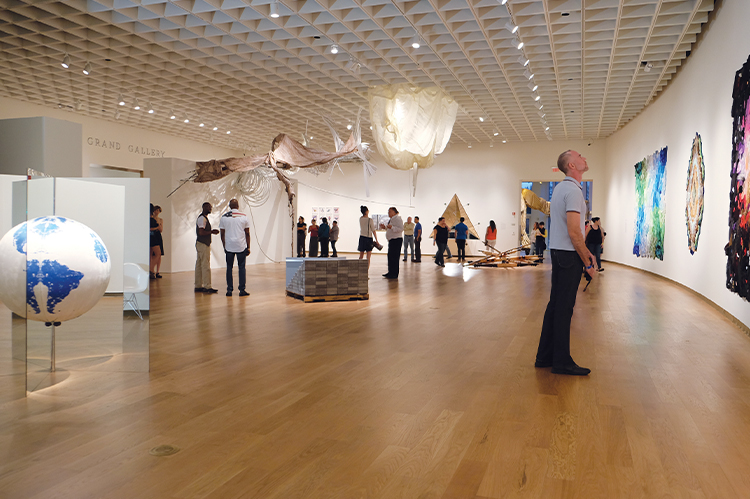 Orlando Museum of Art. Photography courtesy visitorlando.com.
Mark your calendar: Bruce Springsteen and the E Street Band play downtown's Amway Center Feb. 5; the venue also hosts home games for the Orlando Magic (hoops) and Solar Bears (hockey) throughout January and February. Also downtown, see Riverdance, "Wicked," Chris Thile or the Temptations at the Dr. Phillips Center for the Performing Arts this winter. For PGA fans, the Arnold Palmer Invitational runs March 1-5 at Arnold Palmer's Bay Club and Lodge (registered guests can play the 27-hole links-style course). 
Get there: Allegiant flies Mondays and Fridays in January; Frontier flies several days a week.
Average temps: 72/51 (January); 75/54 (February).
---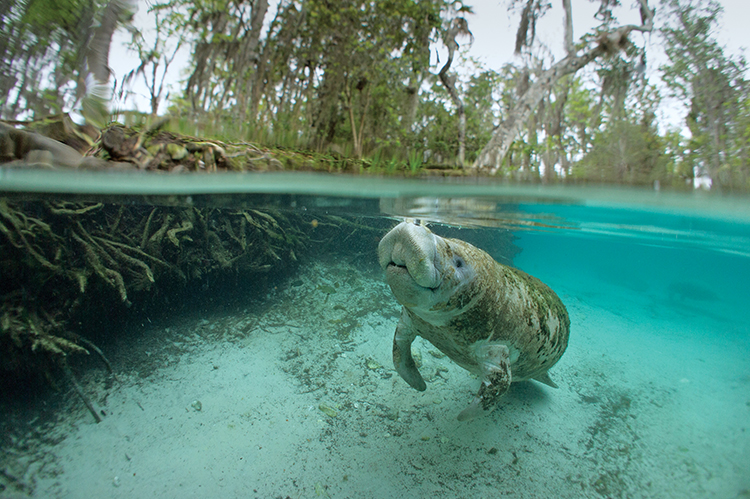 Manatee at Crystal River, St. Petersburg. Photography courtesy visitorlando.com.
St. Petersburg: World-Class Museums and Beaches
The sun shines nearly every day in St. Pete. And whether you're into digging into the arts or into the sand, the Gulf Coast city just west of Tampa promises a sunny menu of options. 
Downtown St. Pete is an art lover's paradise, with more than 500 murals decorating the city's buildings. Also peruse museums dedicated to modernist Salvador Dali, glassmaker Dale Chihuly, and the Arts and Crafts movement of the early 20th century. The Central Arts District buzzes with galleries, independent shops, restaurants and live music. The pier is a new "it" destination, with more public art, dining and green space. 
For a beachy getaway, head west to the Gulf. Clearwater and St. Pete beaches are perennial favorites in the web "best-of" rankings, while options to the south get decidedly more low-key, specifically Egmont Key, which is accessible via ferry. It's a great spot to see dolphins, turtles and shore birds. 
About an hour north of the area is the manatee hub of Crystal River. Winter is prime time to see the mammals, and it's possible to kayak in their swimming holes. 
At press time in November, Sarasota (about an hour to the south) was still reopening after Ian. Find pristine beaches, balmy waters and plenty of sun. 
Mark your calendar: See Florida's take on fair food during the Florida State Fair in Tampa, Feb. 9-20. Dishes include chocolate-covered bacon; red beans and rice funnel cake; and SurfNTurf Sundae. There's also the largest portable Ferris wheel in North America, a museum covering the state's rural history, and a view of the top ag produced in the state. And for manatee love, Go Manatee Fest runs Jan. 14-15 in Crystal River and features guided kayak trips, boat tours, live entertainment and food vendors. 
Get there: Allegiant flies into St. Pete Mondays and Fridays in January; Frontier flies several days a week. Allegiant also flies direct to Sarasota and Punta Gorda. 
Average temps: 70/54 (January); 72/56 (February).