Des Moines Home & Garden Show
What: The show will feature more than 400 exhibitors.
When: Feb. 7-10
Where: Iowa Events Center
Admission: $10-$12 adults; $4 children ages 7-12; free for children age 6 and under.
More information: 515.244.5456; desmoineshomeandgardenshow.com.
Writer: Missy Keenan
In these times of political and social turbulence, now more than ever, there's no place like home. To add more warmth, peace and tranquility to your home, check out these five tips from local contractors and designers appearing in February at the Des Moines Home & Garden Show (see details above).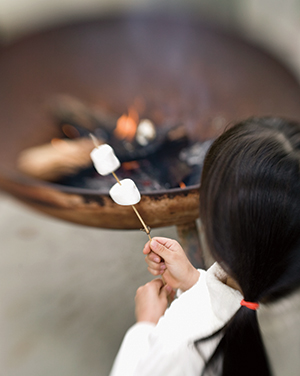 Add a fire feature
Nothing adds a feeling of warmth to your indoor and outdoor space like a cozy fireside area. When Jason Cox and his wife moved into their new home, an indoor fireplace and outdoor fire pit were two of the first items they tackled.
"We added a wood-burning fireplace to the family room with a stone surround," says Cox, of Fireplace Stone & Patio. "The stone texture softens the room, and the fireplace makes it more cozy. In the winter, every day when we get home from work, lighting up the fire is the first thing we do. It's a good way to unwind."
Their wood-burning fire pit similarly enhances their backyard. "In the summer we'll fire it up as the sun's going down," Cox says. "The neighbors will see it burning and come over to join us. Fire really brings people together."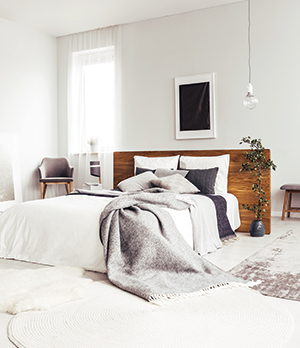 Lighten your color palette
One of the best ways to make your home feel more tranquil is through your color palette, says Meghan Blum of Meghan Blum Interiors. Not too long ago, homeowners wanted bright accent walls, different colors in each room, and highly contrasting trim, Blum says. But today, they're selecting more muted, earthy colors, less contrast between walls and trim, and only subtle color differences from room to room.
Blum suggests using one color in a variety of shades and textures. When styling a bedroom, for instance, use a white duvet cover; soft, white linen pillows and drapes; a cozy throw blanket; and a luxurious rug that will feel warm on bare feet.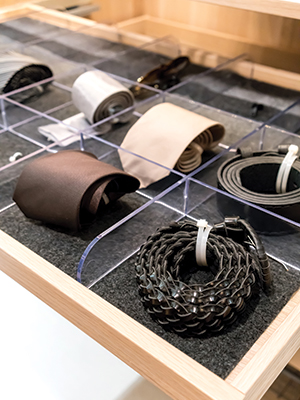 Organize your closet or mudroom
Reducing clutter will add harmony to your home; start by spiffing up your mudroom or master closet.
"Our clients tell us that having mail, laundry and other clutter all over the house makes them feel anxious," says Mike Butterworth of MBG Renovations. "So they're putting more thought and design into their closet spaces and mudrooms, making them both beautiful and functional. A beautiful master closet makes getting ready for work a more relaxing experience. And an organized mudroom helps busy parents and kids get out the door more quickly with less stress."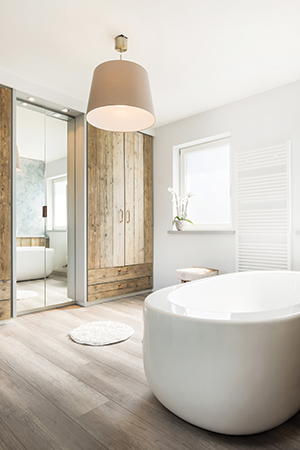 Create a restful master bath
MBG Renovations' Mike Butterworth finds more of his clients are asking for master bathroom renovations. These baths often include high-end finishes, bigger showers, free-standing soaker tubs replacing whirlpool tubs that can be hard to keep clean, a separate room for the toilet, heated tile floors, accommodations for music speakers and even a small seating area.
"Master bathrooms are no longer just a place for functionality—get in, brush your teeth, take a shower and get out," Butterworth says. "We're designing spaces where you can relax and talk to your spouse while they get ready. It's really an experience to wash away the stress of the day."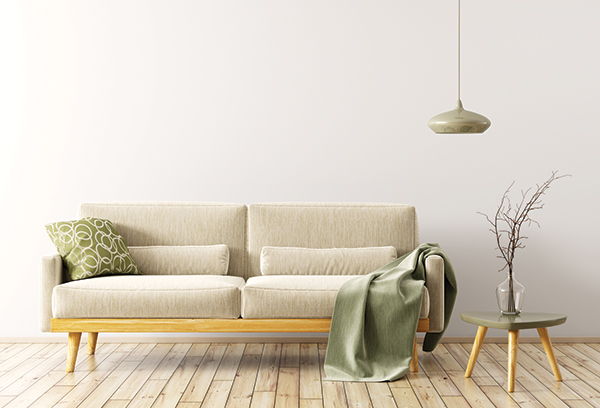 Pare down accessories
Another way to make your space more peaceful is to pare down your accessories, interior designer Meghan Blum suggests.. Instead of lots of small accessories, which can feel cluttered, use just a few large pieces for a bigger impact. 
Blum recommends taking all of the accessories out of a room so you can see it with fresh eyes. "Pack away some of the smaller accessories and only bring back to the room a few bigger accessories that make a stronger statement," she says. "Then cozy your room up by bringing in a few soft pillows, a warm throw … and a lightly scented candle. With very little time and effort, you can have an updated, tranquil feel in your room."