Writer: Karla Walsh
Photographer: Duane Tinkey
An oversized sweater. A crackling fire. A steaming mug of tea. Certain things ooze coziness come wintertime. And for many of us, what's on our plate plays a role, too.
Whether the recipe reminds us of pulling up a chair at Grandma's table (we see you, gooey mac and cheese!) or the ingredients provide a magically pleasurable mix (high in calories, sugar or carbs, according to a review published in the International Journal of Gastronomy and Food Science), these dishes instantly transport you to a happier place.
Rather than sweating over the stove or taking a trip to your childhood home, get an easy comfort food fix this winter by spooning these five soul-soothing dishes served at local restaurants.
---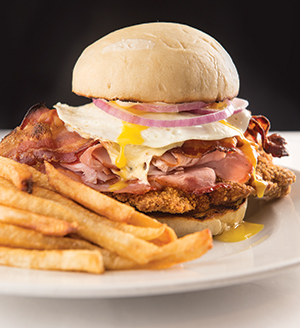 Kill Bill Pork Tenderloin / Centro
1003 Locust St.; 515.248.1780; centrodesmoines.com
The details: Niman Ranch tenderloin layered with ham, bacon, pepper jack cheese, sunny side up egg, red onion and garlic mayo on toasted ciabatta bun.
Why you'll love it: A year before "Man v. Food," this epic sandwich burst on the metro culinary scene thanks to George Formaro, chef-partner at the downtown Italian restaurant Centro. "Kill Bill was around before extreme foods were such a big thing," he says.
Imagine it like the classic diner-style breaded pork tenderloin taken to the next level. "We use Niman Ranch pork and ham, and stack both on our Gateway ciabatta bread," Formaro says. "I was—and am—obsessed with putting a fried egg on everything, so I added one on the Kill Bill, too. It also has pepper cheese, and as if this needed anything else, why not bacon?" 
Sure, you could substitute a side salad for the fries. But we recommend going all out and upgrading to the crunchy Portobello fries dunked in truffle aioli.
---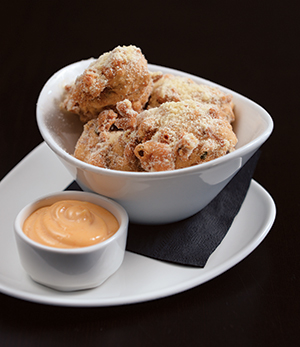 Ugly Donuts / Table 128
12695 University Ave., Clive; 515.327.7427; table128bistro.com
The details: Cheddar and jalapeño fritter studded with sweet corn and dusted with Parmesan snow with Sriracha aioli on the side.
Why you'll love it: The average American consumes 31 doughnuts per year, according to a 2018 survey. Table 128's will be unlike any of your other 30, however. Salty, savory and coated in Parmesan cheese instead of powdered sugar, a serving of piping-hot Ugly Donuts from this New American bistro will change the way you think about this popular fried fare.
"I've always wanted to do a savory beignet, one studded with cheese, meats, other savouries," says Lynn Pritchard, Table 128's executive chef and co-owner. "When I started working on the concept, I was using a cake yeast, one that you would use for a bread." 
That's when he ran into a problem: It's tough to control an organically leavened product, and this strategy would require making big batches at once rather than small orders at a table's request.
"So I went back to the drawing board and started playing with different ratios of chemical leaveners like baking soda and baking powder," Pritchard says. "This way, I could control the dough with much more accuracy and achieve the 'a la minute' product that I wanted."
He shared his first batch with an employee at a neighboring business who asked, "What is this? Some kind of ugly doughnut?" The name stuck, and "they have been loved by guests since day one," says Sarah Pritchard, the restaurant's co-owner and sommelier.
---
Handmade Cavatelli / Aposto
644 18th St.; 515.244.1353; apostodm.com
The details: Homemade cavatelli pasta tossed with marinara, Calabrian sausage and ground fennel, garnished with Romano cheese.
Why you'll love it: Your abode probably has a room for sleeping, a room for eating and a room for lounging. But what about a room for noodles? This dream scenario becomes reality at Aposto. It's where pasta pro Patrick MacCready, executive chef Shawn Bennigsdorf and owner Tony Lemmo team up to make pasta, potato pillows (gnocchi) and other starchy specialties.
"Cavatelli is traditionally served at Italian family gatherings over the holidays, but we serve this dish all year," Lemmo says. "It's similar to gnocchi but made with flour [in addition to eggs, olive oil, water, salt and baking soda] and is served more al dente."
To finish the hearty pasta bowl, the team tosses the bite-sized pasta shells that resemble little hoagie buns with a tomato-based sauce flavored with homemade spicy sausage and Romano cheese. 
"This dish is sure to warm you up on any cold, snowy day," Lemmo says. "It's a winter classic and the perfect partner to a glass of Montepulciano or Chianti."
---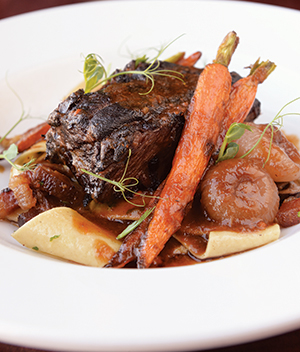 Beef Bourguignon / Django
1420 Locust St.; 515.288.0268; djangodesmoines.com
The details: Iowa Premium Certified Angus Beef short rib braised with red wine, carrots, mushrooms, cipollini onions and bacon served over handmade pappardelle pasta.
Why you'll love it: Everyone from Julia Child to Ina Garten has had a five-star recipe for this rich beef stew that originated in Burgundy, now the eastern half of the Bourgogne-Franche-Comté region of France. One of the newest—and tastiest—iterations accessible sans international flight can be found at Django 2.0, the second home to the local French restaurant now on Locust Street across from the sculpture park.
"The most quintessential comfort food of any cuisine might be France's beef bourguignon," says George Formaro, the chef-partner at Django as well as at Centro. "When we partnered with chef Derek [Eidson, the new executive chef at Django and former executive chef at Centro], we wanted to elevate that dish with a few of his best food preparation techniques: braising and house-made pasta."
Django's twist is distinctly tailored to Midwestern palates. By slow-cooking beef short ribs with stock, wine, brandy and aromatic vegetables, Eidson and Formaro build layer upon layer
of flavor.
"The sauce is made from the braising liquid and a stock of reduced roasted veal bones, baby carrots and braised cipollini onions. We serve this all over house-made pasta tossed simply with butter and herbs," Formaro says.
---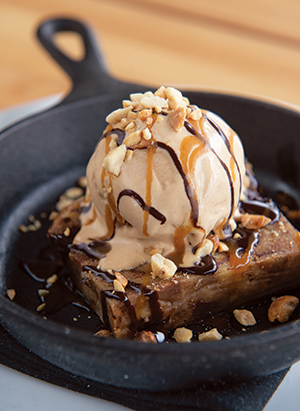 Snickers Bread Pudding / Alba
524 E. Sixth St.; 515.244.0261; albadsm.com
The details: Warm candy bar bread pudding topped with a scoop of caramel nougat ice cream and toasted peanuts.
Why you'll love it: We haven't forgotten about all those with a sweet tooth! Alba is known for its chocolate lava cake (they reportedly can't take it off the menu for fear of fan revolt) and seasonal crème brûlées, but executive chef Mason Altheide is embracing his inner child this season.
"When thinking of bread pudding flavors, I always gear them toward something approachable or relatable," Altheide says.  
This time, comfort was the focus. "When I think of times of nostalgia and times that make me feel good, sports were a big part of it," Altheide says, as was refueling between games with a Snickers bar. "After contemplating the Snickers bar and its possibilities to transform into a bread pudding, I knew it would be a great dish."