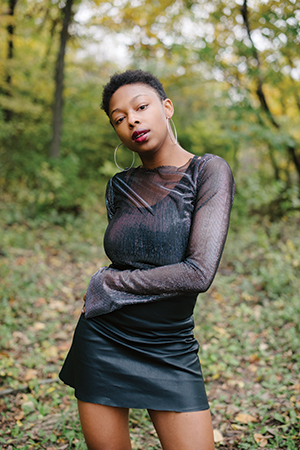 Destiny Williams
Age: 20
Field of study: Fashion design at Des Moines Area Community College. 
How would you describe your style? High fashion mixed with streetwear. Think: a dress shirt with a distressed denim skirt. I also like overdressing, or wearing things that are eye-catching and turn heads. I love the little things that take an outfit to the next level. I also like fashion that allows me to transform; I never have to be the same person. One day I'm a cute housewife, and the next I'm Britney Spears circa 2000.
The part of your style you're known for: People know when I show up I will look good. I've had people tell me they look forward to my outfits because I always show up and show out. 
The piece of clothing or accessory you couldn't live without: Denim. Denim anything, but ask me again in a year, and it will probably be different.
Any fashion regrets? Anything from high school. That was a train wreck!
Where do you shop locally? I love Aimee. If I could be their brand ambassador, I would. Every time I go, I find exactly what I want—even though I don't necessarily need it.
---
Photographer: Joelle Blanchard
Writer: Kolbie Creger