Blandine Nadia Ahissou, owner of Nadia's French Bakery, prepares larger orders from the kitchen at Heartland Presbyterian Church in Clive. She makes smaller batches from her Altoona home. In addition to running her baking business, Ahissou works part-time at the Evelyn K. Davis Center for Working Families.
Photographer: Duane Tinkey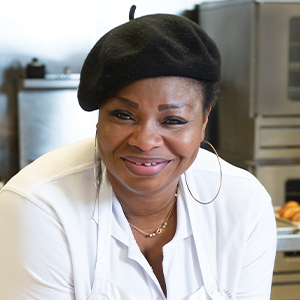 To watch Blandine Nadia Ahissou take basic ingredients like flour, sugar, milk, butter, yeast and water and transform them into perfectly flaky pastries is to witness baking magic.
Just like the stars of PBS' "Great British Baking Show," Ahissou, the owner of Nadia's French Bakery, makes the laminating process (in which a thin square of chilled butter is repeatedly folded into a base dough) look effortless, efficient and even fun. From that base, the 48-year-old Altoona baker crafts sweet and savory pastries like flaky chocolate croissants and pains aux raisins.
Ahissou (pronounced ah-hiss-who) has been selling pastries from her home kitchen for the past few years; she's showcased her goods at several farmers markets, pop-up sales and coffee shops. We asked how she got started and what she most likes to bake.
We notice you have a French accent—where are you originally from?
I grew up in Benin, a West African country where the first language is French. [Benin is between Nigeria and Togo.]
How long have you been in Des Moines?
I've been here for seven years. Compared to Georgia, where I moved from, I feel like Iowa was best for my children and their education.
How did you get started baking?
I have loved baking since a young age. I would make pastries for my first born who is now 23, so it has been a long time [Ahissou and her husband, Wilfried, have three children]. I took some classes online from Paris that helped me improve my skills.
What is your favorite item to make?
My children love it when I make them quiche Lorraine.
Is there one item every person should try?
The pain au chocolat or chocolatine, depending on which part of France you are familiar with, is a must. You can never go wrong with chocolate.
Where can readers find you?
At nadiasfrenchbakery.com; on Facebook at Nadia La Baker; on Instagram at Nadia's French Bakery. [Also find her pastries at Ritual Cafe.]