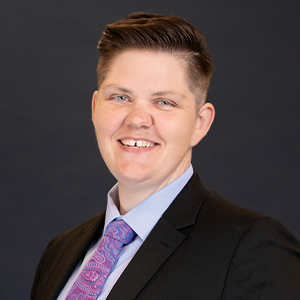 Writer: James Augustus Baggett
Lisa Irey was named director of technology for Des Moines Public Schools last August, and it's their responsibility to ensure students and staff at all 65 locations throughout the district are connected to networks and online resources.
"Our network, at any given time throughout the day, supports 80,000 to 100,000 devices connected to it at once," the 35-year-old Irey says. "We support about 32,000 students and 4,700 staff."
Breaking barriers: Irey, who identifies as nonbinary/trans-masculine, is the first openly transgender leader at Des Moines Public Schools. Irey hopes their role as a leader will provide representation for LGBTQ students and staff in the district, according to a DMPS news release.
"As a kid, I never saw anyone like me in leadership or important roles as a model," they told dsm. "It's important that someone who identifies as queer and trans serves our district at its highest levels. …
"LGBTQ youth have enough to struggle with. When they come to school, they shouldn't have to struggle—they should be free to be themselves, affirmed and validated, so that they can then be able to focus on their learning."
A passion for service: Born in Maryland and raised in the Quad Cities, Irey is the youngest of 14 children and says public service is in their blood. Irey's father, who worked for the Office of Personnel Management in Washington, D.C., "was passionate about civil rights and always told me the story of when he attended [Martin Luther King Jr.'s] 'I Have a Dream' speech." Irey's mother served as an executive assistant for numerous senators and representatives on Capitol Hill.
Before joining DMPS six years ago, Irey, who has a master's degree in organizational leadership, taught business and computer science in different school districts as well as started the Microsoft IT Academy at West Des Moines schools.
Right at home: Irey and their wife, Megan, a band teacher, live in a former dairy's milk house that has been converted into a home in West Des Moines. The couple is expecting a child this March. The two enjoy "tending to the vegetables, fruit trees, berry patches and wildflower garden," Irey says. "In the late winter, I tap our sugar maple trees for sap to make our own maple syrup."
An avid do-it-yourselfer who's built several raised garden beds, a portable work bench and a charcuterie board, Irey also keeps active with kayaking, hiking, cycling, kickboxing and strength training. They also love doing the New York Times daily crossword puzzle, recently completing 150 days in a row.
The road ahead: Looking forward, Irey and their team are focused on keeping DMPS on the cutting edge of technology, including installing new classroom interactive projectors, upgrading the district's wireless network, and working more closely with the staff to align technology with educational needs.
"I love visiting schools and witnessing the culture of belonging and learning that each school has uniquely developed," Irey says. "I love watching the students interact and engage. … It feels good to play an integral role in the success of our school district's mission. When schools win, we all win."