dsm magazine is proud to recognize the 2022 Sages Over 70 honorees. These seven Greater Des Moines leaders have improved the community in innumerable ways through their civic and business leadership, mentorship and community advocacy. The Greater Des Moines Partnership, Creative Visions, Bravo, the Greater Des Moines Botanical Garden, and the United Way of Central Iowa are just a few of the organizations these leaders have influenced in positive ways over the years. 
We celebrated the honorees Nov. 10 at the River Center in Des Moines. Each Sage shared their guiding principles and inspiring insights.
A recap video of the evening is available here. As in prior years, proceeds from the event benefited the Sages Over 70 Fund at the Community Foundation of Greater Des Moines, our presenting partner. To learn more about the fund or to contribute, visit desmoinesfoundation.org. 
Read about this year's exemplary honorees below, and click here to hear more of their stories in a video by Emily Kestel. 
Photographer: Duane Tinkey
---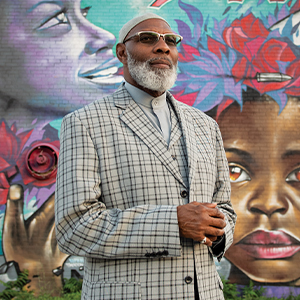 Ako Abdul-Samad
Many Iowans recognize Ako Abdul-Samad from his work as an eight-term Iowa state representative. But behind his long list of accomplishments is a story of resilience. After being expelled from two high schools, he eventually found his way to the local chapter of the Black Panthers and started volunteering for their free breakfast program, which launched his lifelong pursuit of social justice. 
If he wins reelection in November, the 71-year-old Abdul-Samad will become the longest-serving Black Iowan in the state Legislature since 1965. Over the years, he has used his philosophy of empathy and understanding to reach across the aisle. Outside the gold dome, he works with Creative Visions, a community service agency he founded in 1996. 
His expertise makes him a go-to source for journalists and community leaders, who seek him out for context when there's news involving racism or the death of a community member. Sadly, his only son, Ako White Abdul-Samad, was shot and killed in 1997 when he was just 18. 
Among his achievements, Abdul-Samad says he is proudest of co-founding the 4U Promise program, in which "Iowa State University adopts two elementary schools in my district, follows the students from K through 12th grade, and provides full and partial scholarships to students in the program to obtain a four-year degree," he explains. 
But his fondest memory is from 2003, when he won a seat on the Des Moines School Board. "The night of the election, the results brought the biggest smile to my mother's face and the most endearing hug," he says. "That's the moment in my career that I will cherish … the most." –James Baggett
His Advice
"Be honest with yourself so you can be honest with others."
"Self-love is one of the pillars that allows you to identify your emotional, physical and mental state."
"No one can make you happy. Others can only enhance your happiness."
"Your birth and your death are only meaningful if people understand the hyphen between the two."
Community Voices
"There are many who see Ako as an ambassador of peace and justice and there are those who have celebrated him as a defender of democracy. I see Ako as a man for all seasons, leaving a rich civil and human rights legacy for our community and Iowa." Mary Chapman, vice president emeritus, DMACC, and a 2022 Sage Over 70 
"If the true measure of someone is how much better they make their community and the people around them, he's already well over his quota of what we can expect from any one person." Sean Bagniewski, chair, Polk County Democrats
"Ako is extremely eloquent and inspiring. When he speaks on the floor of the Iowa House of Representatives, everyone listens, learns and grows. He is a leader among leaders." Ruth Ann Gaines, Iowa state representative and a 2019 Sage Over 70.
Among His Achievements 
As an Iowa representative, sponsored or co-sponsored bills that have led to changes for minorities and for all Iowans, including the recent "More Perfect Union" legislation.

 

Helped form Iowa's first Black Legislative Caucus and is co-chair of the Iowa Democratic Black Caucus.

 

Recipient of numerous awards for his citizenship and leadership, including from the National Association of Social Workers Iowa in 2020, the Filipino American Society in 2018, and the Interfaith Alliance of Iowa in 2016.

 

Author of "A Deeper Truth: Revelations of the Soul," a collection of poetry. He's also a motivational speaker.

 

Served on the Des Moines School Board.

 

Founder of Creative Visions and co-founder of the 4U Promise program at Iowa State University.
---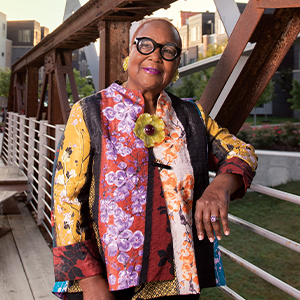 Mary Chapman
Growing up poor in Alabama, Mary Chapman realized that education could help overcome poverty's limitations. She became the first person in her family to graduate from both high school and college and has dedicated her life to education, economic advancement and affordable housing. 
After graduating from Drake University, Chapman spent 17 years at Des Moines Public Schools, then joined Des Moines Area Community College. In her 23 years there, Chapman formed community partnerships to help students overcome barriers to education—from day care for students with children to job training for incarcerated Iowans. 
"My life purpose is to be a connector, a supporter and an inspiration to others, to help them be the best they can be," says Chapman, 74. "Poverty and other hurdles can make it tough for students to stay in school and see the possibilities available to them. I've always looked for ways to help them open the doors to those possibilities." 
Chapman was widowed in her 30s and doesn't have children, but she has mentored and supported young people in both her extended family and the community. At one point, Chapman's 14-year-old sister and a relative's baby were both living with her, giving her insight into the struggles faced by single, working parents. 
"My greatest pride is in seeing people who I helped in some way when they were younger who are thriving adults today," Chapman says. "I'm proud to know that I've been part of their journey in some way. 
"And it's not over; I'm not finished. I'm still living that purpose every day." –Missy Keenan
Her Advice 
"In the past when I was asked this question, my advice was more career-based. But now my advice is focused on living life to the fullest. Live each day embracing and valuing every moment you can with family and friends."
"Be patient and persistent."
"Know who you are, what you value, and what keeps you centered and grounded. Take some time every day to be sure your life reflects those values."
Community Voices
"Although Mary is retired, she is very active in the college and the community. She continues to live a life of service, supporting activities and raising funds for those who want to gain skills and education to better their lives." Rob Denson, president, Des Moines Area Community College, and a 2020 Sage Over 70
"Mary's life's work is still impacting and uplifting those in lower socioeconomic circumstances and creating pathways to a better life. She lives her life making a difference." Marvin L. DeJear Jr., senior vice president, Greater Des Moines Partnership
"Mary is committed to our community and more than willing to share her energies and expertise. Her insights, kindness and ability to make things happen have enriched us all." Jeff Fleming, director, the Des Moines Art Center
Among Her Achievements
Served Des Moines Public Schools as a teacher, education specialist and principal.

 

Served Des Moines Area Community College as executive dean of the Urban Campus and then vice president of community and workforce partnerships. Upon retiring in 2013, she was named vice president emeritus.

 

Established programs for youths and at-risk adults, most notably DMACC's Evelyn K. Davis Center for Working Families.

 

Helped improve community reentry for female offenders from the Iowa Correctional Institution for Women.

 

Earned a doctorate in education from Vanderbilt University.

 

Inducted in both the Iowa African American Hall of Fame and the Iowa Women's Hall of Fame.
---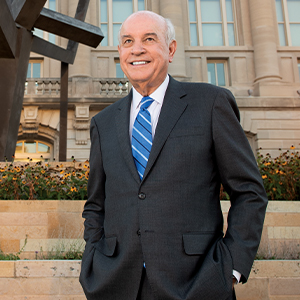 Steve Chapman
Steve Chapman, 71, has a reputation for setting high expectations for others, but not any higher than what he expects for himself. It's a trait that he gleaned from his father's example, and it has served him well as a business and community leader. His father, Verlin, "taught me the importance of ethics and values and … of making a positive difference in the lives of others," says Chapman, who grew up in the Quad Cities. "My parents taught me to always do what was right and that in my heart I would always know what that was." 
Over the years, he has put that philosophy into action. For example, as the United Way campaign chair in 2006, Chapman visited every funded agency—more than 60—within six months so he could learn firsthand about their work. More recently, he co-chaired the MercyOne Richard Deming Cancer Center campaign, leading with a six-figure gift. Chapman was CEO of ITA Group for 18 years, then was CEO of Ruan Management Systems for five years before retiring in 2014. He is credited for leading Ruan through the economic downturn followed by a period of significant growth. 
Although he's retired, he still serves on company boards and raises money for organizations. "I never looked at retirement as meaning a time to do nothing," he says. "It simply gave me more time to do everything I wanted to do," he says. 
Chapman and his wife of 45 years, Melissa, have two children and two grandchildren. –James Baggett
His Advice
"Jack Welch said in the 1980s, 'When the rate of change is faster on the outside than the rate of change on the inside, the end is near.' I've found that statement so true in business." 
"Winners compare their achievements with their goals, while losers compare their achievements with those of other people."
"I was taught that 'bad things happen to bad people.' I learned through my volunteer efforts that bad things happen to some very good people because they simply have no one to help and support them."
Community Voices
"Not only does Steve care deeply about our community … but he rolls up his sleeves. While others pontificate on what the best path is, Steve is the one that is actually … doing the work." Dan Houston, chairman, president and CEO, Principal Financial Group
"Steve is a person of great integrity, wisdom, authenticity and generosity of spirit. He is brilliant, yes, but he uses his brilliance not just to illuminate his own path forward but also to help illuminate the path for those around him." Dr. Richard L. Deming, medical director, MercyOne Richard Deming Cancer Center
"In today's world, Steve would be best described as a servant leader. He's hard-wired to give back. He has a unique leadership style that sets a high standard of excellence, while instilling in others the confidence and belief that more can be achieved." Thomas J. Mahoney Jr., president and CEO, ITA Group
Among His Achievements
Helped raise a record $22.5 million as campaign chair for United Way of Central Iowa in 2006.

 

Helped lead the way for the formation of the Greater Des Moines Partnership in 1999.

 

Has been and continues to be instrumental in serving as a campaign advisory council member for the Iowa Confluence Water Trails project.

 

Served as CEO of ITA Group and Ruan Transportation Management Systems.

 

Has served on the boards of numerous nonprofits, including MercyOne Des Moines Medical Center and the Diocese of Des Moines.

 
---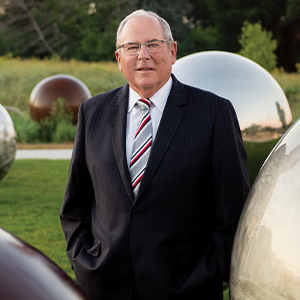 Gene Meyer
Growing up in Jesup, a town about 20 minutes east of Waterloo, Gene Meyer was fascinated by the state troopers and local police chief in town. So he aimed his education down a similar path, and in 1982, he was one of 250 officers selected yearly by the Federal Bureau of Investigation for training at the FBI National Academy. "It was one step in my career to further my education and development," Meyer says. 
However, if you take a look at his resume, you'll see myriad other items touching nearly every facet of the community. Meyer was elected mayor of West Des Moines and has been a member of committees and served as board president for numerous organizations, including West Des Moines Community Schools, the Des Moines Symphony, Drake University and the Greater Des Moines Partnership, among many others. 
Meyer, 73, says he valued the different challenges and unexpected turns that came with stepping into new roles. "One of the things I loved about my career in law enforcement was you never knew what was going to happen," he says, adding that he found that same sense of variety and creative problem-solving working in city government and school systems. 
Teamwork has always been his secret to success, he says: "Anything I ever did, I was part of a team. I surrounded myself with people who were smarter than I was, and I was just smart enough to listen to them." 
Meyer and his wife, Kathy, have been married for 47 years and have three children. –Hailey Allen
His Advice 
Step out of your comfort zone. "Don't stay in one lane. Experience other things."
"Be someone who is known to be trustworthy."
Value all your relationships, whether it's with your work, your family or your community.
"Don't burn bridges; it's a long road with no curves."
Community Voices
"Gene is simply one of those people that I can always turn to for fair, honest and objective advice about leadership, family, Central Iowa politics, Iowa State University and life in general." Jamie Pollard, director of athletics, Iowa State University
"No matter what position he has held in government, business or as a community volunteer, he has constantly contributed to the betterment of his community." Gary Palmer, president and CEO, Prairie Meadows
"Gene has been a tireless ambassador for our community for as long as I can remember. He is excellent at listening to all individuals involved and coming up with creative solutions to difficult challenges." Karen Novak Swalwell, president and CEO, Francis & Associates
Among His Achievements
Graduated from the Federal Bureau of Investigation National Academy.

 

Served as commissioner for the Iowa Department of Criminal Investigation.

 

Served three elected terms on the West Des Moines Community Schools Board of Education from 1988 to 1997.

 

Served as mayor of West Des Moines from 1997 through 2006. As mayor, he oversaw the Jordan Creek Town Center project.

 

Served as president of the Greater Des Moines Partnership from 2012 to the end of 2020, when he retired.

 

Received a Pi Alpha Alpha Outstanding Master of Public Administration Award from the Drake University College of Business and Public Administration in 2013.
---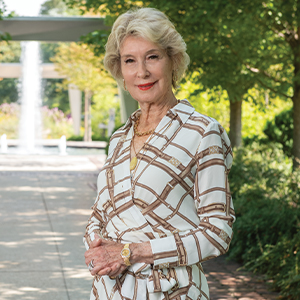 Janis Ruan
In 2001, Janis Ruan brought acclaimed Chicago landscape architect Doug Hoerr to Des Moines to give a talk to the Des Moines Founders Garden Club and city leaders. His firm, Hoerr Schaudt, had designed high-profile streetscape projects, including a three-mile stretch of plantings that transformed Chicago's Michigan Avenue. "Doug convinced them that Des Moines could do the same thing as they did in Chicago," Ruan says. "He gave us the formula to do it." 
Ruan and her late husband, John, the former chairman of Ruan Transportation, already knew they wanted to take on a major philanthropic effort for Des Moines. As they were both avid gardeners, Des Moines streetscape beautification was a natural fit. 
Soon after Hoerr's visit, Janis Ruan hired his firm to design plantings outside the Ruan Center downtown, and it "didn't take long before … beautification efforts started popping up all over downtown." 
Ruan was asked to be on then-mayor Preston Daniels' landscape taskforce. Working with Hoerr, she spearheaded the streetscape along Fleur Drive, followed by the Ingersoll Avenue streetscape, the gardens at the World Food Prize Hall of Laureates, and the transformation of the Greater Des Moines Botanical Garden. 
"Parks and beautiful spaces are vital to the vibrancy of a community and the people who live there," Ruan says. "So many people have worked together on these beautification efforts, which have really enhanced our city. I'm grateful to have been a part of it." 
Janis and John were married 51 years. They have two children and five grandchildren, who all live in Des Moines. –Missy Keenan
Her Advice 
"This Maya Angelou quote has always resonated with me: 'People will forget what you said, people will forget what you did, but people will never forget how you make them feel.' I want people to remember me for always showing respect, kindness and humility. 
Through all my projects and throughout my life, I've tried to think that way." 
"Be open to people and moments that point you in a new direction. When I've welcomed new experiences and opportunities, it has really enriched my life."
Community Voices
"The significance of Janis' commitment to and vision for this community cannot be overstated and has resulted in vibrant and beautiful examples of arts and culture throughout Greater Des Moines." Kim Perez, president and CEO, Greater Des Moines Botanical Garden
"Janis has spearheaded many Des Moines beautification projects in her characteristically humble and quiet way. As her late father-in-law used to say, 'Janis is as beautiful on the inside as she is on the outside.'" Suku Radia, retired CEO of Bankers Trust and a 2021 Sage Over 70
"Janis gets things done without seeking personal accolades and is a marvelous example of how people can and should work together." Allison Fleming, Des Moines philanthropist and volunteer and a 2020 Sage Over 70
Among Her Achievements
Instrumental to significant local beautification projects including Downtown Des Moines, Fleur Drive, the Avenues of Ingersoll and Grand, the Greater Des Moines Botanical Garden, and the restoration and transformation of the former Downtown Des Moines Public Library into the World Food Prize Hall of Laureates

 

Serves on the boards of directors for Salisbury House and Gardens and the Avenues of Ingersoll and

 

Grand; board member emeritus for

 

the Greater Des Moines Botanical Garden, Des Moines Metro Opera, Friends of Des Moines Parks, and the Community Foundation of Greater Des Moines.

 

Recognized with a key to the city of Des Moines in 2003; a Des Moines Business Record Woman of Influence in 2004; and, with her late husband, John, the Iowa Star Award by the Des Moines Register in 2012 for their philanthropic efforts.

 
---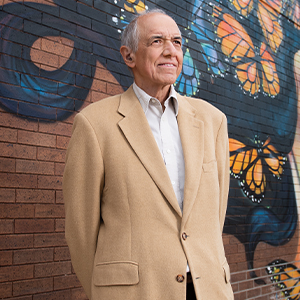 I

van Webber

Ivan Webber lost his mother last year when she was 96. "If you had asked her the worst day of her life," says Webber, a retired Des Moines municipal attorney, "she would have told you it was the day she started kindergarten because she did not speak English and the teacher did not speak Spanish. 

"With that memory in mind, supporting the Latin community has always been a priority of mine." 

That shared family recollection has, in fact, fueled much of Webber's professional legal career. For nearly three decades, he represented local governments and municipal utilities in legal issues arising under all aspects of municipal law for Ahlers & Cooney PC. 

The many community initiatives he has been involved in include serving on the executive committee of United Way of Central Iowa, the Latino Forum, the United Mexican American Community Center and Iowa Legal Aid. He's been active in political engagement and discourse throughout his life, including fighting back against legislation in Iowa that was detrimental to the Latino community. 

Webber is especially proud that the book he wrote in 1988 (and has updated three times), "Making Objections and Laying Foundations in Iowa," has become a standard reference for judges and other lawyers. 

Now retired, Webber, 75, lives in West Des Moines with his wife of 53 years, Anne. They have two children and two grandchildren "I enjoy retirement," he confesses. "I finally discovered how to relax."—James Baggett

His Advice

"For the 45 years I practiced law, I always had a note on my desk (rewritten several times) that read, 'Do one hard thing every day.' My daughter told me that's the first thing that comes up on her computer when she opens it."

"Indecision is a decision."

"When you ask a question, listen to the answer. You may need to ask a lot more questions."

"Here's a piece of advice I give young trial lawyers that comes from a fencing coach of mine at the University of Iowa in 1969: 'Anyone with a sword in their hand is dangerous.' Translation: Never underestimate or dismiss the ability of your opponents."

Community Voices

"Ivan's community engagement works to make not only Central Iowa a better place but one that is equitable and inclusive."Joe Enriquez Henry, president, LULAC Council #307, and Daniel Zinnel, CEO, Proteus Inc. 

"Ivan is one of the most thoughtful and insightful people I know. He always has a way of relating current events and happenings back to a historical precedent. He is a great storyteller, and he is always ready to stand up for and advocate what he believes." Ryan Crane, director of philanthropy, Des Moines Community Playhouse

"Ivan is a brilliant attorney and historian who is grounded in social justice—fighting for the rights of those who are marginalized, discriminated against or ignored." Joel Olah, executive director, Aging Resources of Central Iowa

Among His Achievements
Corporation counsel, city of Des Moines, from 1986 to 1989; head of 14-lawyer legal department representing Des Moines in all fields with the exception of bond work.

 

Recipient of Iowa Governor's Volunteer Service Award in 2007.

 

Recipient of the Public Service Award by the Iowa Associations of Municipal Utilities in 2010; the Broadband Service Award by the Iowa Association of Municipal Utilities in 2018; and Outstanding Member by the Trial Lawyers of Iowa in 1982.

 

Founding member of Iowa Public Employer Labor Relations Association.

 

Former board president and member of Iowa Legal Aid.
---
S

teve Zumbach

Steve Zumbach's leadership skills emerged early. Raised on a family farm in in eastern Iowa, he was elected president of the Iowa Future Farmers of America and the national FFA vice president, serving in the latter role between his senior year in high school and freshman year at Iowa State University. He was student body president at ISU, and then, when Zumbach was only 23, Gov. Robert Ray appointed him to the Board of Regents. 

His community leadership only continued to grow over the years. Perhaps most significantly, he helped create the Greater Des Moines Partnership and Bravo Greater Des Moines and has been a key player in initiatives that have defined downtown in recent decades. 

The 72-year-old Zumbach, who retired in 2020 from the Belin McCormick law firm, is still involved in high-profile projects, including the $125 million Iowa Confluence Water Trails project and ISU's $1.5 billion capital fund campaign. 

"When giving back to your community, don't just write a check, but take responsibility and take leadership roles," he says. "But most importantly, have the courage to do what is ethical and right even though it may not be in your personal interest." 

Zumbach is quick to acknowledge the role mentors have played throughout his life, including a college professor who "outlined an academic program that resulted in a B.S. degree, a law degree, a Ph.D. in economics and a CPA." 

Zumbach and his wife, Kathy, have been married for 51 years. They have two children and three grandchildren. –James Baggett

His Advice

"When you are young, be patient and spend the time needed to get an education that will prepare you for a lifelong career. During the remainder of your life, continue to get the needed education to develop the skills required to meet the challenges of a changing world."

"When solving problems, get the right people in the room, create an environment where people share ideas, nobody takes credit, and by your collective efforts find a solution to the problem."

"When faced with difficult issues, have the courage to do what is right and not what is expedient or is in your financial or political interest. Today more than ever, we need people with strong moral values and the courage to do what is right."

Community Voices

"As one of our most dedicated alumni and supporters, Steve has helped advance nearly every aspect of Iowa State's mission through his leadership, generosity and service…" Wendy Wintersteen, president, Iowa State University

"Steve is a sage … due to his lifetime demonstration of character-based ethical leadership. … [He] has always worked to positively impact the lives of others with a commitment to civility." Scott Raecker, executive director, Character Counts

"Steve not only helped develop numerous cutting-edge visions of what could be, he also rolled up his sleeves and made what could be a reality." Quentin Boyken, attorney, Belin McCormick

Among His Achievements
Involved in four capital campaigns for Iowa State University, including serving as the honorary chair for the current campaign with a goal of raising $1.5 billion.

 

Recipient of numerous awards and recognitions, including from Drake, Iowa State, the Iowa Business Hall of Fame and the American Economic Council, among others.

 

Served as chair of Bravo Greater Des Moines (which he helped found), the Greater Des Moines Partnership, the Greater

 

Des Moines Chamber of Commerce

 

and United Way of Central Iowa's annual fundraising campaign.

 

Served as co-chair of the Iowa Confluence Water Trails project and founding co-chair of the Cultivation Corridor.

 

Served on numerous business and nonprofit boards, including the Des Moines Art Center.

 

Specialized in mergers and acquisitions, taxation, nonprofits, trusts and estates in more than

 

four decades with Belin McCormick.

 
---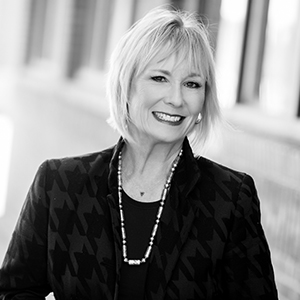 Embrace Curiosity
Writer: Jann E. Freed
In 2004, my professional mentor, Dr. Elmer Burack, mailed me the classic book by Zalman Schachter- Shalomi, "From Aging to Sage-ing: A Revolutionary Approach to Growing Older." Elmer encouraged me to become certified as a Sage-ing Leader through Sage-ing International. He believed that with people living longer, they were going to need some guidance and that could be my calling. 
I took his advice, and for the past 15 years I have hosted a podcast called "Becoming a Sage," in which I interview thought leaders about living one's best life. I often summarize what I've learned in this way: Becoming a sage is not about being successful personally or having a lot of money. Yes, you have to have enough money to support your lifestyle, but becoming a sage is about making intentional decisions about how you spend your resources—time, energy and money. If I had to select two words to describe a sage, they would be curious and generous. 
When sages are curious, they ask questions and are interested in others. They are committed to continuous learning and discovery. They're generous with their resources and give back to the community. They want to make a difference by staying engaged and involved through boards and commissions, philanthropy and mentoring. 
Recently, I attended WesleyLife's 75th anniversary celebration. Dr. Laura Carstensen, the founding director of the Stanford Center on Longevity, was the keynote speaker. In 2018, the Stanford Center launched an initiative called "The New Map of Life" and released their report earlier this year. Carstensen shared 10 conclusions from the report, and the one that resonated most with me was this: Learn throughout life. 
This may be common sense, but Carstensen pointed out that most of our formal education is front-loaded into the first two decades of our life. According to the report, "The New Map of Life envisions new options for learning outside the confines of formal education, with people of all ages able to acquire the knowledge they need at each stage of their lives, and to access it in ways that fit their needs, interests, abilities, schedules and budgets." 
One silver lining of the pandemic has been the explosion of online learning opportunities, some of which were not possible before and often were unaffordable or inconvenient. For years, I have been a fan of author and writing instructor Natalie Goldberg, and I dreamed about taking a writing course with her in New Mexico. When I learned she was offering an online course for the first time, I jumped at the opportunity. So did 1,200 other people from around the world. 
If we are going to have a long life, then let's spend it learning. Reading and listening to podcasts is another way to continuously learn. If you want to learn more about becoming a sage, turn to Arthur Brooks. He writes a column for The Atlantic called "How to Build a Life." In addition, Brooks has a podcast titled "The Art of Happiness," where he weaves together the art and science of living a better life. 
Decide what you want to learn; there are resources to help you learn it. And then think about how you can share what you are learning with others. At 95, my dad learned how to navigate his iPad from a resident at Scottish Rite Park who offered a free class. It was a win for everyone involved. 
In his book "From Strength to Strength: Finding Success, Happiness, and Deep Purpose in the Second Half of Life," Brooks writes: "Devote the back half of your life to serving others with your wisdom. Get old sharing the things you believe are most important. Excellence is aways its own reward, and this is how you can be most excellent as you age." 
Jann E. Freed, Ph.D., is the author of "Leading With Wisdom: Sage Advice from 100 Experts." She also hosts the podcast "Becoming a Sage."