Instead of opting for the traditional tiered wedding cake, some local couples are choosing creative dessert options from mobile services such as Waffles & Whip. The Norwalk-based trailer dishes a special dough-based waffle authentic to Belgian culture. Photographer: Missie Lafrenz Photography.
Writer: Beth Eslinger
The latest wedding trend in the city—services on wheels—is giving couples even more options and experiences for their special day and all the lead-up events. With trucks, buses, trailers and carts that roll up to your venue, the options are diverse and specialized. You'll find photo booths, caffeinated and boozy drinks, breakfast treats and even bright bouquets to customize your wedding day and beyond.
For Lauren Houska and her fiancé, Gordon Elliff, food trucks were the go-to solution for their Labor Day wedding. 
Originally planned as a backyard event, the couple wanted something hyperlocal and casual, "more like a gathering of friends than a big production," Houska says. 
"A lot of people like us are looking for smaller, more personal-type vendors," she says, noting she and her fiancé love going to area breweries and trying out local options from trucks serving bites on-site. "Small businesses supporting small businesses is something great." 
Houska and Elliff are just one local couple swapping traditional venues, menu items and schedules of events for something more unusual and more fitting for them. And mobile services are adding to the possibilities. 
"People feel more like they can do what is more their personality," Houska says. "There are so many options." 
As their guest list grew, Houska and Elliff switched to the Norwalk venue Rose Farm, which required little décor, thanks to the fields of flowers set amid rolling hills. And it was a perfect spot for a row of trucks. 
At press time, the two were planning on pondside nuptials, followed by playing yard and board games with their guests ("We're not dance people," Houska says) and stops at trucks dishing two signature cocktails and other beverages (Traveling Nova); mains including salads, sandwiches and pastas (Culinary Nomad); and sweets on a stick (Waffles & Whip). One benefit over the traditional venue: The couple could mingle with guests in line for their food-truck servings. 
Hopping on the Mobile Wagon (or Trailer)
With more than two dozen food trucks alone in the city, there's something for every palette and price when it comes to event planning. Trucks are prepared to handle different venue types and services, offering generators to keep drinks chilled, complete kitchens for made-to-order options, and a willingness to collaborate with their fellow food trucks. 
Houska and Elliff's sweets vendor—Waffles & Whip from Norwalk—serves waffles on a stick with several different toppings. They're perfect sharables. Inspired by her last name, owner Lea Waffle converted an old horse trailer into her pop-up breakfast bar to generate bonus funds for her own wedding. 
"I wanted to create something unique and saw a need for dessert-based food trucks for breakfast," she says. 
Houska and Elliff found the novelty business through social media. That's a key to building success in this arena, Waffle says. 
"You need to make sure your business is very Instagrammable," she says. "Half of my clients book because my business is so unique."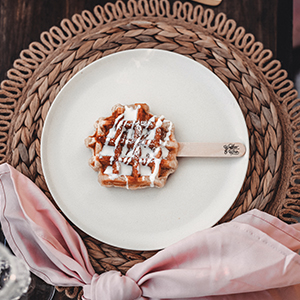 "They're fun," says Waffles & Whip owner Leah Waffle of her sweet treat. "I wanted to put them on a stick because it's Iowa." Photographer: Missie Lafrenz Photography.
Speaking of Social
In addition to mobile services that deliver drinks and tasty snacks, more and more businesses are carving their niche with one-of-a-kind experiences that are primed for social media. Part of the charm is just the right vintage vehicle for a backdrop. 
"I realized there's a desire in Des Moines to have fun and unique … celebrations," says Katie Allgood of the Good Co. 
The Good Co.'s two rides—"Piper," a 1968 VW bus; and "Roxy," an Italian Piaggio Ape—provide noteworthy scenes for photos of the wedding day. Piper, specifically, was repurposed by its owners as a photo booth. "Wedding guests love hopping in the back seat of the bus and instantly getting photo strips printed as a lasting keepsake from the day," Allgood says. 
Roxy modifies for several uses, including a Champagne cart, dessert display, appetizer space, floral bar and more. The Good Co. drops off the vehicle at the site, so it's up to the caterer or couple to build the bar or dessert station of their dreams. 
The company also rents backdrops, lounge furniture and other statement pieces. "As a self-proclaimed party lover, I am all about bringing unique rentals to the Des Moines metro to help make celebrations extra special," Allgood says. 
The Good Co. rents two vehicles for special events, including "Piper," a 1968 bus decked out as a photo booth. It works equally well for unexpected and more traditional venues. Photographer: Nicole Laing.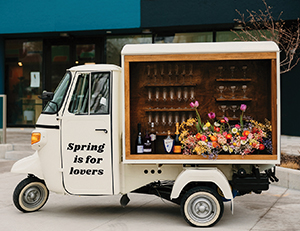 "Roxy," an Italian Piaggio Ape by the Good Co., allows clients to provide their own branding or messaging on the side of the vehicle, such as the "Spring is for lovers" sign here. 
Drinks All Around 
For rehearsal dinners, morning-after brunches and bachelorette parties, local trucks are pouring on the options. 
For a special start to the day or midday refuel, coffee service company the Traveling Bean Co. will roll up in "Betty," a VW bus perfect for pop-up events (her ride's top even pops up). Owner and barista Marie Miller sources both private and public events and specializes in micro-roasted coffees and teas with a focus on sustainable products. Guests can order lattes, cold brews and specialty drinks such as Combat Chai Milk. 
Another Italian Piaggi Ape, a three-wheeled vehicle that's an adaption of a Vespa scooter, is operated by Houndstooth & Hooch, owned by Sarah Stewart. The tap truck specializes in adult drinks—there's Rosé All Day for bachelorette parties or Brews Before I Do, a personal taproom stocked with area brews to enjoy during wedding day prep. 
The business will manage the main event with signature cocktails, Champagne and more. Currently, prosecco and custom kegged cocktails are tops with clients. "I love the ability to mix and keg it myself so I know it is perfect and fresh," Stewart says. "I'm starting to explore more seasonal cocktails, but my spicy watermelon margaritas are always a huge hit." 
To-Go Bouquets Perfect for bridal showers, bachelorette parties or perhaps guest gifts for the big day, mobile truck Bochner Bloom Bar brightens venues with fresh-grown flowers grown on the family's Indianola-area farm. Services include hands-on bouquet-making and lessons about specific flowers for the DIY crowd, or an "open bar" where friends and family can grab takeaway bouquets. 
Wedding guests can even create their own centerpieces with help from recipe cards for a hands-on experience, or the bar offers small to-go arrangements as party favors. "We are flexible on setup, depending upon what the couple would like to create for their event experience," says owner Lori Bochner, who notes the Bloom Bar also serves as an ideal photo backdrop. 
The Main Course 
With a booming food truck scene, there are myriad options for dining. And while the truck business is trending, all the vendors wedding couple Houska and Elliff contacted were reasonably priced and willing to accommodate their needs. 
"There's something out there for everyone's budget. Everyone we reached out to were very reasonable. Nothing was crazy outrageous," Houska says. 
As with all wedding planning, Houksa and the vendors we spoke with suggest creating a budget for food and entertaining before starting to shop. Most vendors offer different pricing options and tiered menus to cater to clients. Vendors' websites are set up to start a conversation with potential clients. 
Be sure to finalize the venue and event date to secure your special experience. The Good Co., for instance, is already booking out for next year for their photo booth and display cart. 
For a list of mobile dining options and to get help booking, visit foodtrucksdsm.com. While there are tons of tacos, you can also find options including Korean, charcuterie, soul food, barbecue and more.