Above: Chicken With Rosemary-Gorgonzola Sauce and Dates
Writer: Wini Moranville
Photographer: Duane Tinkey
Of the many winners in the Grateful Chef's repertoire, this one tops my list: Lightly spiced, judiciously charred chicken breasts are served with a creamy rosemary-Gorgonzola sauce. What sends this dish over the moon is the way the caramely sweetness of the plump dates plays ever-so-nicely with the flavors of the salty-funky Gorgonzola and piney rosemary. Arugula adds a burst of color and freshness, and nutty bulgur wheat provides a wholesome and hearty anchor to the plate. 
Of course, it may seem paradoxical to offer a recipe from the Grateful Chef. After all, Brandy Lueders devised her smash-hit meal-prep service precisely to help food lovers get out of the kitchen on their busiest nights. However, because she switches up her menu offerings every week, you never know when this particular beauty will pop up in the rotation. Sometimes, I just can't wait.
Chicken With Rosemary-Gorgonzola Sauce and Dates 
From Brandy Lueders, the Grateful Chef
1 cup bulgur
1 teaspoon each of dried parsley and dried onion powder
1/2 teaspoon each of salt and pepper
Olive oil
Juice of 1/2 lemon
4 skinless, boneless chicken breast halves (about 1 1/4 pounds total)
1 cup heavy cream
1 sprig fresh rosemary
2 teaspoons finely chopped fresh rosemary
2 ounces Gorgonzola cheese, crumbled
8 Medjool dates, pitted and quartered Arugula, lightly dressed with olive oil, salt and pepper, for serving
1. Preheat oven to 400 degrees. Lightly grease a shallow baking pan (or line with parchment paper for easier cleanup). Set baking pan aside.
2. Cook bulgur according to package directions. Set aside and keep warm.
3. Combine parsley, onion powder, salt and pepper in a small bowl. Coat chicken breasts lightly in olive oil; sprinkle with lemon juice. Rub spice mixture over chicken breasts.
4. Lightly oil a grill pan; preheat pan over medium-high heat. Sear chicken breasts on each side until well browned. Transfer to prepared baking pan. Bake, uncovered, about 10 minutes or until breasts register 165 degrees on an instant-read thermometer.
5. For sauce, while chicken breasts are baking, bring 1 cup cream and the rosemary sprig to boil over medium-high heat. Reduce heat to an active simmer and let cream cook until thickened enough to coat a spoon (about 10 minutes). During the last few minutes of cooking, add the finely chopped fresh rosemary. When cream has reduced, remove rosemary sprig and discard. Add the Gorgonzola and stir until melted. If sauce seems too thick, add just a little milk and heat and stir until it has a sauce-like consistency. Season to taste with pepper (it will likely be salty enough, due to the Gorgonzola, but add salt to taste if you disagree).
6. To serve, spoon prepared bulgur on each of four plates. Cut chicken breasts in half crosswise, and arrange on plates. Divide sauce over chicken breasts and top with dates. Serve with lightly dressed arugula. Makes 4 servings.
Tips From the Chef
Boneless, skinless chicken breasts are the workhorses of convenient everyday cooking. Here are some of the ways Brandy Lueders transforms these plain-Janes into an astonishingly good dinner:
It's all in the sear: Chicken breasts can dry out easily. Follow the instructions for searing the breasts in a grill pan and finishing them in the oven for enticingly browned yet tender and juicy results. (P.S.: If you don't have a grill pan, a cast-iron skillet will do.)
Sharpen those knives: A well-honed blade is always key. Here, it's essential for finely chopping the fresh rosemary into graceful little bits (rather than ragged shards that could clunk up your sauce). 
Cream is the only thickener you need: Many sauces call on flour or cornstarch for heft and density. "We try to avoid that," says Lueders, explaining that using such ingredients can mask other flavors. Here, the cream gets thickened through reduction, intensifying rather than masking the flavors in the sauce.
Oops! Too thick? Keep the cream cooking at an active simmer, but if it suddenly becomes too thick (it happens to the best of us), just stir in a bit of milk and cook until it's the consistency of a nice, thick sauce.
Accept no substitute for Medjools: These soft, plump and caramely-sweet dates outclass most others you'll find around town. Lueders suggests buying them in the bulk aisle of natural grocers—that way, you can buy just the amount you need. (P.S.: Be sure to pit them!)
---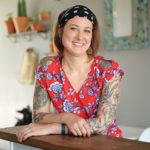 About the Grateful Chef
Each week, Brandy Lueders and her partner, John Cornish, offer elevated takeout meals with healthful twists (such as the whole-grain side of bulgur in this recipe). Order by Monday; pick them up on Wednesday. Head home, pop them in the oven—and in the time it takes to unwind over a pre-dinner cocktail, you can have a restaurant-quality meal on your table. Find out more at thegratefulchefdsm.com.
---