Photographer: Duane Tinkey
Rediscovery of the Year:
Flying Mango
Last year, I began taking fresh looks at our city's enduring mainstays—places I'd overlooked while chasing down the next new thing on the dining scene. I kicked off the intermittent series with a visit to Flying Mango, and my appreciation for this Beaverdale favorite grew even deeper.
With creamy grits topped by plump, sweet shrimp—all rimmed by a rich, heady stock—the shrimp and grits dish made me as happy as any I'd had in the Southern states. Barbecue? Of course: My dining pal tucked into a huge combo plate of brisket, ribs and chicken, but if I had to choose one, I'd choose the ribs. No, wait, the brisket … or maybe the chicken. (You get the idea.)
Better yet, the joint was jumpin', the buzz was irresistible and the staff was totally in the zone, with owner Mike Wedeking at the helm of the well-oiled machine, doing everything from busing tables to making each diner feel like they were the most important person in the room. It felt so good to be in such great hands.
Lunches I Loved:
Tangerine at the Art Center
When respected local caterer Tangerine took over operations of the Des Moines Art Center's restaurant last year, they immediately began serving the kind of ambitious, modern and fine-tuned food that you'd hope to find in an important art museum. Great finds include everything from elegant soups to great burgers, which are equally refined (in their own beefy way).
Vino 209
This handsome wine bar in Valley Junction serves elevated takes on soups and sandwiches. Grilled cheese? Sure thing, but with oozy and translucent Muenster cheese, hefty thick-slab bacon, peppery arugula and a touch of opulence via a restrained truffle aioli. That's just one case in point among others I've enjoyed here.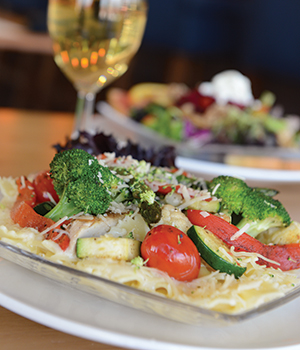 Trellis at the Greater Des Moines Botanical Garden (pictured below)
I love the way the ultra-fresh and thoroughly gratifying salads at Trellis never make me wish I'd opted for the heartier pasta dishes on the menu. I adore their vivid soups—always made without thickeners to mask the flavors. And I also treasure the graceful finale of each visit here: the presentation of a dessert tray brimming with delights crafted by noted pastry chef Nik Pugmire of Doré Bakery.
Keepin' It Casual:
Truman's
If you follow my coverage of the Des Moines dining scene at all, you know I have immense affection for the drivers of Full Court Press' spate of beer-centric restaurants. They have a knack for running easygoing joints where the good-time vibe counter-intuits a serious dedication to quality.
In the past year, Truman's KC Pizza Tavern emerged as one of my favorites of the lot, especially after the kitchen revamped the menu with some pizza combos and well-wrought sandwiches. The Balboni—a meat extravaganza featuring warm bacon atop cool thin-sliced Italian deli meats—proved a great south side-inspired take on the club sandwich. Equally Italian-American was the Babe; named for legendary Des Moines restaurateur Babe Bisignano, this hearty pizza arrived with Alfredo sauce, capicola, black olives, mozzarella, salami and mortadella.
Oh, and there's pie: honest-to-gosh double-crust fruit pies, crafted locally by ChaCha's Confections and served fresh, never frozen. How sweet it is when such casual places take dessert this seriously.
The Year's Best Burger(s): It's a tie!
George's Prime Rib Burger at G. Mig's 5th Street Pub
Crafted with fresh-ground prime rib and decked out with caramelized onions, a four-mushroom blend and Monterey Jack cheese, this glorious paean to beef is served on a tuggy ciabatta bun from South Union Bakery, with homemade horseradish sauce on the side. When it comes to beef-based burgers in this town, this is the one to beat.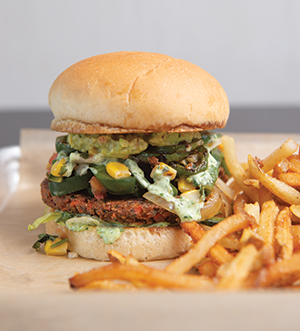 The "Original Dirt Burger" at Dirt Burger
Meatless burgers can be less than gratifying, but Dirt Burger nails it: Rather than trying to mimic beef, their patty lets the hearty vegetable-and-grain flavor of its wholesome ingredients—including mushrooms, flax, buckwheat and a slew of raw vegetables—shine through. Served on a brioche bun with raw onions, herb vegan mayo, ketchup, mustard, lettuce and a big, fat pickle slice, it may satisfy like a beef-based burger, but it tastes like its own wonderful thing entirely.
All-Out Amazing Plate of Great Food:
Cheese Bar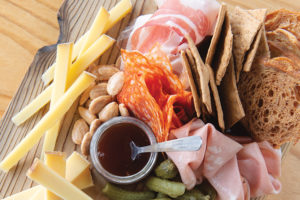 Just about anyone can arrange cured meats, cheeses and accompaniments on a platter, but in my estimation, only about 0.01% of the world's population can do it as wondrously as the Cheese Bar. Of course, it's all about the best ingredients—and the exactitude of execution. Options include La Quercia prosciutto, sliced into glossy, delicate ribbons so thin you can see through them; three world-class artisanal cheeses presented in artful ways to showcase their best features; bands of light-pink mortadella and paper-thin disks of spicy salami. Thoughtfully chosen sides, such as sour French pickles, marcona almonds, apple jam, piparra peppers and well-purveyed crackers, round out this fanfare of beautifully staged food.
Sometimes, I get this platter to go for a great end-of-the-week treat to enjoy at home. But dining in is a blast: With casual and communal farmhouse-style seating and 30 craft beers on tap, Cheese Bar is Ingersoll Avenue's own slice of hipster Brooklyn (and I mean that admiringly). I especially love the way the painstakingly selected beers are served in wine glasses, because each is worth savoring as much as any fine wine.
Pastry of the Year: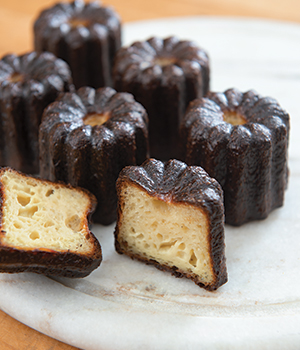 Canelés from Scenic Route Bakery
Canelés (pronounced CAN-lay) are a specialty of Bordeaux, France. Hallmarks of these rum-infused teacakes include a soft, custardy center and a lightly crisp, darkly caramelized crust—plus the unmistakable ridged cylindrical shape, traditionally gained through the copper molds in which they're baked.
A while back, Katy Nelson, a French-trained pastry chef and the owner of Scenic Route Bakery, decided to purchase the pricey copper molds, ace a recipe (including figuring out the tricky butter-beeswax ratio for greasing the molds) and introduce Des Moines to these marvelous treats.
Lucky Des Moines! Enjoy them as a midmorning treat with coffee, or an afternoon tea cake, but call ahead to find out which days the little gems are in the bakery's rotation. Then, set up an alert and get there early as they've been known to run out.