Daron and Andrea Reddick opened Big Momma's Catering in April 2020, serving up all kinds of food for all kinds of events. Photos: Big Momma's Catering.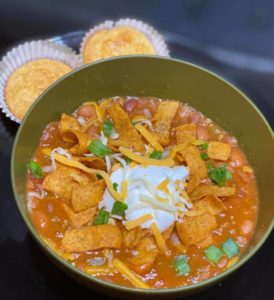 Writer: Karla Walsh
"OK, girl, you can't just wing it or eat fast food anymore," Andrea Reddick remembers telling herself after she had her first of three sons, Aiden, 10 years ago.
Until then, she had relied on a steady diet of fast food and "winging it," but now she wanted to experiment in the kitchen to help feed her family—and herself. Things really kicked into gear, though, after she graduated from the leadership development master's program at Drake University. Once she didn't have classes or need to study for hours each night, she'd experiment in the kitchen up to seven times each week, all while sharing photos and recipes on Facebook to inspire friends and family.
"I wanted to encourage them to be brave in the kitchen," Reddick says. "I'd answer questions from people about how to make dishes, then others started asking me to just cook for them."
Even though Reddick had a full-time job at Wells Fargo, she and her husband, Daron (nicknamed Bubba), decided to launch Big Momma's Catering in April 2020.
"We didn't think it would go anywhere very quickly, but thought we could set the base during the pandemic and practice," Andrea says. "But things accelerated really quickly."
In the past five months, they've whipped up everything from charcuterie to brunch to chicken wings for bridal showers, school functions, celebrations of life, Sunday dinners and birthdays. Soul food, birria tacos, lasagna and charcuterie boards are among the top sellers so far, and the Reddicks have a Thanksgiving menu planned as well as future pop-ups.
While the pandemic has certainly created some additional challenges, it also offered an extra dose of clarity, Andrea admits. "Life's too short to be working every day and not fulfilling yourself," she says. "My aim is to share food that will inspire you to flash back to childhood—just like what grandma made. I named it Big Momma's because I imagine I'm going to be that amazing grandma that always bakes them cookies. Something that makes you feel like you're back at home."
Follow Big Momma's Catering on Facebook to learn more, place an order and be among the first to know about future events and menu additions.