Bugsy, the pug who delivers coffee, is one half of the Coffalo Coffee duo in West Des Moines. Photos: Emily Kestel
Writer: Hailey Allen
When you visit Chris James at his home in West Des Moines, you're welcomed by the luxurious smell of fresh coffee and mellow guitar tunes, as if he were living in a Brazilian cafe instead of a suburban house in Iowa. He might as well be, thanks to the on-site roastery that turns out nearly 600 pounds of freshly roasted beans every week.
James has been interested in coffee for as long as he's been drinking it. He began roasting his own blends as a hobby 15 years ago, after his father gave him a small roaster. He'd make one-off blends for friends and family as gifts, but back then, the idea of starting a business never occurred to him. He was the operations director for the cafes inside Principal Financial Group's cluster of buildings downtown and figured his career was set. But then COVID-19 broke out, forced workers home and shut down the cafes. James was effectively out of a job.
"I'd never gone through a layoff before, so it was scary. It was depressing," he said. "And when you have children to think of, that adds to the pressure even more."
James has never been one to sit around, so as the nation hunkered down for a quarantine, he began strategizing. With support from family, friends and neighbors on the NextDoor app, he began roasting and selling his own coffee blends under the name Buffalo Brew Coffee, later rebranding to Coffalo Coffee. James is an avid cyclist and started delivering orders door to door on his bike with his little pug, Sooshi, strapped for the ride. Sure, it brought in extra cash, but it also brought unexpected joy. The duo relished the excuse to get some fresh air, and the visits from Sooshi perked up customers even before they brewed their coffee.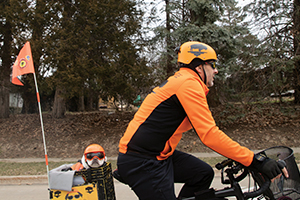 Chris James and his faithful sidekick Bugsy peddle (and pedal) coffee throughout Greater Des Moines.
In the three years since the pandemic started, James' coffee has filled cups nationwide and several grocery store chains here in Iowa carry it, including a Fareway and several metro Hy-Vees.
The name Coffalo comes from James' affinity for coffee and buffaloes. He grew up in Arizona and went to Tempe High School, home of the buffaloes, and now lives on Buffalo Road in West Des Moines. "It's seemingly been following me around," he said. "It represents facing adversity from the elements and from humans. It continues to survive. It's a beautiful animal."
Buffaloes probably don't mind James using their name and likeness, but even so, he wanted to help them out and show his appreciation for their contribution to his business. He sought out the Buffalo Field Campaign, based in Yellowstone, Montana, and began donating free bags of coffee to the rangers, who work to protect the last of the wild roaming buffaloes against poachers. Proceeds from the Roam Free Roast that James sells on his website and at Hy-Vee also benefit the organization.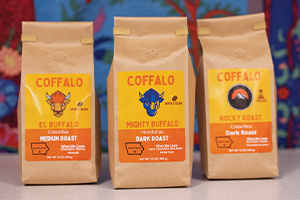 They offer a few different roasts, available at several Hy-Vee and Fareway stores and online at coffalo.com.
Speaking of animals, Sooshi died in 2021, but her successor is a playful, energetic young pug called Bugsy. James and Bugsy continue to deliver coffee from Waukee to Pleasant Hill, and when the weather cooperates, they enjoy the ride.
As orders grow and grocery store sales increase, James is considering an expansion. He's hoping to add a new roaster that roasts 60 pounds per hour. Now if only Bugsy could help package the orders …