Cherries have been a staple crop in Door County since the 1800s. Find them in dozens of products and treats from the shops and restaurants in each town. Photo: Jon Jarosh, Destination Door County
Writer: Lisa Holderness Brown
I first visited Door County for the tart cherries that thrive in the Wisconsin climate but are less fruitful in Iowa. Really, I just wanted to pick my own bucketful and concoct a thing called "cherry bounce" — cherries preserved in brandy and sugar — but there was so much to love about the place that I was instantly smitten. I could see why visitors have been flocking to the area since the early 1900s.
My most lasting impressions include the peninsula's 300 miles of breezy, sun-drenched shoreline along Green Bay and Lake Michigan and, of course, the sunsets. Other highlights are the active waterfronts, state and county parks, and friendly beach towns that dot the whole map. I returned last summer for a deeper dive and, once again, was taken with the breadth of opportunities to play. There were a few new offerings and some positive changes, too, including an increased dedication to conservation.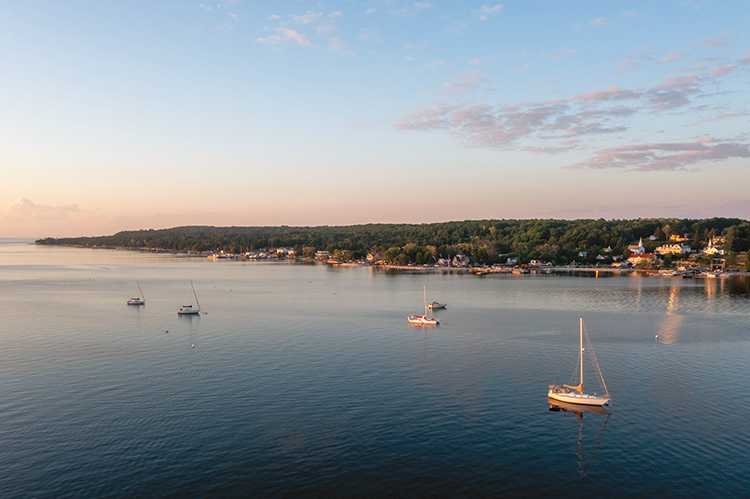 Set sail along Green Bay or Lake Michigan during your trip to the peninsula. Photo: Dan Eggert, Destination Door County
How to Get There
By car: 455 miles. Ideally, you'll have a car since the towns are spread across the county and public transportation is sparse. Break up the drive with stops in Dubuque, Madison and the city of Green Bay.
By plane: The nearest commercial airports are in Green Bay (about 40 miles to Sturgeon Bay) and Appleton (about 77 miles). Rent a car or consider a shuttle service such as Door County Courier or the Door County Trolley. Cherryland Airport in Sturgeon Bay offers charter flights.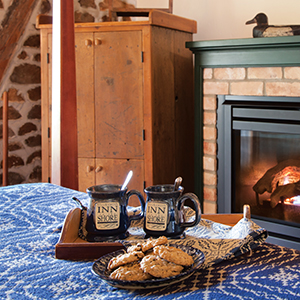 Enjoy homemade cherry oatmeal cookies at the Blacksmith Inn in Baileys Harbor. Photo: Dan Eggert, Jumping Rocks, Destination Door County
Where to Stay
From hygge hotels to condo-style resorts, accommodations vary — and so do their price tags. Here are a few to check out.
Scandinavian chic: The Dorr Hotel in Sister Bay. This new downtown lodging's sleek yet comfortable design nods to the area's Scandinavian heritage. All rooms have a balcony or patio, and you can enjoy a European breakfast served in the stylish lobby.
Luxe lakeshore B&B: The Blacksmith Inn in Baileys Harbor. This romantic and beautifully appointed inn on the Lake Michigan shore includes a scenic dock with complimentary kayaks and paddleboards, bicycles, and homemade breakfasts and snacks, including a bottomless jar of their signature cherry oatmeal cookies.
Family-friendly suites: The Newport Resort in Egg Harbor. Families love the full kitchens, balconies, indoor and outdoor pools, playground, arcade and free access to bikes. Plus, it's close enough to walk to all the fun activities in town.
Farm stay: The Chanticleer Guest House near Sturgeon Bay. The charming restored farmhouse and barn sit on 70 acres outside of town. Guests can enjoy a homemade breakfast by a private fireplace, swim in the outdoor pool, and stroll the property to see the working sheep farm, wildflowers, orchard and ponds.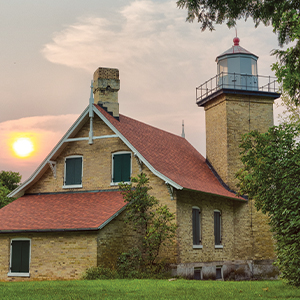 Tour the Eagle Bluff Lighthouse in Peninsula State Park to see the landmark that guided sailors for more than half a century (1869-1926). Photo: Dan Eggert, Jumping Rocks, Destination Door County
Get Outside
Peninsula State Park: The sprawling public park with sky-high bluffs encompasses a beach, 18-hole golf course, lighthouse and the Eagle Tower, which offers sweeping views over Green Bay. You can hike the 2-mile Eagle Trail loop, bike the 10-mile Sunset Bike Trail, or go off-road on a network of mountain bike trails. You can rent all the gear you might need for an adventure — bikes, canoes, kayaks and more — at Nicolet Beach, as well as Edge of the Park Bicycle and Moped Rental. For food, the Nicolet Bay Camp Store stocks essentials and sells pizza, burgers and ice cream. Food trucks are usually parked near the beach.
Washington Island: Door County's largest island, dubbed "the crown jewel of Door County," makes a fun day trip, starting with the 5-mile ferry ride through the Death's Door passage that inspired the county's name. Fortunately, the 30-minute trip is more scenic than scary these days. Arrive early at the Northport Pier so you can drive onto the ferry; you'll want a car to explore the island.
The island has several points of interest, including Schoolhouse Beach and a traditional Norwegian-style church called the Stavkirke, but the big draw is the Fragrant Isle Lavender Farm. Just breathe in the air and relax. Stroll through the well-manicured fields of 20,000 lavender plants, learn how they're harvested and distilled into essential oil, and stock up on all things lavender in the shop. The peak blooming season hits in July and August.
Cherry Pit Stops: Door County's climate and soil are ideal for growing cherries, a staple crop on the peninsula since the late 1800s. It's the fourth-largest cherry-producing region in the country, annually producing 8 million to 10 million pounds of mostly Montmorency Tart cherries.
To try a few yourself, fill your own bucket from mid-July to mid-August or attend the Cherry Fest every August in Jacksonport. Otherwise, shops, markets and restaurants feature cherry products year-round. Stop by the Seaquist Orchards Farm Market and Bakery just north of Sister Bay to pick up freshly baked cherry pies and other baked goods, frozen cherries and other cherry products. The Orchard Country Winery and Market in Fish Creek offers cherry picking and a cherry-pit spitting game, as well as a farm market with cherry wine and cider.
Explore the Towns
Door County stretches 70 miles from top to bottom with 19 communities, each with its own mix of shops, restaurants, activities and natural beauty. You'd be wise to choose just a few — and then plan to explore more on another trip. Here are seven highlights, listed from south to north.
Sturgeon Bay: Shipping, shopping, dining, fishing and three lighthouses.
Door County Maritime Museum: Learn about Sturgeon Bay's shipbuilding history and check out the parallel bridges that can be raised for ships and tall boats to enter the downtown channel.
Renard's Cheese: Order golden fried cheese curds, all-day breakfast, or lunch at Melt Bistro located inside Renard's and then load up on master cheesemaker Chris Renard's award-winning cheeses at the store.
Bridge Up Brewing: Grab a Stubborn Sturgeon Hazy IPA at their waterfront taproom and raise a toast. "Bottoms up when the bridge is up!"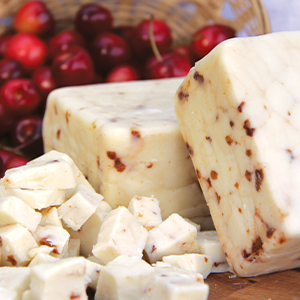 The cherry cheddar from Renard's Cheese combines buttery white cheddar with sweet Door County cherries. Photo: Destination Door County
Egg Harbor: A small but growing gateway to northern Door County, with live music.
Free bikes: Grab a bike at a bike-share rack and pedal around town for less car traffic and better health.
Egg Harbor Waterfront: This public beach with a swimming area, playground and rental kayaks is within walking distance of town.
Free concerts at Harbor View Park: The music starts at 5 p.m. every Thursday during the summer.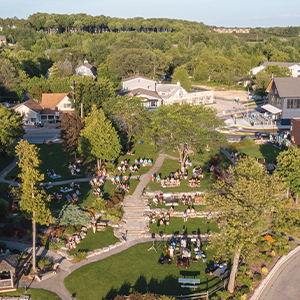 Catch a concert at Harbor View Park in Egg Harbor. Photo: Dan Eggert, Jumping Rocks, Destination Door County
Baileys Harbor: On Lake Michigan and surrounded by 6,000 acres of public land, with idyllic kayaking and fishing.
Sway Brewing + Blending: Brewer Matt Sampson focuses on local, foraged and organic ingredients, especially in his beer, at this taproom, kitchen, bakery and coffee spot. (At press time, this was scheduled to open spring 2023.)
Ridges Sanctuary: This National Natural Landmark is a great spot to hike, especially with a naturalist. For context, stop by the nature center before you explore outdoors.
Lakeshore Adventures: Take a shipwreck tour on a clear-bottom kayak, catch salmon on a charter fishing trip, rent a paddleboard – or stay on shore and go zip lining.
Fish Creek: The heart of "the Door," with walkable shopping and dining and easy access to Peninsula State Park.
Skyway Drive-in Theatre: Watch a movie the old-fashioned way, from the car in a wooded setting with a treat from the snack bar.
Peninsula Players at the Theater in a Garden: Expect to be dazzled by the talented cast (who wouldn't want to work here?) and location of the all-weather pavilion nestled in the woods and on the Green Bay shore. Arrive up to 90 minutes early to enjoy a picnic in the beer garden or walk around to explore the shoreline and woods.
Evergreen Miniature Golf: This 18-hole mini golf course opened in May amid a forest of pines and fruit trees. As you play, you can learn about conservation and sustainability practices through exhibits along the way.
Ephraim: A small village settled by Norwegian Moravians, with a nostalgic feel and plenty of water sports.
Wilson's Ice Cream Parlor: This iconic spot with striped awnings and flower boxes opened in 1906 and is definitely worth a stop for the ice cream specialties and home-brewed draft root beer.
Old Post Office Restaurant Fish Boil: As much a show as it is dinner, the fish boil is a Door County original. The cooks boil Lake Michigan whitefish and potatoes in a big kettle over an open fire and serve it with cherry pie, just as it was a hundred years ago.
Frances Hardy Gallery: Walk to Eagle Harbor and look for a graffiti-bedecked warehouse on the Anderson Dock. Add your name and take a selfie before visiting the gallery inside.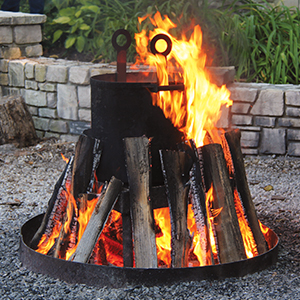 Door County fish boils are a tasty tradition brought over by early Scandinavian settlers. Different restaurants might riff on the original recipe, but you can expect plenty of potatoes with whitefish fresh from Lake Michigan. Photo: Dan Eggert, Jumping Rocks, Destination Door County
Sister Bay: The county's largest public waterfront, with sailing, boating, shopping — and goats.
Al Johnson's Swedish Restaurant: Long ago one of the owner's friends gave him a goat and put it on his sod rooftop, creating a "cute goat" obsession that's still a big draw. Come for the goats but stay for the tasty traditional Swedish food and a visit next door to Stabbur, the beer garden with lawn games.
Sail Door County: Take a sunset or lighthouse tour on the Edith Becker tall ship or sail on a restored racing sloop. Both start at Sister Bay Marina.
Solago Restaurant and Tequila Bar: The newest restaurant from local chef Britton Unkefer, who owns the Wild Tomato Wood-Fired Pizza and Grills, serves authentic Mexican flavors with a focus on fresh and local ingredients.
Ellison Bay: Farther north and quieter, with hiking in nearby Newport State Park and views from the Ellison Bluff County Park.
Savory Spoon Cooking School: Spend a few hours cooking with chef Janice Thomas, whose Door County recommendations are as fruitful as her cooking tips. The school is in a charming historic schoolhouse.
Grandma's Swedish Bakery at Rowleys Bay Resort: Stop in for a half-pound pecan roll, cardamom coffee cake or a Danish crisp with almond frosting.
Turtle Ridge Gallery: This garden cottage sells leather handbags made and painted on-site, plus jewelry and art by local artist Mary Ellen Sisulak.
When To Go
Summer: Fresh cherries, picnics on the beach, outdoor dining, outdoor concerts and theater, boating, hiking, paddleboarding, sunset yoga, cooking classes, and festivals.
Fall: Dramatic foliage, apple orchards, more festivals, bucolic biking and lighter weekday traffic.
Winter: Holiday lights and luminarias, winter fireworks, Scandinavian Christmas decor, snowshoeing and sledding in Peninsula Park, fat-tire biking, and plenty of shopping opportunities, including the Christkindlmarkt in Sister Bay.
Spring: Blooming cherry and apple trees, wildflowers, early-season farmers markets, Spring Art Crawl in Ellison Bay, and the countywide Spring Lighthouse Festival.