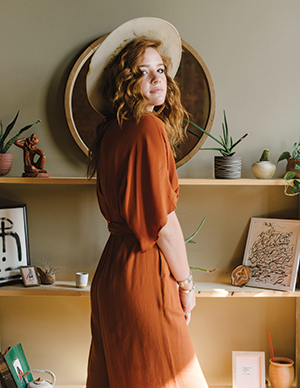 Age: 20
Profession: Home stylist at West Elm; also works at Kin and Dream Co.
How would you describe your style? As a cowgirl who is really into pottery. I love Southwestern style, and I'm obsessed with the color terra cotta since it perfectly matches my hair. I love shopping sustainably and mostly wear vintage or thrift items. I would also say music really inspires my style. I piece together outfits that fit my musical taste at the time. So Willie Nelson has really been influencing my look.
The piece of clothing or accessory you can't live without: My jewelry. I feel like it tells my life story. I buy rings when I travel, and I also wear rings I inherited from my grandma.  
The part of your style you're most known for: My big red hair … or the cowboy hats I wear pretty often. I love a good Stetson.
Where do you shop? My current favorite is Dream Co. It's a bad-ass place with great Harley T-shirts, Southwestern vintage and workwear pieces. I work there and have very little self-control, so I buy stuff as soon as it comes in. I also love Kin for jewelry, St. Vincent De Paul thrift store and Preservation. 
What do you enjoy doing around town? Playing pool and listening to the live music at Kelly's Little Nipper. I basically chase live music around town, so you can catch me dancing at farmers markets, Noce and anywhere that plays outlaw country.
Photographer: Joelle Blanchard