Writer: Karla Walsh
Photographer: Dera Burreson
Sammy Mila has some of the most famous hands on the planet. Viewed millions of times on Facebook and Instagram, few people know the face—and the story—behind the stylist in all those recipe demonstration videos for Better Homes & Gardens, Allrecipes, Eating Well and more.
Allow me to introduce you to Mila, 30, a culinary specialist and food stylist for the Meredith Test Kitchens in Des Moines. Not only does she demonstrate the recipes, she dreams them up and styles them to their drool-worthy status for the covers and pages of magazines.
As Mila was "trying to figure out something that was actually a passion rather than an interest," she decided to pursue a culinary science major at Iowa State. "After losing my grandma during my sophomore year, I began to reminisce about family dinners we used to have and how food was always the focus," she recalls. "The power of food goes beyond nutrition—it's emotional. Food brings people together, it gets people involved, and it triggers memories that bring you comfort."
She landed an internship at the Meredith Test Kitchens, and hopped around from front desk assistant to recipe testing to development and styling. Mila even hosts her own "cooking show" on Instagram and YouTube, where she demonstrates how to make desserts that will earn all the "♠" on social media.
Mila usually styles or films five to seven recipes per day at work, so sometimes she craves something a little simpler at home. Enter this oh-so-summery dessert recipe, inspired by her trip to Japan in early 2020.
"I love how unique and easy the concept is: white bread, whipped cream and fresh fruit," she says. "My main focus is approachability when I create new recipes, and I try to keep the typical home cook in mind.
"I wanted to make it a little different, but not require anyone to have to purchase any only-use-once ingredients," she adds. "So I decided to add a little peanut butter to the whipped cream to give the sandwich a classic PB&J feel, since that's a flavor combo most people love."
Secrets for Success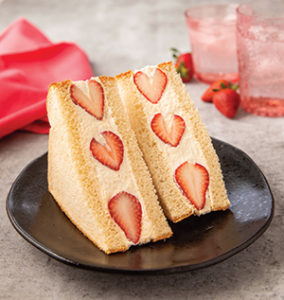 While the ingredients and instructions for this dessert are straightforward, Mila has a few tricks to make your sando even more of a cinch.
Skip the whisk. "A hand mixer is your best friend for making the nut butter whipped cream successfully," she says.
Keep your cool. Pop your beaters and bowl in the freezer for 15 to 30 minutes before you plan to mix the cream for the lightest, fluffiest and fastest whip.
Let it chill. After assembling the sando, don't skip step No. 3. "A cold sandwich is a lot easier to slice and eat," Mila says. Just plan to enjoy it within 24 hours so the strawberries don't get too watery.
Double up. Heavy whipping cream is often sold in half-pint containers, which is twice as much as you need for one sando. "Feel free to make a double batch of the nut butter whipped cream and keep it in an airtight container for up to one day in the fridge," Mila suggests. "It also goes great on cakes, cupcakes and pancakes. You can also just eat it out of the bowl, because why not?"
---
Peanut Butter Fruit Sando
Serves 1
Ingredients
1/2 cup heavy whipping cream
1 tablespoon creamy peanut butter, Nutella or allergy-friendly nut butter alternative
1-2 tablespoons powdered sugar, to taste depending on preferred sweetness
2 slices milk bread or white sandwich bread
9 small strawberries, stemmed
Directions
In a small bowl, use a hand mixer to whip cream, peanut butter and powdered sugar until stiff peaks form.
Working on a large sheet of plastic wrap, spread half of the whipped cream on one slice of bread, add whole strawberries in a 3-inch-by-3-inch grid, top with remaining whipped cream and bread.
Tightly wrap the sandwich and chill for at least 1 hour or up to 24 hours.
While wrapped, carefully cut the sandwich in half diagonally. Enjoy.