Honey production takes teamwork at the Holton Homestead in Elkhart.
Writer: Mary Jane Miller
Photos: Karly Burmeister, KB Photography Iowa
It's a pleasant country drive to the Holton Homestead near Elkhart. If you park outside the adorable shop you'll see who rules the roost: chickens, and lots of them. The birds are all free-ranging and are immediately curious to see if you've brought treats. A couple of turkeys and a few ducks keep them company.
Sara Todd and Tyler Holton started the Holton Homestead almost by accident in 2015 when they moved to their acreage just outside of Elkhart. They'd been living in Ankeny at the time and were shopping at a farm store when six baby chicks essentially enchanted them. The couple took them home — because why not? — only to discover that chickens aren't allowed within the city limits. The couple and their new flock soon found a new rural home, where the hens produced more eggs than their owners could eat, so they started selling the extras. Their egg route grew to more than 40 families.
Sara set up some beehives and then promptly broke her foot. (As she put it, "high heels and country life don't mix.") Tyler took over the beekeeping and loved it, essentially stealing Sara's hobby and turning it into his full-time job. Now Sara manages the "front of the house," the retail store and their booths at five farmers markets a week, plus whatever else needs doing.
Over the past few years they've tended a large orchard, raised rabbits, planted a market garden and even raised pastured pigs. While they no longer raise pastured pork, an enormous boar named Carl remains with his curled tusks and a sense of humor, serving as the farm mascot.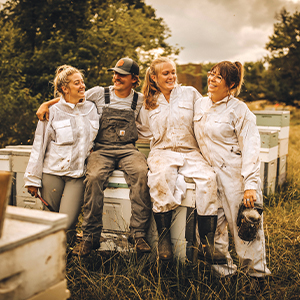 From left, Sara Todd and Tyler Holton take a break with two former members of the Holton Homestead crew, Reanna Holton (Tyler's sister) and Brooke Logue.
It's important to Tyler and Sara that they make everything with integrity. Most of the products they sell on-site and in more than 60 stores across Iowa are made in-house with what is produced right outside on the farm and it shows. The creamed salted garlic honey, for example, is delicious — great on a ham sandwich or a cheese board. The fruit-flavored creamed honeys are a decadent treat, and the spicy hot honey is pourable and tastes great drizzled on fruit. It elevates even a simple piece of fried chicken.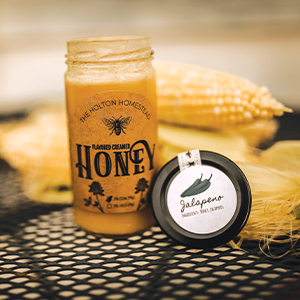 The Holton Homestead's jalapeno creamed honey balances sweetness with a sting of heat.
But it's not all honey and eggs. They also sell vintage cast-iron cookware and tubes of house-made cast-iron touch-up made with their own beeswax.
This summer the couple is opening a new facility in Elkhart, with an extraction room, kitchen, warehouse and classroom. They're looking forward to hosting classes and giving tours.
If you go, say hi to Carl.
---
Watermelon Hot Honey Gin Cooler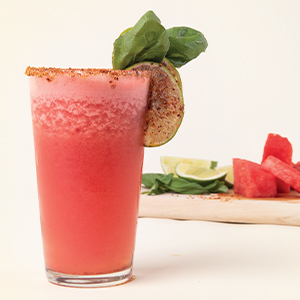 Enjoy this cooling summer cocktail with a mildly spicy kick. This recipe makes a single drink but can easily be doubled or quadrupled to enjoy with friends.
Chile-lime seasoning like Tajin, for the rim
1 cup watermelon or muskmelon, cubed and seeded
2 tablespoons Holton Homestead Hot Honey, plus extra for the rim
2 ounces gin
1 ounce fresh lime juice (from 1 small lime)
1/2 cup ice cubes
Fresh basil or lime for garnish
Place a large drop of hot honey on a small plate. Sprinkle the chile-lime seasoning on another small plate. Dip a tumbler or stemless wine glass into the honey and turn it to coat the rim; then do the same with the seasoning.
Place the next five ingredients in a blender and mix on high until they're well blended and the ice is crushed. Pour into the prepared glass and garnish with fresh basil or lime. Serve immediately — or simply remix for a few seconds if it starts to separate.
Bonus tip: Scoop up the leftover honey from the plate with potato chips.