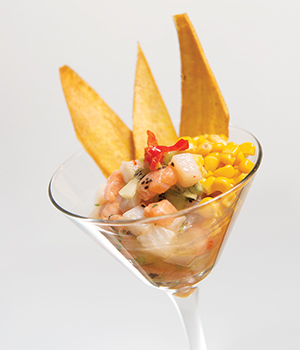 Since Fabiola Carlin and her team opened Panka Peruvian Restaurant in February, they've been making waves with their classic Peruvian fare, shining a spotlight on fresh seafood, plus some meat and vegetarian options.
Carlin, who has a background in the hospitality and fitness industries, moved to the United States in 2002. She has dreamed of introducing her now-neighbors to her native cuisine for the past 17 years. Now that her two sons are older, she has dusted off those well-honed hospitality skills.
Before opening day, Carlin trained two cooks to become ceviche masters. Panka's menu showcases six varieties of the raw seafood salad that's cured in a broth of citrus and spices, including the Mixto (the most popular, with fresh white fish and seafood mix, marinated in Leche de Tigre, fresh corn, onions and cilantro). Since limes can vary in potency, the cooks taste a drop of each batch of broth that is stirred up individually per order.
"We don't have those yellow limes in Peru," Carlin says, referring to lemons and the proclivity of Peruvians to choose limes over lemons for ceviche and other regional dishes. "Limes are a way of life and make all the difference in our ceviches." (2708 Ingersoll Ave., Suite 200; pankadsm.com)
–Karla Walsh