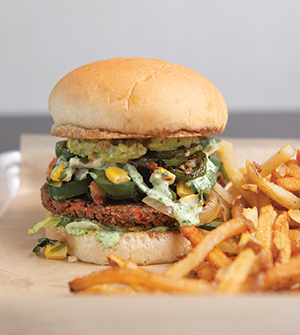 Written by Karla Walsh
Photographer: Duane Tinkey
It's time to veg out. Animal product-free cuisine is gaining momentum in the metro area, for feeding both the increasing number of vegans and those who are aiming to eat less meat. Sample the latest vegan delights at these forward-thinking fast-casual restaurants.
What: Original Dirt Burger
Where: Dirt Burger
Dirt Burger, the first 100% vegan restaurant in Greater Des Moines, has something even carnivores can dig with their hearty beef-like burgers. Try the Torta (pictured), with corn pico, gaucamole, cilantro crema, and grilled onions, poblanos and jalapeños. (407 E. Fifth St.; dirtburger.us) 
What: Nothing Is Impossible Pizza
Where: Gusto Pizza Co.
Nearly any pie at this local pizza place can be customized to be gluten-free and/or vegan, and new for 2019, the Gusto chefs customized their own vegan sausage to star on this signature pie that's naturally meat-free. Red sauce, Daiya vegan mozzarella, 
Gusto's vegan sausage, plus green pepper, onion and cremini mushrooms, prove that nothing (even a delicious vegan pizza) is impossible. (Four Greater Des Moines locations; gustopizzaco.com)
What: The Veggie Move Bowl
Where: The Poké Co.
You'll be bowled over by how customizable the menu is at this build-your-own-bowl bistro. The staff has a list of ingredients and allergens right next to the ingredient bar so you can determine what fits your diet. If you prefer to outsource the decision-making, ask for a Veggie Move, which comes complete with tofu, avocado, edamame, cucumber, vegan "The Company Sauce," scallions, sesame seeds and pickled ginger. (300 W. Martin Luther King Jr. Parkway, Suite 210; eatthepokecompany.com)