Above: Located at a former Baptist church, the Wat Phothisomphan on S.E. 14th Street provides a spiritual hub for Laotians in Central Iowa. Here, a Buddhist monk burns a blessing before a Tak Bat feast.
Writer: Barbara Dietrich Boose
Photographer: Bob Blanchard
On a balmy, blue-sky Sunday in early March, hundreds of Iowans, awash in neon yellow, red, blue and green powder, joyfully dance as a DJ blasts high-energy music. They are gathered for Holi festival at the Hindu Temple and Cultural Center, which rises dramatically from the middle of a farm field on the banks of the Des Moines River south of Madrid.
The guests are here to learn about Central Iowa's Hindu community and its traditions and to join in celebrating the victory of good over evil, devotion to God and the coming of spring after a long winter.
"We are so happy people are visiting our temple. It is for the whole world," says Khimanand Upreti, one of the temple's two priests. "We believe all humans are one family."
Among the powder-sprinkled guests at Holi festival are Alex Smith, his fifth-grade daughter, Elise, and his seventh-grade son, Nick. A member of the Waukee school board, Smith says he wants to show his children "what is an important part of life" for his Hindu friends. "There's also growing diversity among students in our school district," he says. "We have more than 70 different languages."
Looking back from more recent days of COVID-19, social distancing and forbidden gatherings of 10 or more people, the memory of the event truly feels like a gift from a higher power.
Holi was part of "Meet My Religious Neighbor" (MMRN), a series sponsored by the Comparison Project of Drake University, CultureAll, the Des Moines Area Religious Council (DMARC) and the Interfaith Alliance of Iowa as opportunities for people to learn about various faith communities in Central Iowa. The events typically occur monthly during the spring and fall school semesters.
"Meet My Religious Neighbor highlights how diverse the Des Moines community really is. Iowa often gets perceived as not being diverse at all, and that's simply not true," says Connie Ryan, executive director of the Interfaith Alliance of Iowa. "The project also highlights that, at our core, Des Moines is a very welcoming community that's grateful for having different nationalities and faiths. The more we know about people who are different from us, the less ability we have to [think of] them as the 'other.'"
Seeking Understanding
The Comparison Project, a Drake center that seeks to foster the exploration and understanding of the doctrines and practices of the world's religions, launched MMRN in 2017 at Masjid An-Noor / Muslim Community Organization on 42nd Street in Des Moines. The series was sparked by the release of "A Spectrum of Faith: Religions of the World in America's Heartland," a book published by Drake Community Press describing 15 religious communities in Central Iowa.
"Our outlook on religion is so thoroughly determined by the way it was constructed in the European Enlightenment—beliefs, 'ism-ized' forms and one's private realm," says Tim Knepper, professor of philosophy at Drake and director of the Comparison Project. "We don't know any better than to see the world that way unless perhaps we encounter religion that is lived much differently. That's one goal of MMRN—not just to see the diversities of ism-ized religions, but to see the diverse ways in which people understand what it means to be religious in the first place.
"By encountering what is different, we can hopefully come to see that the ways in which we construct the world—religion in this case—are not the obviously normative ways for all," Knepper adds.
MMRN gives participants the chance to learn and ask questions. "Iowans are nice, but Iowans don't know how to be inclusive because we don't want to offend. That prevents us from becoming curious," says Sherry Gupta, executive director of CultureAll, an organization that provides programming for schools, businesses and the larger community. "These events allow us safe environments to recover and discover so that we can create a better community."
Countering Stereotypes
The series also allows participating communities to counter negative stereotypes and false perceptions. When the Des Moines Stake, which is a group of nine congregations of the Church of Jesus Christ of Latter-day Saints, hosted a MMRN event Feb. 8 at its meetinghouse in West Des Moines, members worked to emphasize their priorities of faith, family and service and to address the false assumption that the church supports polygamy, which was prohibited more than a century ago.
"We try to find a lot of different opportunities to be out in the community, so this was an opportunity for the community to learn more about our church and ask frank questions," says Jason Morales, president of Des Moines Stake. "The [MMRN] event exceeded our expectations. We had people of a lot of different backgrounds who came with sincere questions. No one came to pick a fight; there was a genuine interest in relationship-building."
Building relationships and allowing for frank questions, Knepper says, are goals of the series. "For MMRN, the question is, can we get Steve King to attend?" he says, referring to the U.S. congressman for Iowa's 4th District who's been known to make racially insensitive and anti-immigrant comments. "Are we just preaching to the choir?"
For members of the Greater Des Moines Bahá'í community, simply making people aware they exist made their event last fall a success. "We had more than 125 people. It was a very diverse group of people who really wanted to learn," says Connie Wilson, a community member. "There's an openness in the Des Moines metro area for these kinds of events. So many people came up to me and said, 'I had no idea this faith even existed.' That's what the [MMRN] events are designed to do—expose people to different faith communities."
While at press time the series was on hold due to COVID-19, its sponsoring organizations believe bringing people together face-to-face to tackle ignorance and increase interfaith understanding will continue to generate interest in the events.
"Even though we have religious diversity in the community, if we just stay in our own groups, we don't have those relationships or experiences across faiths," says the Rev. Sarah Trone Garriott, interfaith engagement coordinator for DMARC. "Creating isolating groups can cause tension and even violence. There's value in having people intentionally interacting with each other."
At Tifereth Israel Synagogue on Polk Boulevard, Cantor Patrick Courtney reads from the Torah scroll. Shabbat services are held every Friday night and Saturday morning.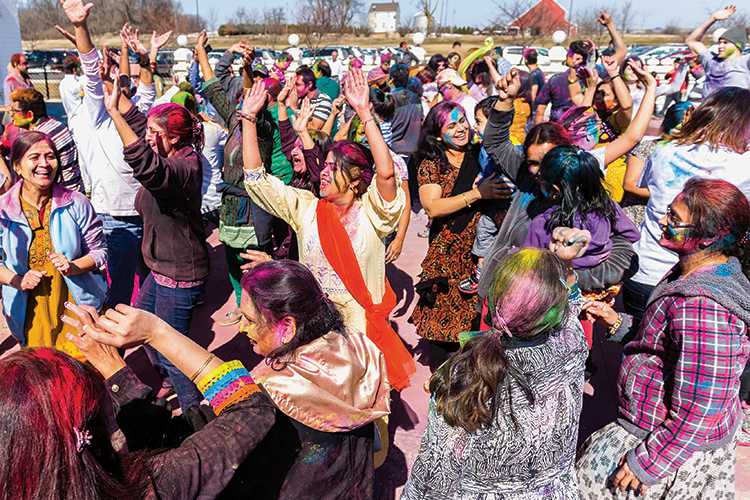 At the spring celebration Holi at the Hindu Temple and Cultural Center near Madrid, revelers dance to techno music.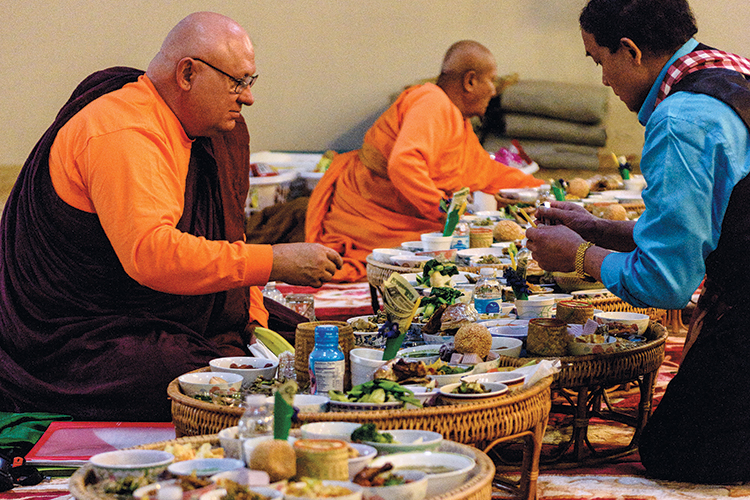 Fresh veggies are part of the morning feast of Tak Bat, a morning alms-giving ceremony in Laotian cultures. The monks are served before other  members at Wat Phothisomphan.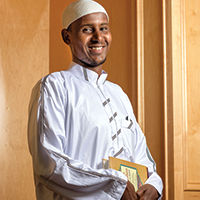 Former Iman Afrah Aden.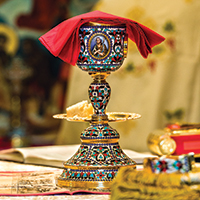 A Eucharistic chalice and paten at St. George Greek Orthodox Church.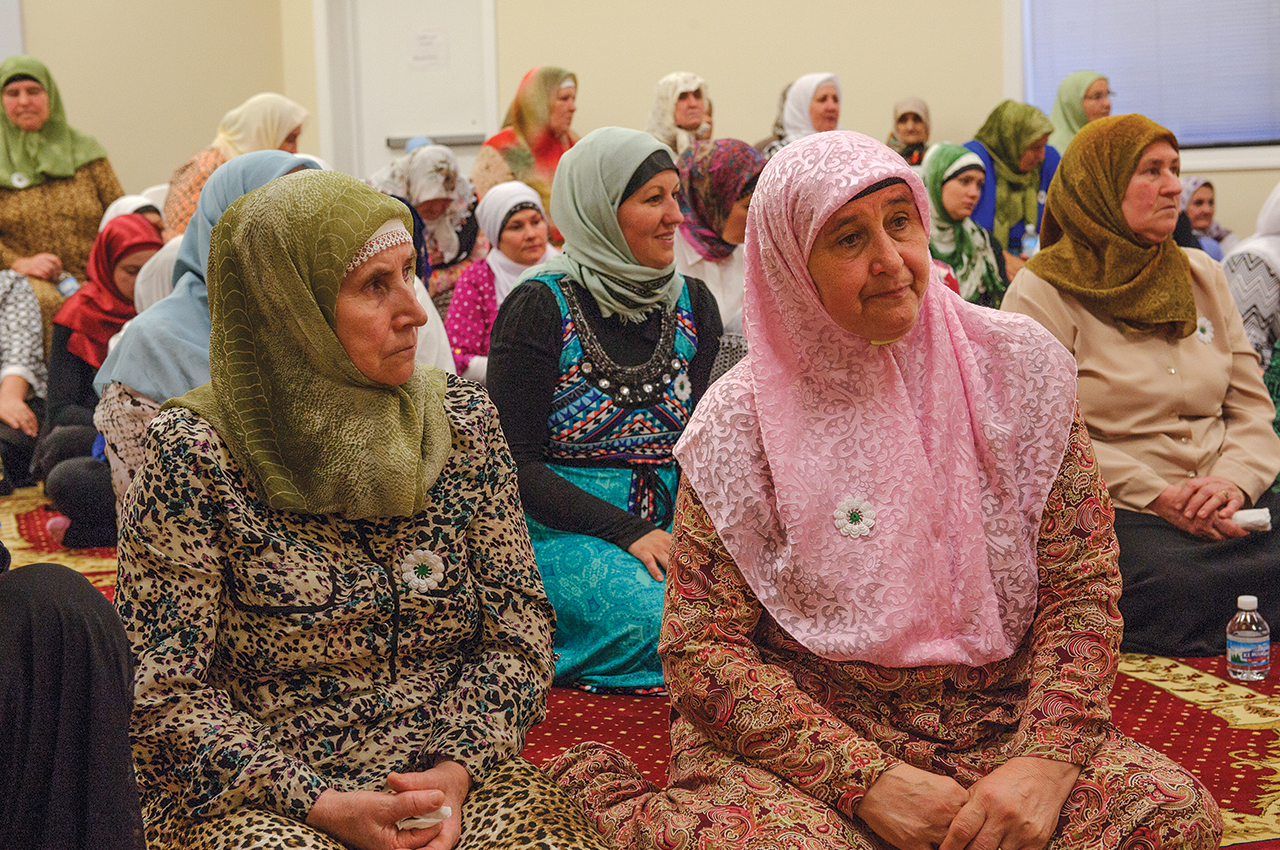 Nine mosques call Central Iowa home, including three focused on Bosnians. Here, female members of Ezan listen to a program about the Srebrencia genocide (members in the community have direct connections).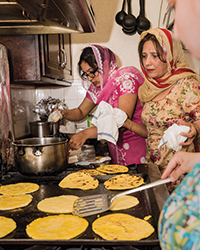 Sikh women prepare flatbread for a celebration at their West Des Moines temple. A free meal (called Langar) is served to all those who visit.