A simple bowl of corn has a starring role at La Baja Cocina Mexicana.
Writers: Hailey Allen and Michael Morain
Photographer: Duane Tinkey
Around the holidays, a certain bird tends to gobble up all the glory around the dinner table. But for a lot of us, the best part of the feast is what surrounds the main platter: all the appetizers, amuse-bouches and side dishes that elevate a simple supper to a full-on celebration.
When we asked folks on social media to tell us about their favorite sides on restaurant menus around town, they served up a heaping bounty of recommendations about unusual dishes and classics done unusually well. So now, let us pause to give thanks for a few sides that truly amuse our bouches.
---
Vaso De Elote, La Baja Cocina Mexicana (Pictured above)
Of all the authentic Mexican dishes on the menu at this locally owned restaurant on the southeast side, one of the crowd-pleasers is a simple cup of corn known as the vaso ("cup") de elote ("corn cob"). The traditional street food version consists of grilled corn on the cob, slathered with mayo and salty cotija cheese, and a sprinkle of chili powder and lime juice. But La Baja serves an easier-to-eat version of shelled corn in a bowl with the addition of sour cream, salsa and Tajín. The corn's sweetness complements the Tajín's spicy kick and the citrus acidity.
"It's a traditional experience," manager Claudia Ocampo said through her niece Fernanda Ocampo's translation. "It's a simple taste of Mexico."
---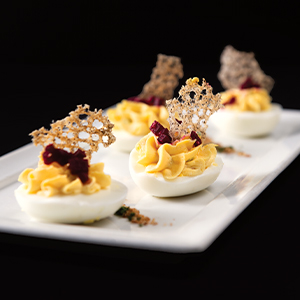 Deviled Eggs, Alba
It takes some nerve to serve something most Iowans can make at home, but at this East Village eatery, the devil is in the details. Here, they add a dash of horseradish to the whipped yolks and top them with finely chopped beet tartare, a lacy crisp made from leek powder and just a pinch of ash. The eggs sit atop a dusting of brioche crumbs and a tuft of fresh parsley.
It's a precise balance of flavors and textures, general manager Michael Dodson said. The horseradish "gives it a little zing, and the beets add a bit of earthiness."
---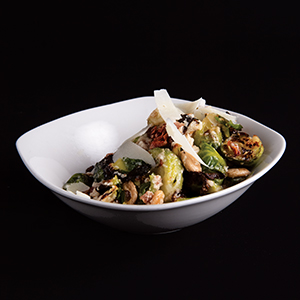 Brussels Sprouts Salad, 503 Cocktail Lounge + Tasting Room
In the words of the chef-owner Lynn Pritchard, "the Brussels have had quite the journey" from the salad's first incarnation more than a decade ago at Table 128 Bistro, his former spot in Clive, to the current version at the East Village cocktail bar that opened in early 2022. The dish is now warm and festooned with Parmesan and manchego cheese, Marcona almonds, prosciutto and a drizzle of whole-grain mustard vinaigrette. Pritchard suggests adding a poached egg, too. As he put it, "You could add a poached egg to a foot and I'd be in love with it."
It's a hit with or without the egg, Pritchard said. "If anyone had told me in 1993 when I began cooking that I'd be buying 130 pounds of Brussels sprouts a week, I would have called them a liar."
---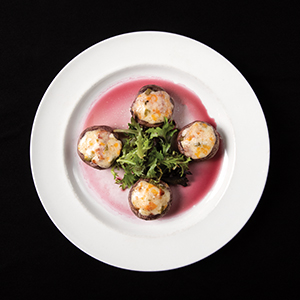 Spicy Three-Cheese Stuffed Mushrooms, Simon's
It's no secret why diners devour the mushrooms at this mainstay at 58th Street and Franklin Avenue. "I mean, who doesn't love melted cheese?" owner Simon Goheen said.
But the particular combination of flavors and textures is the result of years of culinary experimentation. As Goheen put it, "We just kind of played around with the cheese mixture and spice level" until they got it just right with ricotta, mozzarella and Parmesan, studded with diced jalapenos and bits of bacon.
---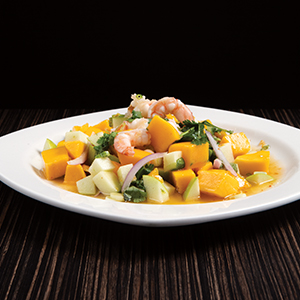 Mango Salad, Eat Thai 
The Americanized version of this classic Thai salad on 22nd Street in West Des Moines looks a lot different than what you'd find on a kitchen table in Bangkok. For starters, the mangoes are ripe, orange and cut into chunks instead of shredded while they're still crunchy and green. To replace that crunch, Eat Thai adds diced green apples, along with cilantro, red and green onions, lime juice and as much chili as you request on a scale from 1 to 5. If you'd like to add shrimp, it's steamed instead of dried, like the denser, chewier morsels you'd find in Thailand.
The sweet-sour-spicy recipe came from owner Aom Meesangkaew's mother-in-law, who served it for years at her own restaurant in California. "It's so refreshing," Meesangkaew said before turning to her husband, Nick Apichatwoot, to ask whether he prefers the traditional Thai version or his mother's Americanized variation. His mom won out.