Writer: Michael Morain
Photographer: Christopher Maharry
There are at least two kinds of cycling enthusiasts. The first chases after all the latest greatest gear and high-tech, moisture-wicking, bun-hugging spandex.
The others wear wool.
Every year on a Sunday in November, that second group gathers downtown for the annual Tweed Ride, a leisurely round-trip excursion from the Royal Mile to the State Capitol with a drink and a bite to eat before, during and after. Participants ride vintage bikes, if they have them, and wear whatever fancy old-fashioned suits suit their fancy. Most folks draw inspiration from the 1920s or '30s, somewhere "across the pond" in the bygone British countryside you see on public television.
"It's really more of a parade than a ride," said Christopher Maharry, who takes the annual group photograph on the west steps of the statehouse. Most years, the portrait features a bunch of long wool coats and lovely old sweaters, some scarves, bowties, leather gloves, riding goggles, extravagant mustaches and a few guys who look like Colonel Mustard. It's all very civilized.
The ride started almost 15 years ago after a local couple spotted a similar event in London and decided to introduce it here in Iowa. The English ride dubs itself as "a metropolitan cycle ride with a bit of style" and traces its origins to the so-called "young fogey" movement of the 1980s and '90s. Gradually, tweed rides started rolling through other cities in Europe and the United States, including the Quad Cities.
Here in Des Moines, Joel and Brenda Frye have led the charge for the last few years. They're both into bikes and vintage fashion, and they co-own B's Knees Vintage, which is part of the collective Upcycled DSM in Valley Junction. They use the ride to raise funds for a charity, like the Puppy Jake Foundation, which trains and places service dogs to help wounded military veterans. But other than that, the ride is pretty low-key.
"It's just a good time," Joel Frye said. "It's a day to throw away the bike shorts and come out and have fun."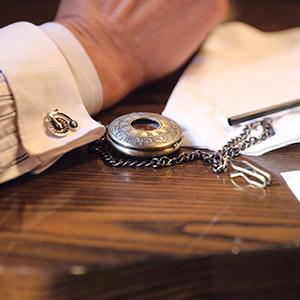 Tweed Riders dress for the day, right down to the cufflinks.
Learn more
This year's Tweed Ride took place Nov. 12 and will return Nov. 10, 2024. Follow DSM Tweed Ride on Facebook for updates.
The award-winning exhibit "Riding Through History" at the State Historical Museum of Iowa traces the state's cycling history from the 1800s to today, including the 50-year tradition of the Register's Annual Great Bicycle Ride Across Iowa.