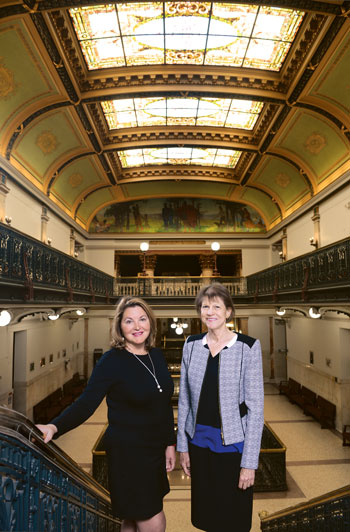 Writer: Jane Schorer Meisner
Photographer: Duane Tinkey
Judges assigned to Polk County's family law docket know well the heartache that often engulfs child custody cases.
"Each year, more than 900 divorce cases with children are filed in Polk County, and about 350 custody cases for unmarried parents are filed," says District Judge Eliza Ovrom, adding that every week, at least four disputed custody cases come to trial before a judge.
If a child is old enough, judges are supposed to consider the child's wishes in custody cases, Ovrom says. "But most of the time, the case is presented by two lawyers for the parties, and I never hear directly from the child. So I don't know what the child wants."
The emotional pain of one child custody case struck close to District Judge Mary Pat Gunderson two years ago, when she noticed that a normally chatty family friend had become unusually quiet. The boy's parents were divorcing, and he didn't know where he would be living—or even if he'd be able to remain on his soccer team.
The incident troubled Gunderson. "We require 'Children in the Middle' classes for parents involved in custody cases," she says. "But we provide absolutely no information to the children who are going through this process. It's super unsettling to them. These children need a voice; they need to be heard."
Giving children a chance to be heard spurred the two judges to back the creation of a Kids First program in Polk County, modeled after a successful Cedar Rapids program that has provided legal representation for children in high-conflict custody and divorce cases since 2005.  Kids First attorneys in Cedar Rapids help create stability for children of divorce: Their workshops provide an opportunity for kids to share emotions with other kids, have misconceptions clarified and develop skills to adjust to family changes. Lawyers there are paid on a sliding scale based on a family's income.
Today, 83 percent of custody cases in Linn and Johnson counties are settled out of court, 90 percent of families are successfully linked with support services, and schools report improved performance and behavior by Kids First clients.
When Gunderson and Ovrom decided to support a Kids First program in Polk County, they organized a Visionary Committee to raise funds. "We have really stringent rules of judicial conduct to follow, and we cannot ask for donations," Gunderson says. "There are no exceptions to that rule. But that doesn't mean we can't try to support something that we think is good and make it come to life if we think it will benefit the children of Central Iowa."
Gunderson and Ovrom were perfect for the task, says Visionary Committee member Cynthia Wanamaker. "Mary Pat is just personality plus," Wanamaker says. "She's very [passionate] about this project, and she'll get you excited. Eliza has more of a reserved personality, and she's very, very committed to this."
"I've always loved kids," says Ovrom 64, who is married and has two adult children. "I care about the children whose cases I have to decide, and I always want to make the best decision that I can for those kids."
Final preparations are now being made for the opening this October of a Kids First office at the former AIB campus. The 54-year-old Gunderson is eager to see the program make a difference in Polk County custody cases. "Ultimately, the decision I make or that Judge Ovrom makes directly and concretely impacts this child's life going forward," says Gunderson, who is married and has three teenage sons. "If there is an opportunity for me to have more information about what will be best for this child, then I want that."