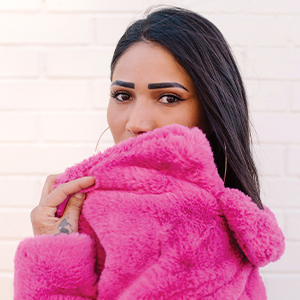 Laila Naseri is a refugee who was forced to flee Afghanistan after the Taliban seized control of the government in the summer of 2021. She was a professional model in Kabul, appearing on talk shows and TV commercials, as well as on billboards for ad campaigns for major clothing brands. Because of the Taliban's strict laws, which require women to be completely covered head to toe and to work only within the home, Naseri's modeling career suddenly became a death sentence. Since arriving in Des Moines in 2021, she has begun to settle into a new life, grateful for having the chance to escape but mourning the loss of her successful career. With the help of a translator, Naseri talked about her personal style, as well as her hopes for her future.
Name: Laila Naseri 
Age: 24 
Instagram: @daryahamdard78 
Hometown: Kabul, Afghanistan 
Profession or Avocation: model 
How would you describe your style? I like to try many different styles and experiment. I like edgy looks that are bold and confident, very opposite of the traditional style expected of women in Afghanistan. 
Style icons or inspiration: I admired many of the models and celebrities in Afghanistan, and some actresses in Bollywood, but I like to style my own outfits.
Current favorite clothing item: A strappy red maxi dress with white flowers on it. I also like wearing flats and tall boots, but not shoes with a very high heel that make it hard to walk.
Favorite color: Pink. 
What was your favorite part about modeling in Kabul? I liked doing the runway shows. I worked for a few brands to do ad campaigns, and I liked that, too, but my favorite was walking runways. 
What are some style differences you've noticed between Kabul and Des Moines? There is obviously the traditional religious and conservative attitudes towards women [in Afghanistan] that make the styles very different. Back in Kabul, modeling was still a bit taboo, and women focused a lot on wearing "appropriate" clothing. Here it is much more open, and people can wear whatever they like. 
If modeling was considering taboo, how did you get into the industry? I was lucky and had the support of my mom and sisters. I took the risk. 
Do you have plans to continue modeling? Yes. I'm not with any modeling agency or anything like that at the moment, though. My focus right now is to settle into life here in Iowa, learn English and work to save up some money. 
Photographer: Joelle Blanchard
Writer: Hailey Allen