Nash Roe, a 12-year-old from Clive, sells baked goods such as cinnamon rolls, cookies and Bavarian pretzel rolls.
Writer: Brianne Sanchez
Photographer: Paige Peterson
Lemonade stands are so 2019. Meet three creative kids who thwarted pandemic boredom by turning hobbies into side hustles. Inspired by online videos (and with help from their moms), they've found ways to squeeze entrepreneurship into their middle school schedules. 
---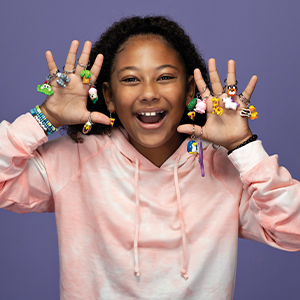 Alaina Stifel
AJ's Magnificent Minis
What do a giraffe, an avocado and a tube of lipstick have in common? They're some of the most popular items offered as handmade polymer earrings and keychains by Alaina Stifel, the Des Moines sixth grader behind AJ's Magnificent Minis. 
"It started with me coloring in this coloring book that's based on a style of Japanese drawing called kawaii. It means cute and small," Alaina says. "I saw people making figurines [of similar characters] with play dough." 
Play dough tended to fall apart, so Stifel started to experiment with clay. She shapes and bakes a plethora of playful figures such as pineapples, penguins, pinball machines and pizza from modeling clay. Each item is stamped with a smile and glazed to a shine. 
The 11-year-old Alaina turned pro with her crafts when she realized selling items could be the ticket to earning enough money to buy AirPods. (Key chains, charms and figures are $18, earrings $23, and custom designs are extra.) Orders started to blow up on her mom's Facebook account, so they created her business Facebook page (facebook.com/ajsmagnificentminis). Soon she made enough to pay her mom back for supplies, buy her headphones and net a significant donation to the Food Bank of Iowa. 
"It really makes me feel good that people actually want my stuff," Alaina says. 
The most stressful part of building her business was keeping track of her orders and mailings. Alaina says she wasn't a strong typist at the time, and creating labels was tedious work. She started tracking sales and shipping details in a spreadsheet, which challenged her to improve her computer skills. She also found ways to streamline the process by batching orders. 
Although her mom, Leah, sometimes lends a hand on challenging special requests (like a pair of Tiger King-themed earrings), it's mostly Alaina trying to find creative ways to serve customers. To learn new techniques, she watches online tutorials for blending and working with the clay. 
"There were times when she would get frustrated trying to make it perfect, but I try to remind her [imperfections give] it character," Leah says. 
Alaina, who also keeps busy with club softball, volleyball, gymnastics and soccer outside of school, plans to keep her business rolling. She's hoping it can help bankroll significant future purchases, like her own computer. 
Her advice for crafty entrepreneurs? "Start smaller and don't jump to the bigger things." Starting small—miniature, even—seems to be working for Alaina. 
---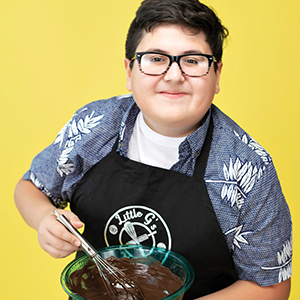 Gabe Garcia
Little G's Treats
Hospitality comes naturally to Gabe Garcia, the 12-year-old behind Little G's Treats. Serving up one of his signature red velvet hot cocoa bombs, he explains the origins of his business. It all began with him and his mom watching TikTok videos of the trendy chocolate orbs, which blossom marshmallows like magic as the shells dissolve in a mug. They started experimenting in their Windsor Heights kitchen and soon began selling to neighbors and friends. 
"There was a time during the pandemic when I was very pessimistic," Gabe says. "Then I started making these, and I thought, 'Maybe things aren't terrible?' My motive is basically to make people smile." 
His dad works in the restaurant industry, and Gabe started helping out in the kitchen at an early age. When he was 5 or 6, he wanted to be a molecular gastronomist, but now the seventh grader is leaning toward biomedical engineering. 
"One day I came in and he had the sous vide out and was tempering chocolate on the water," says his mom, Julie. "I was like, that's one way to do it." 
As a business owner, Gabe takes customer satisfaction and food safety as seriously as coming up with creative products. He has a clipboard full of ideas and works with his mom to source supplies from a Boston-based company. 
"We didn't want to be your average hot cocoa bombs," Gabe says. 
Flavors like salted caramel and pumpkin spice are presented with tantalizing garnishes. Prepaid customers can schedule pickups from a Little Free Library-like "bomb shelter" his grandpa made to facilitate no-contact orders during the colder months. But getting to know the kid behind the Instagram posts is a delight in itself. 
"I will try to find a simple way to do things, but I keep telling myself over and over: There is no shortcut to success," Gabe says. "My fear is forgetting why I started this. I don't want to be like big corporations who think cheaper is better. I don't want to become a 'basic' brand. I want to stand out a bit." 
You can buy his goodies (which range from $4.50 to $45) by emailing littlegstreats@gmail.com before 8 p.m. on Thursdays for checkout options and pickup times. You also can order through his website at littlegstreats.square.site. 
Gabe says he can see himself one day upgrading to a food truck and traveling to sell his confections, which are branching out from hot cocoa bombs. Business picked way up around Valentine's Day when he launched a "treatcuterie" sampler. He's experimented with waffles on a stick to keep business going during the summer season and is prototyping smashable chocolate shells filled with gummy candies for Halloween. Sounds—and tastes—like a hit.
---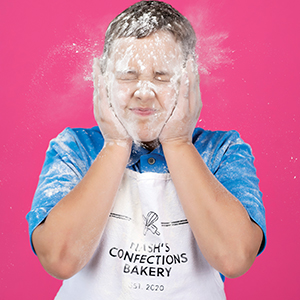 Nash Roe
Nash's Confections 
"You've got to do your 'inner bubble' stuff before your 'outer bubble' stuff," Nash Roe says while wrapping a piece of dough around his index finger. The 12-year-old baker has already committed his grandma's beloved pretzel roll recipe to heart, so he's able to multitask, explaining elements of successful entrepreneurship while whipping up a batch in his family's Clive kitchen. 
"The 'inner bubble' is the most important stuff that has to be done: packaging orders, ordering groceries, cleaning utensils," Nash says. "Creating a logo and thinking about teaching classes is 'outer bubble.'" 
Nash, who launched Nash's Confections as a pandemic project, has both bubbles covered. He sells cookies, doughnuts, cake pops, cupcakes, bars and scotcheroos, to name just a sampling of his regular orders, out of his home and in a couple of pop-up locations. His business notebook tracks accounting, and he's created a nook on his back porch that acts as a pickup spot for neighbors, complete with signage. Customers also can order through his website, nashconfections.com. (Prices vary; pretzel rolls and bites are $15 a dozen, for example, and cookies are $18 for two dozen.) 
Nash says he grew up watching and then helping his mom, Estee, in the kitchen. They laugh about a phase when she made everything from scratch, including ketchup. "She taught me how to read a recipe and what a cup is," Nash says. 
He'd also tag along with his grandma when she went to help her friend—Maureen Sedlacek, owner of Keosauqua-based Legacy Bakery—fulfill orders for her home bakery business. Now, the seventh grader and Sedlacek swap tips of the trade. 
"We love to talk shop and consider challenges," Sedlacek says. "He's just such a treat." 
Nash enjoys sharing his knowledge with both adults and kids and even hosted virtual baking workshops through Inner Space, a Des Moines-based wellness hub. He draws inspiration from Tasty videos like the "Make It Fancy" series on YouTube and can see himself in front of the camera on a cooking show of his own someday. 
He'd also like to open a franchise with locations in Jackson, Wyoming, and Paris, France. Until then, he's happy extolling the merits of using Hy-Vee chocolate blossoms versus Hershey's Kisses in a peanut butter blossom cookie (better ratio of chocolate and more easily stacked) to anyone who will listen.