Face it: Art Week Des Moines showcases all kinds of creativity. Photo: Brittany Brooke Crowe.
1.
Before 193 artists from 32 states and a couple of other countries set up camp for the Des Moines Arts Festival, June 23-25 in downtown's Western Gateway, a week of events will spotlight artists who live right here in town. The ninth annual Art Week Des Moines focuses on a different neighborhood each day with pop-up exhibitions, tours, activities and, no doubt, a few creative surprises. New this year: Five local Art Week fellows will develop public art projects in four neighborhoods. Keep your eyes peeled for work by Jordan Brooks along Franklin Avenue, Siriaco "Siricasso" Garcia in Columbus Park, Billy "B.Well" Weathers in Oak Park and Highland Park, and collaborators Cameron Gray and Jill Wells near Drake University. June 16-22. (artweekdesmoines.com)
2.
Clive may get a little more lively — or more Clively? — with the new Greenbelt Music Festival. Count on a mix of national and local acts on indoor and outdoor stages, plenty to eat and drink, some games, and the other headliners: the beloved goats that graze along the Clive Greenbelt Trail. Event proceeds will support the Clive Community Foundation's Greenbelt Landing Project on the trail. May 19-20 at the Horizon Events Center. (greenbeltmusic.com)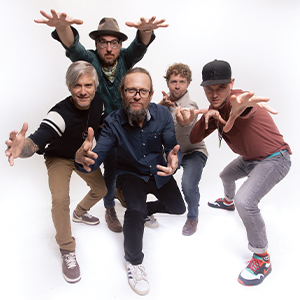 The Infamous Stringdusters headline the Greenbelt Music Festival. Photo: George Grogan.
3.
Wouldn't it be easy to make a musical about Tina Turner? Just line up the hits, cast the right star, give her a big wig and let the magic happen. Even so, the producers of "Tina: The Tina Turner Musical" set their sights higher by enlisting the Pulitzer-winning playwright Katori Hall and the movie director Phyllida Lloyd (whose "Mamma Mia!" and "The Iron Lady" showcased Meryl Streep in very different roles). The new musical chronicles Turner's triumphant rise from a humble Tennessee childhood, through a rocky marriage and divorce, and on to worldwide fame as the Queen of Rock 'n' Roll. May 16-21 at the Des Moines Civic Center. (dmpa.org)
Naomi Rodgers stars in "Tina: The Tina Turner Musical." Photo: Matthew Murphy for MurphyMade.
4.
Not to brag, but Water Works Park is about twice as big as New York's Central Park. And this summer, it'll be hoppin'. Besides the Iowa Craft Brew Festival on June 3 and the RAGBRAI party on July 26, the park's Field Daze series features at least a half-dozen concerts at the Lauridsen Amphitheater from May 5 through July 20. Plus, last fall's pop-up Des Moines Biergarten is expanding, with craft brews and German-style food 2-9 p.m. Wednesday through Sunday from May through October, with local bands on Sunday afternoons. Take your kids, dogs, bikes, lawn chairs, hammocks — they're all willkommen. (dsmwaterworkspark.com)
5.
It's hard to top last year's 50th season at the Des Moines Metro Opera, but they're sure going to try. This summer's lineup starts with "Carmen," one of the world's most famous operas, and continues with two much rarer gems, "The Love of Three Oranges" and "Bluebeard's Castle" (featuring digital imagery by the local artist Oyoram, whose artwork illuminates everything from Louis Vuitton's flagship store in Paris to his own house in Sherman Hill). Beyond the main stage in Indianola, the company presents two newer works about timely issues: "dwb (driving while black)" and "The Falling and the Rising," about an unconscious soldier's inner journey after a roadside attack. June 30 through July 23. (desmoinesmetroopera.org)