Dereck Lewis of Thelma's Treats shares his recipe for success. Photo: Duane Tinkey
Writer: Lisa Holderness Brown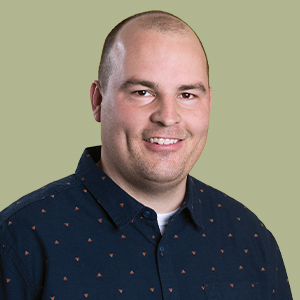 Dereck Lewis knew by the time he went to college that he wanted to own a business. But he had no idea that business would be the Des Moines-based company Thelma's Treats, which makes ice cream sandwiches.
He started the business baking snickerdoodle cookies with his great-grandma Thelma's recipe, packaging them in boxes that looked like mini ovens, and delivering them around town from his car. The expansion to ice cream sandwiches in 17 flavors and to some 4,000 retail locations across the country took a decade of hard work, help from family and a small group of employees, and a few lucky breaks. Here's his account of that success, slightly condensed and edited for clarity.
What inspired you?
While attending Iowa State University, I spent several summers as a Dall sheep hunting guide in Alaska. Many of the clients were company owners or CEOs, and I had plenty of time to pick their brains about business. They really inspired me. I decided to get a degree in business management. For practice, my roommate and I experimented with micro businesses. We sold glow necklaces at Veishea, a now defunct annual celebration on campus, and ran a tree limb trimming and removal service. We figured running and marketing a larger business would be the same idea, just scaled up.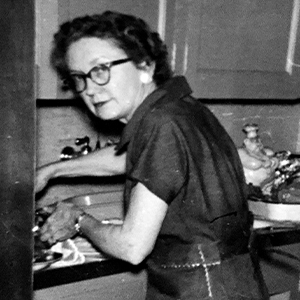 Why ice cream sandwiches?
After college I worked in real estate and insurance, but 2008 wasn't a prime time for either field. I changed direction and started a homemade cookie delivery business with help from my mom, Lana, which is funny because she was a notoriously terrible cook.
Luckily, my wife had a good job, because this venture probably wasn't going to support a family. Eventually, I wrote a business plan to sell 20,000 cookies a day. The peak season for warm cookies was winter, and I needed a solution for the hot-weather months. As luck would have it, I ran into my old friend at a wedding who owned the local Jersey Freeze in my hometown of Monroe. We brainstormed and came up with the idea of ice cream sandwiches using my homemade cookies and his soft-serve ice cream. He loaned me a small soft-serve machine, and I experimented until I got a good product. He agreed to sell them at his shop, and they were a hit. Next, Mom and I started selling our ice cream sandwiches at the Des Moines Downtown Farmers' Market.
How did you grow the business?
The farmers market was a low-cost way to reach an incredible amount of people. We loved the market but finally stepped away during COVID. The real break for us was Hy-Vee. I don't know of many grocery stores that let each store's management purchase local products on a small scale. Dan VanGundy, the frozen foods manager at the Urbandale store, ordered 10 cases of 48 ice cream sandwiches each. A week later he ordered another 10 cases, so I knew it was time to scale up. In 2016, I bought our current production plant on Hubbell Avenue. Now we can produce 100 sandwiches per minute.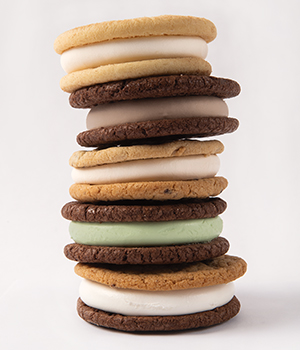 Tell us about the trailers.
Thelma's has a strong presence at RAGBRAI, Hinterland, the Des Moines Arts Festival, the Minnesota State Fair and, most recently, the Iowa State Fair. About eight years ago, I got the idea of concession trailers with rounded sides and graphics to look like stacks of ice cream sandwiches. What I wanted reminded me of grain bins, so I called up Sukup, an Iowa family business that manufactures grain bins, to help customize the tops of the trailers. These really stand out. Working the festivals for us is mostly about brand awareness, but the festivals also provide an opportunity to test new flavors and for two of our young kids, Marlo and Gwen, to help out.
What's new in your product line?
Our product line has eight core flavors, including snickerdoodle, a vanilla ice cream sandwich inspired by Great-Grandma Thelma's recipe. We also offer seasonal and specialty flavors such as caramel latte, which features coffee from the local company BLK & Bold, a local coffee company. It's a co-branding opportunity and helps support nonprofits that help young people. We also now sell three flavors of frozen pre-portioned cookie dough: snickerdoodle, chocolate chip and double chocolate. It's tasty and safe to eat right out of the bag, but it can also be baked into cookies.
A Stack of Advice
Dereck Lewis' three tips for entrepreneurs:
Map where you want to go. Figure out why you want to be there and how to get there.
Ask yourself what part of the business brings you joy. For Lewis, it's the people and the production process.
Invest in the most skilled people you can afford. You will go further faster with the help of knowledgeable, skilled people.