Jassma'ray Johnson makes beauty products for an array of skin tones.
Writers: Brianne Sanchez and Christine Riccelli
Photos: Janae Gray
---
Working in Concert
Joyce Beyer, left, and Ashley Sandor Sidon program the Zenith Chamber Music Festival with a diverse audience in mind.
Background
The Zenith Chamber Music Festival launched in 2014 with the support of an anonymous Drake University alumnus who envisioned a project that would meld his love of music with a passion for community-building. This year, the free festival is set for June 6-10 at several venues around town and will continue to offer a diverse mix of concerts, workshops and master classes.
Zenith's executive director, Ashley Sandor Sidon, teaches cello at Drake and performs internationally. The festival's director, Joyce Beyer, teaches violin and viola at Drake, leads the orchestra at Valley High School and performs with Quartet 515. Both musicians shared how the festival shatters expectations and builds appreciation for what chamber music can be.
The Inspiration
Inclusion is baked into the origins of chamber music. "Only so many people can go to the opera house," Sandor Sidon said. "With chamber music, composers were able to get their music out to wider audiences." Concerts were held at homes, with musicians playing for intimate audiences. "The setting allows people to experience [the music] in a much different way than your traditional concert hall," Beyer added. "It's much more immersive."
Even so, Beyer and Sandor Sidon also noted that the world of classical music has had a long history of gatekeeping. That's why the Zenith festival connects diverse audiences with performers from traditionally marginalized backgrounds and those who prioritize the work of emerging composers. "We're trying to program a whole hodgepodge of pieces, not all Mozart or Beethoven," Sandor Sidon said, "so we appeal to people who don't typically go to classical music concerts."
The Work
This summer, Beyer and Sandor Sidon are excited to come full circle by featuring the Ivalas Quartet, which includes the Drake grad and violinist Reuben Kebede. "They are such a fun and engaging group," Beyer said, "and they also are connected to the Sphinx Organization," a nonprofit that's increasing Black and Latino representation in classical music.
The festival will also welcome to the Des Moines Art Center the world-famous cellist Matt Haimovitz, who has commissioned new works from underrepresented composers and paired them with specific artworks. "What I love about Zenith is that every year, I hear something at our concerts that is completely different from what I've heard before," Beyer said. "That's important because the classical music world has often excluded people and excluded all kinds of music."
---
Beauty for All Skin Types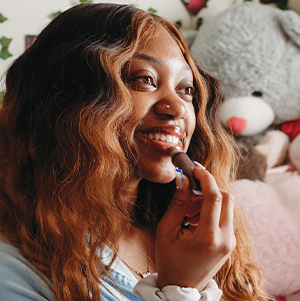 Entrepreneur Jassma'ray Johnson was in elementary school when she started making her own lip gloss.
Background
When Jassma'ray Johnson started her cosmetics company, Simply Sámone, out of her Iowa State University dorm room during her freshman year in early 2020, she already had years of experience making her own lip gloss. As a creative fourth grader, she used to mix Vaseline and Kool-Aid after her mom said she was too young for lipstick. Johnson's recipe has evolved since then, and her ambitions have scaled up. Now a senior in psychology, her recent participation in an accelerator sponsored by Iowa State's Pappajohn Center for Entrepreneurship helped her refine the business she's building to make people feel "unapologetically beautiful in their own skin."
The Inspiration
Johnson whipped up her first batch as an elementary school student looking to channel the confidence of "Moesha," the title role played by the singer Brandy in an early 2000s sitcom, after classmates teased her for her full lips. She decided to accentuate her defining feature and taught herself to make lip gloss on her home stovetop. "Ever since that day, it was something I wore to feel good about myself," Johnson said. Now she never goes out without a gloss (or three) in her bag.
As a freshman at Iowa State, Johnson recalled her early experiments when she was brainstorming ways to make extra cash. She used her leftover textbook money to purchase supplies.
The Work
Friends on her floor in Friley Hall were a built-in test market for her vegan and organic products, which she's expanded to include lip scrub and balm. "I wanted to create a healthy product," Johnson said. "I had a lot of neighbors and friends who lived on the same floor, so I'd go knocking. 'Come try this!' or 'How does this feel," 'How does this smell?' "
She also set out to close the product gaps for people with darker skin tones. "I'm a Black woman, so first things first: Our products are made by Black women, for Black women," Johnson said. "However, my brand is all-inclusive. I want everyone who comes to my page to see someone who looks like them."
Simply Sámone incorporates Johnson's middle name, which in French means "to be heard." Her goal is to center Black women and to inspire all kinds of customers to speak out for justice and engage in self-care. Her models showcase that diversity.
"It's about finding something that makes you feel good and makes you feel comfortable," she said. "Taking care of yourself does not have to be feminine."
The products are available online at simply-samone.com.
---
Building Community Through Art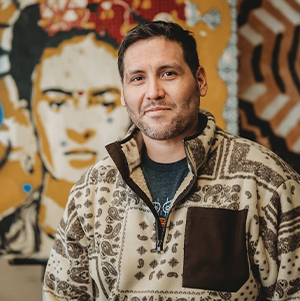 Artist Seso Marentes' "Iowa Series" reflects his roots in both Mexico and Iowa.
Background
Des Moines native Seso Marentes is an artist whose vibrant mixed-media works explore Latino heritage, icons and culture. He started making art at Edmunds Fine Arts Academy (now Edmunds Elementary), where he said they "did everything from making linocuts to singing Beethoven."
When he was around 9, he went on a school field trip to the Des Moines Art Center. "That's when I first saw what real art was," said Marentes, now 40. "Frida Kahlo really caught my attention because of where she came from. … That planted the seed."
Marentes studied visual art at Grand View University, graduating in 2015, and currently works out of Mainframe Studios. In addition, he leads workshops for schools and organizations throughout the city.
A full-time single father of three sons and one daughter, ages 2 to 16, Marentes said his kids "all help me in my work. We decided as a family to focus on art. We're on this journey together."
The Inspiration
As a youth, Marentes discovered lowrider artist Jose Lopez and Lowrider Arte magazine, which "made a big impact in the way I do things," he said. Lowrider art typically focuses on unconventional, comic book-style imagery of lowrider cars and Chicano cultural symbols in urban settings. Marentes' influences also include Mexican printmaker Artemio Rodriguez, graffiti artist Jean-Michel Basquiat and pop art icon Andy Warhol. "I really like how Warhol would repeat and reinvent images," he said. "I think that's where my appreciation for stencil work came from."
But much of his art is inspired "by my everyday life — all the job experiences I've had, being a parent, life in general," he said.
The Work
Marentes' "Iowa Series," which he began in 2021, consists of five works so far, including a mural at East High School that involved some 240 students.
He incorporates colorful paint, plus text — he used to be a sign maker and likes to play with words — and other materials in his works. "I mix a lot of different styles … but I try to leave my work open for more growth," he said. "That's the most important thing as an artist. It's always the beginning process to what could be next."
The "Iowa Series" reflects the identity of the artist whose parents emigrated from Juarez, Mexico. "I grew up in a Mexican household with all this rich history and tradition," he said. But I also grew up in Iowa, which has a history just as strong and significant. I'm trying to create an awareness that the Latino culture has been in Iowa for a very long time."
He said the most important aspect of his work is to create "a footprint for others to follow. I'm very passionate about that. I want to see more Latinos comfortable with the idea of becoming an artist … and not have to face the obstacles I've [faced]. I want more people to realize they could be more and that they don't have to listen to anyone else's opinion of what that 'more' should be."