Iowa State University College of Design professors Nathalie Frankowski and Cruz Garcia explored how to reshape the relationship between the land and humans in an exhibit at the college last fall called "The Planetary Wretched."
Writer: Brianne Sanchez
Photographer: Joe Crimmings
The intellectual landscapes that inspire architect Cruz García have roots in revolution. In the cigar factories of the early 20th century, for instance, lectores read aloud from anti-capitalist philosophy books as laborers rolled tobacco. The practice allowed workers, denied formal education, to learn about and organize around the ideas.
As an associate professor of architecture at Iowa State University, García, 38, looks for opportunities to teach and generate creative discourse broadly and without barriers. He operates in this collectivist spirit alongside his partner in life and work, Nathalie Frankowski, 36. In December, amid their students' final presentations, the pair welcomed their first child, a daughter. (Frankowski followed along from the maternity ward.)
Born and educated in Puerto Rico, García loved playing sports and imagined that he would become an engineer. But the public university in his hometown of Rio Piedras (a district of San Juan), where he was on the track team, only had architecture classes. As he learned about the civil rights movement and explored the intersection of politics and urbanism, his passion for the profession clicked.
"If we understand architecture as not just the building but as all the forces that are shaping and destroying and reshaping the environment, then we are engaged with all these other fields," García says. "It's all tangled. We cannot look at architecture as this island. Buildings don't just appear. There's labor, there's extraction, there's speculation, there's wealth being accumulated. So many forces, so many layers."
Think Tank
García and Frankowski, who met in Brussels (Frankowski is French), spent nearly a decade in Beijing building WAI Architecture Think Tank and Intelligentsia Gallery before landing in the Midwest in 2016.
"We moved to China just a year after the [2008] Olympics," García says. "When we were there, it was really like modernization happening right before our eyes. Participating in that process when everything is kind of new and not many cultural institutions are established, we were creating space where artists could speak about their work."
In the fall of 2021, García and Frankowski joined the faculty of ISU's College of Design, where their scholarship includes classroom lectures and studio exercises along with exhibitions, publications and collaborations. They continue to lecture broadly at prestigious schools like Harvard and MIT as well as international design institutions.
García says the two are excited about the opportunity to teach at a land-grant institution because access to education is central to their design philosophy, and many of the projects they are developing serve as learning or public engagement spaces.
"It's not like we are preaching about collaboration and interdisciplinarity as a theory—we actually live like that," García says. "That's the only way we practice."
Douglas Spencer, who serves as director of graduate education in ISU's department of architecture, says García and Frankowski's interest in issues of colonialism, equity, and race is necessary for the future of the field.
"These are all pressing issues in architectural education, and these are the questions that the students themselves are pushing us as faculty and as a department to address," Spencer says. "To have young, dynamic, energetic, passionate people coming on who are internationally renowned for addressing these issues is both exciting and important to us."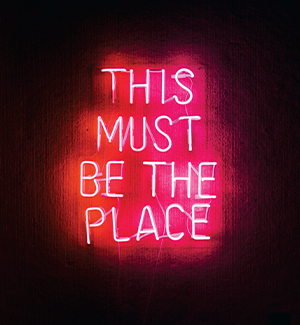 Pushing Boundaries
The artistic and curatorial aspects of García and Frankowski's work were on display last fall in an on-campus exhibition called "The Planetary Wretched." Curated and developed alongside former students and global artistic collaborators, the exhibition showcased how the pair seeks to push boundaries across disciplines and distances, critically examining systems and structures and proposing ideas on how to remake the world.
"Working with them, I feel like everybody's on an even playing field," says Shravan Arun, a University of Illinois at Urbana-Champaign architecture student and collaborator. "They really try to create these networks of solidarity and they really want to work with students and value what students have to say."
The exhibition at an ISU College of Design gallery space explored the destructive relationship between humans and the land, and ideas around reshaping that relationship through design.
Projected along one wall was "Earth Mother, Sky Father: 2030," a powerful Afrofuturist dance piece by Kordae Jatafa Henry that critiques mining in the Democratic Republic of Congo by presenting choreography between a sci-fi miner and an extraction machine. Along another streamed a Portuguese short film in which an Indigenous Brazilian artist plays an android woman standing amid a field of corn while speaking about female fertility and GMO crops. In the same room, a video working with the landscapes of oil extraction by Chinese artist Liu Yujia also played.
Creative Collective
Across the gallery space, García and Frankowski pointed out elements of a play written by members of POST-NOVIS, a creative collective that is one of the WAI Think Tank's most recent projects. Inspiration came from the tobacco lectores and "Unovis," an alternative design school in Belarus that emerged around the same time as the famous German Bauhaus school of design. One of the slogans of POST-NOVIS is "The students are the teacher," which flips the dynamic of the top-down hierarchy.
Garcia and Frankowski also launched Loudreaders, a project that explores architecture, urbanism, art and culture in a series of recorded sessions. Freely accessible online at loudreaders.com, the workshops bring together creatives and thinkers around a post-colonial worldview.
Walking with them through the gallery, it's clear that what García and Frankowski are after is a cross-pollination of art forms.
"It doesn't matter if they're poets or filmmakers," García says. "We are all working together as critical thinkers and people that make meaningful works."